It would have been easy to dismiss Sorrento, Italy as just another attractive but over-touristy town. It offers the obligatory horse-drawn carriage rides, as well as a little white train that carries visitors from the upper level of town down to the beaches and marinas. Sidewalk cafes dot pretty piazzas that pop up around every corner and the town has its fair share of historic churches. And as with many tourist destinations, the main street is lined with upscale retail stores, while the narrow back lanes that wind down to the lower levels are chock-a-block with specialty shops.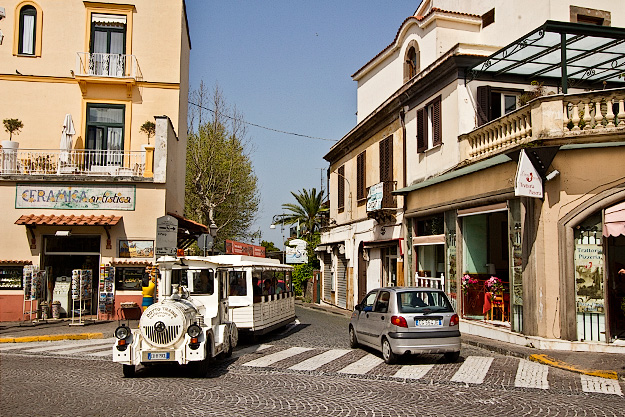 After a day of hiking up and down the town's hilly streets and long staircases, I sat down to rest inside the Church of Saints Felix and Baccolo. It was in no way exceptional. The church had a few nice paintings on its walls and the ceiling was covered in frescoes, but the marble floor was an uninteresting back and white diamond pattern, two rows of austere wooden pews provided the seating, and the altar was a common wooden table backed by brocade draperies strung across the back of the chancel. I'd caught my second wind and stepped outside, stopping to take a photo of the equally uninteresting exterior, when a a nicely dressed man interrupted my efforts.
"Do you know the story of our church?" he asked. "Please, my name is Bruno and that is my shop next to the church," he added, pointing to Pepe & Italia Boutique across the street. I showed him the brochure and map of attractions I'd picked up at the local Visitor's Bureau, pointing to the brief paragraph in the listings:
"Church of the Rosary formerly of St. Felice and Baccolo. Commonly referred to as the Church of the Rosary it was probably built under the empire of Constantine the Great (310) over the remains of an old pagan temple called pantheon. It was Sorrento's cathedral from the 12th to the 15th century."
"Ah, well, there is much more to the story. Do you see that statue in the alcove?" he asked, pointing to the upper part of the exterior wall. "That is the Bishop of Baccolo, one of our patron saints. The church holds his relics. Baccolo is very important to us because he drove the devil out of the church."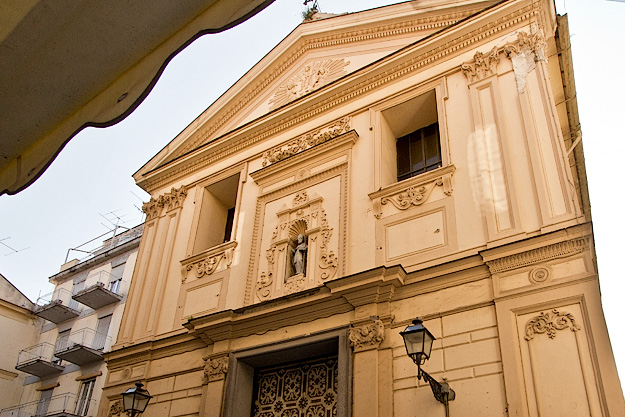 According to Bruno, so many bad things kept happening that by the 7th century the church had been excommunicated and no one was allowed inside, until Baccolo arrived and performed an exorcism to drive the devil out. Today the Bishop is still venerated by the town, which celebrates him with a huge feast each year on August 27th, the anniversary of his death.
Linking his arm in mine, Bruno steered me into La Scatola Joyelo woodworking shop. Floor-to-ceiling glass shelves held exquisite hand-carved wooden inlay boxes of all shapes and sizes, while handmade roll-top desks and jewelry cabinets were scattered over the floor. The owner, Tony Scala, sat in the center where, beneath a bright table lamp, he carved intricate patterns for a partially completed box.
"Tony is the third generation in this shop. His grandfather started the business and handed it down to his father, who spent 78 years carving in this very storefront. Tony finally took over five years ago." Tony spoke no English, but with my limited Italian, a lot of sign language, and help from a smiling Bruno, we communicated after a fashion. La Scatola Joyelo is the only remaining shop that makes items like this from scratch and a mid-size wooden box is 25 days in the making.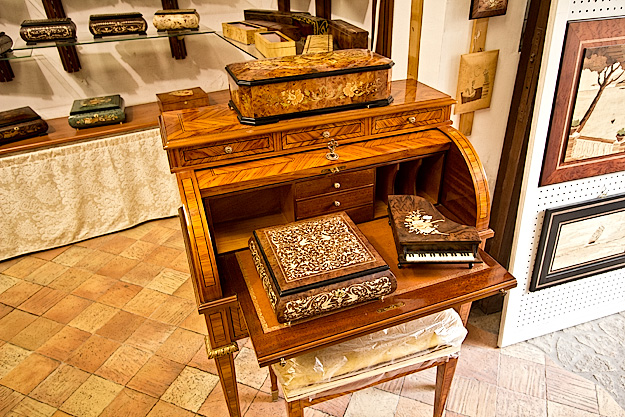 Once again putting his arm through mine, Bruno escorted me next door to the Lecce Candy Shop. I stepped inside and instantly flashed back to my childhood in Chicago. Whenever my sister and I had a few pennies we rode our bikes to Connie's, a tiny market just a block away from home. There, behind the counter, was an array of penny candy like no other: pez, colored sugar water in wax bottles, licorice sticks, jaw breakers, jellybeans, fat pretzels studded with chunks of salt, colored dots on long strips of paper, tooth-breaking Mary Jane candies, and delicious candy corn. It took us forever to choose and seconds to consume.
Lecce Candy Shop was like Connie's on steroids. Every square inch of the shop was covered with candy displays. Bins on the wall held bulk candy while the rear wall was lined with big jars of sweets. Though a few varieties were recognizable from my childhood, most were local 'artisan' lemon-flavored candies made from the enormous lemons that thrive in the abundant sunshine and mild temperatures of the Sorrentine peninsula. The owners let me sample a few before I settled on a bag of chocolate-covered candied orange peels (I felt a bit of a traitor for eschewing the lemon delights).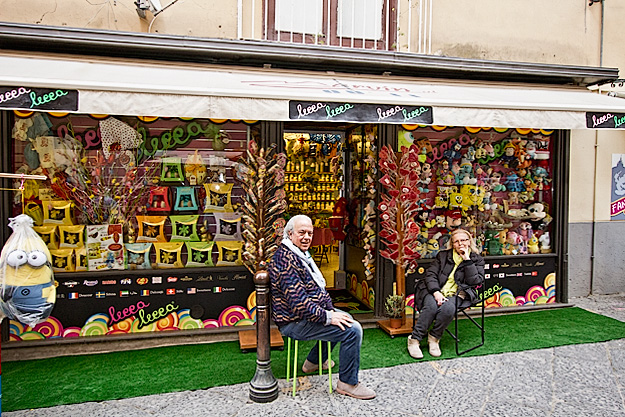 Back out in the street Bruno released me and stood in front of his boutique, telling me that it was world-famous for its quality clothing. Sadly, I could not return his kindness by buying anything, as my suitcase was already bulging, but he seemed not to mind.
In parting I asked him if he could recommend a good restaurant that is frequented by locals rather than tourists. "There is no question. You must try Da Gigino Pizzeria and Ristorante. It is the best in town."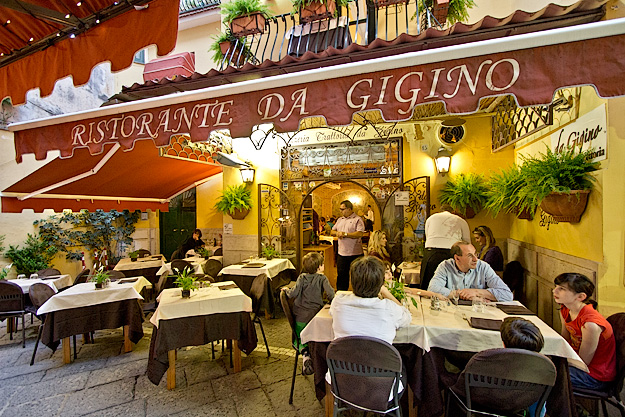 Like all his recommendations, this one was golden. Da Gigino was not only reasonably priced, it was the best food I had in Sorrento. Sated and happy, I strolled back to the train station for the ride back to my hotel, passing a plethora of fruit stands and shops on the cobblestone lanes, wondering about the stories behind each.
Many of the places I have visited have so thoroughly succumbed to tourism that they have lost their identity. Sorrento may be a magnet for tourists but it has not lost its soul. Just ask the local shopkeepers.