For years I have longed to attend the Thai festival of Yi Peng, but my travel itinerary never cooperated. Finally, this past December the stars aligned and I found myself in Chiang Mai, the epicenter of this celebration best known for launching paper lanterns into the night sky for good luck. Eagerly, I pieced together information about the schedule of events from various expat websites, but the more I learned, the more concerned I became. The premiere event, a simultaneous release of thousands of lanterns, would take place after dark at Maejo University, located several miles north of the city. Friends described it as "pure craziness" and advised me to arrive several hours before dusk if I hoped to secure a good spot. They described shoulder-to-shoulder revelers, all jockeying for position on an unlit, uneven patch of land.
Crowds are not my favorite thing to begin with, but the idea of being trapped in a sea of bodies, unable to clearly see my surroundings, and risking being trampled, sent me into a cold sweat. As much as I wanted to witness this sea of glowing lanterns floating like bio-luminescent creatures on gentle ocean swells, I knew I had to find a different way to enjoy the festival.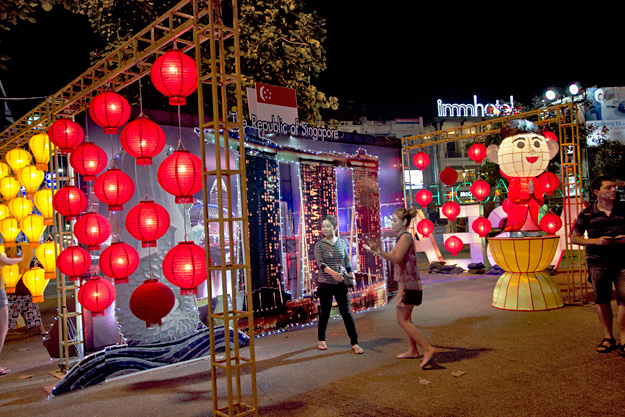 Fortunately, there was no shortage of Yi Peng activities elsewhere in Chiang Mai. Each of the main gates of the old walled city was decorated with giant illuminated cartoon characters, dragons, and castles. In the city center I strolled through a tunnel of pastel lanterns leading to a giant blooming lotus framed by a wall of red, white, and blue lanterns.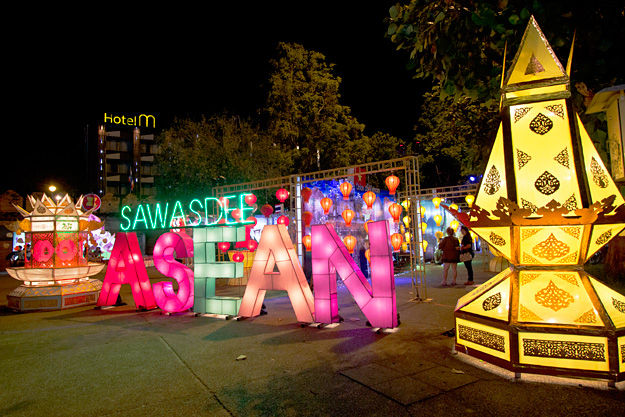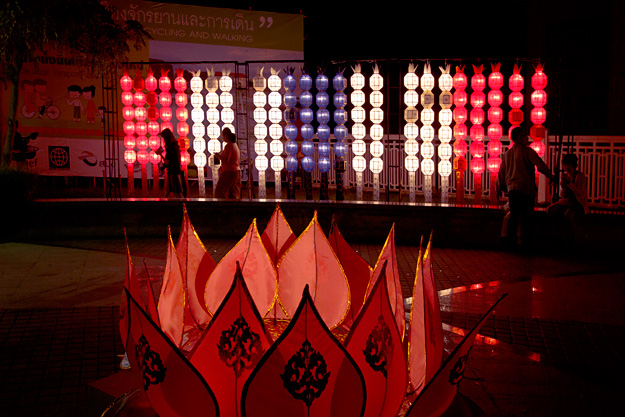 The big weekend finally arrived and I headed back to Old Town to attend a ceremony at Jedlin temple, where monks in saffron and orange robes sat cross-legged on bright red carpet, chanting ancient Buddhist teachings in a mesmerizing monotone. Filled with serenity, I floated out the front gate, bound for the Yi Peng Parade at Thapae Gate, until I looked up at Wat Muentoom across the street and noticed activity around its giant white chedi. Curious, I wandered into the yard and found a group of young monks placing candles around its base in celebration of Yi Peng, also known as the Festival of Light.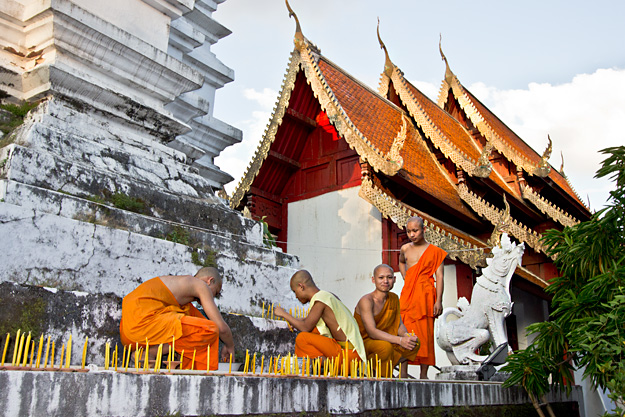 They smiled and pointed to buildings at the rear of the site, which I had never before noticed. To my surprise, a patch of scruffy landscaping opened onto a large courtyard where other monks were arranging small votive candles on the terracotta paving stones. Spotting a stranger, the oldest among them approached me and, pressing palms together in front of his chest, bowed slightly.
"Sawadee kap," he said, welcoming me.
Pushing his thick black glasses back onto the bridge of his nose, he continued in perfect English, "Will you join us for our celebration this evening?" I replied that I would be honored.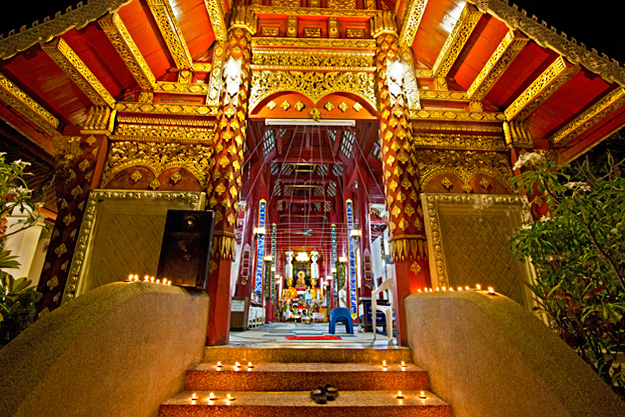 Soon, residents from the neighborhood began trickling in, full of smiles and wai's for me as we gathered inside the prayer hall. An elderly gentleman asked where I was from, then motioned for me to take a seat in the front of the hall as he addressed the intimate group. I heard the telltale word "America" and saw the nods of welcome before he turned and handed me a candle, indicating with sign language that I should light it and place it upon the altar. Following a few more rituals, he grinned and dismissed me with a wave of his hand. At the door I froze in wonderment. The votive candles, now lit, formed a perfect star burst that radiated in all directions from the center of the courtyard. In the blue-black sky, hundreds of lanterns bobbed and floated up toward an immense full moon. Like orange ghosts in the semi-darkness, monks tended the flames, preserving the fairyland for as long as possible.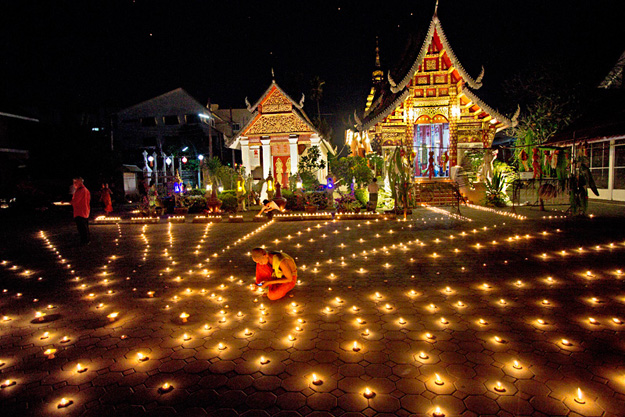 At the edge of the courtyard, one family formed a circle around its delicate rice paper lantern. Hands reached out to support the bottom frame as the fuel rings were ignited. Crouching low to the ground they trapped the bottom of the cylinder, allowing the flames to superheat the air inside. Ever so slowly the lantern was raised – to waist level, shoulder level, above their heads – revealing anxious faces bathed in golden light. Fingers pulled away, one by one, as the lantern teetered between plunging or soaring. When it finally sailed upward joy and relief were written on their collective faces; the family's prayers would successfully be carried up to the heavens and they could be assured of good luck in the coming year.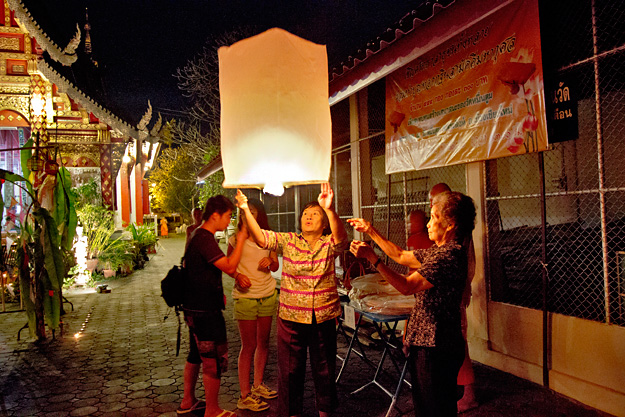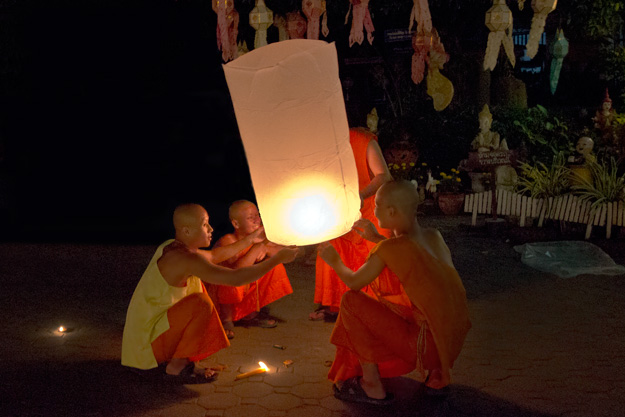 As the votive candles began to flicker and die, I said my goodbyes and continued to Thapae Gate where the Yi Peng Parade was well underway. All along the route, revelers were attempting to launch lanterns into a sky bursting with fireworks. Some immediately fell into moats that surround the ancient city walls, crumpling into a soggy mess. Others became entangled in trees and burned to a crisp in seconds. Those that broke free dotted the sky like glitter from a fading sparkler.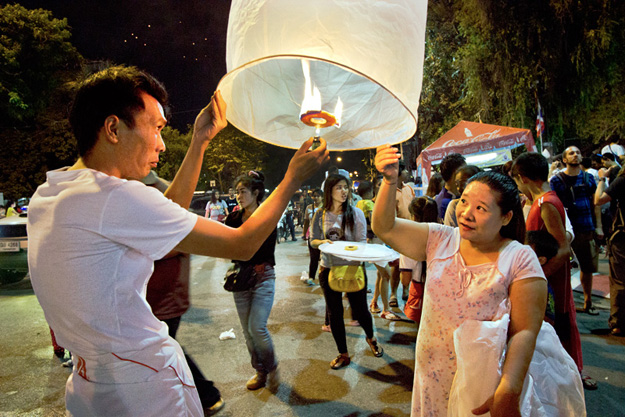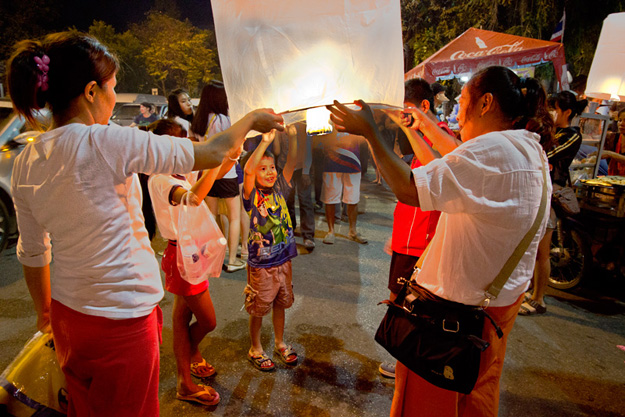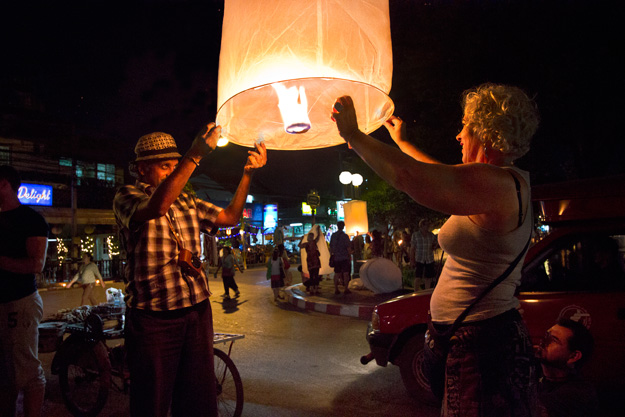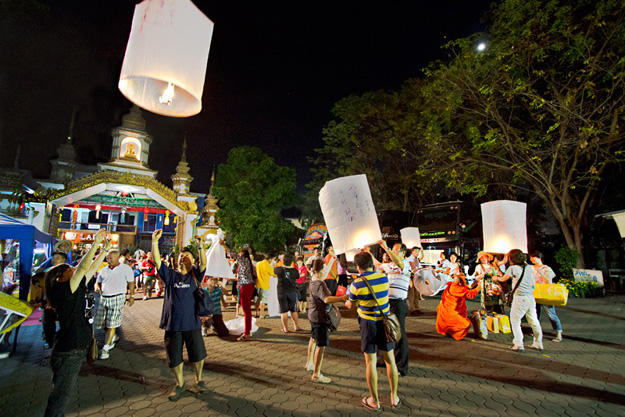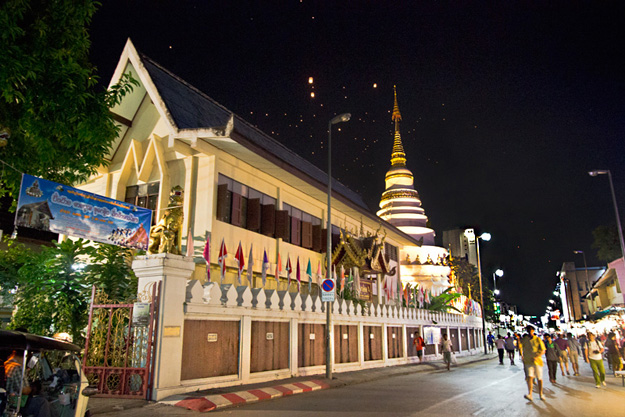 With the last strains of brass bands fading away, I made my way down to the Ping River, where Thais had gathered to release containers known as Loi Krathong. These lotus-shaped floats are crafted of elaborately folded banana leaves, flowers, incense, one or more candles, and a small coin is often added to appease the river spirits. On the full moon, Thais make a wish as they release their Loi Krathong on some body of water. In other parts of Thailand this Loi Krathong festival is celebrated separately, however in Chiang Mai it has merged with Yi Peng and acts as a fitting close to the week-long events.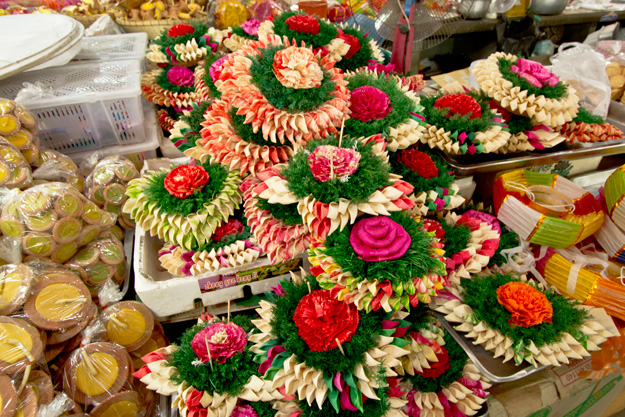 Relying on small punctuations of candlelight to find my way in the ebony darkness, I dodged slippery mud and cautiously descended crumbling concrete steps to the water's edge, where groups of young people were launching their Loi Krathongs. Imagining that they were all lovers, wishing for a happy life, I was concerned that I might be intruding, but I need not have worried. They delightedly posed for my photos, then reached over and carefully set their vessels upon the surface of the river, watching until they disappeared into the night.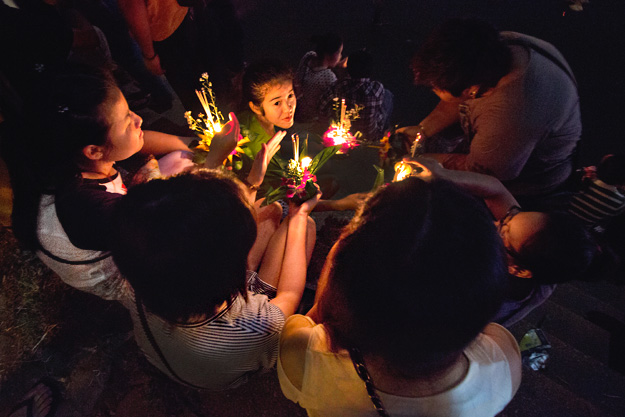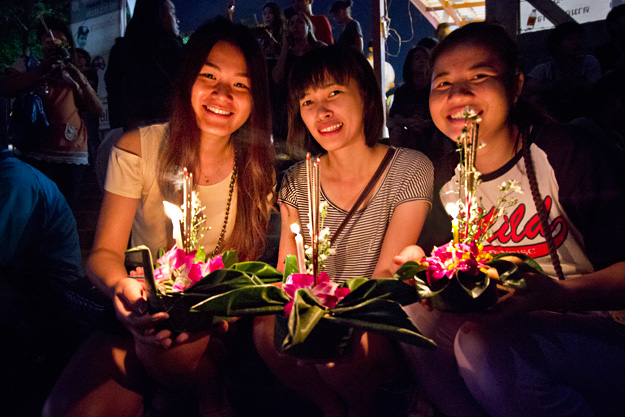 I may not have made it to Maejo to witness the mass release of lanterns for Yi Peng, but I didn't miss a thing. Being embraced by locals and learning about their culture is infinitely better than attending an event that has become more spectacle than substance.