The lake appeared outside the window of my rickety old train much sooner than I had expected. We chugged to a slow stop with brakes protesting and my anxiety rose when I spotted a sign for Balatonalmádi. I was on my way to Lake Balaton in western Hungary but it was just 2.5 hours into the four-hour trip; surely this could not be my stop already. Frantically, I questioned fellow passengers, looking for someone who spoke English. "Is this Lake Balaton?" I asked, time and again. Heads nodded. Yes, yes, and yes. Just as I was about to jump off the train a young man stopped me. "This is Lake Balaton, but what town are you going to?" I suddenly remembered that I had booked passage to the town of Révfülöp, though the name of the lake is what had stuck in my head. Relieved, I returned to my seat and, lacking announcements in the carriage, watched for town names each time we squealed into another station. We rattled slowly down the northern shore past Alsóörs, Csopak, Balatonarács, Balatonfüred, Tihany, Balatonudvari, Balatonakali, and several unidentified stops. An hour and a half after I had first spotted the lake, a conductor appeared to alert me that Révfülöp was the next stop. The entire time, the seafoam green lake had rippled peacefully just beyond the tracks.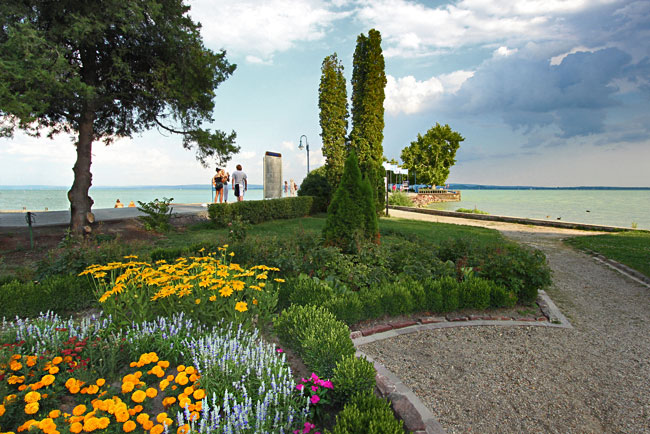 I later learned that Lake Balaton, 48 miles in length and nearly nine miles wide in places, is the largest lake in Central Europe, however I was more astounded by its color than its size. Balaton shimmers a soft seafoam green at its edges, morphs to an exquisite turquoise a short distance offshore, and stretches toward the horizon in bands of aqua, jade, and ultramarine. The lake we know today as Balaton was formed when the large inland sea that once covered this area of western Hungary receded, leaving an arid plain that was eroded by strong northern winds. Subsequent faulting caused the land to subside even more and by the Pleistocene era the Zala River had flooded the shallow depression, creating a fresh water lake that averages less than 20 feet deep. The color of the water, and the silky feel of it on the skin, is due to this shallow depth and the thick layer of calcium and magnesium rich sediments that lies at its bottom.
On the two occasions I dipped into these mineral rich waters, undulating sun-kissed waves refracted and multiplied the light, turning the lake into a sheet of diamond shards. This same light, along with rich volcanic soil and abundant rainfall, have created a perfect environment for vineyards, which today march across the hills behind the north shore of Balaton and produce some of the best Hungarian wines. More than the lake, it was these hills that interested me, specifically an area known as the Káli Basin. I climbed the steep cobblestone streets and dirt paths around Révfülöp, nosing around the Co-op and the half-dozen shops on its main street but it was difficult to meet locals, as none spoke English. Fortunately, I was staying at the Hungarian owned and operated Hullam Hostel, and Zoli, one of the manager/owners, offered to take me on a tour of the Káli Basin.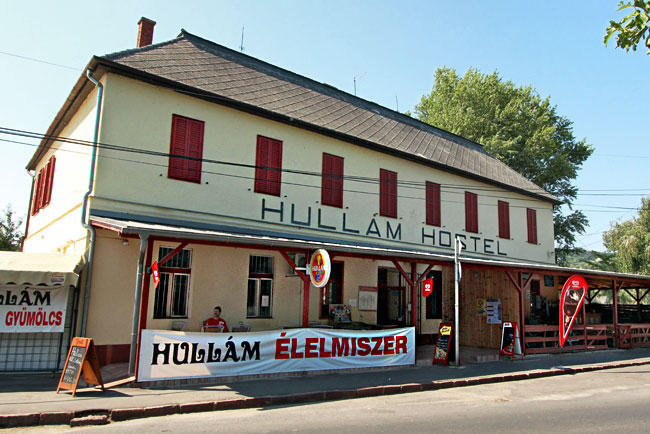 This ancient land, still virtually untouched by modern times, is carpeted with fig trees, almonds, and Spanish chestnut. Indigenous rosemary and lavender scent the rarefied air and enormous twig nests, the domain of Storks who are considered a good omen by villagers, balance precariously atop telephone poles and chimneys. The area is named for Kál, a Hungarian chieftain who conquered and settled here with his tribe around 890. Hungarian habitation has been continuous ever since. Towns sprung up and prospered for nearly 600 years, but when the Ottomans invaded in the mid-16th century the Káli Basin found itself on the front lines. Villages were burned to the ground and the monastery was torn down. Caught between Turks and Hungarian mercenary soldiers who also tormented them, most residents fled.
Near constant warfare kept the hills empty until 1711, when peace finally arrived and settlers returned. By the early 1900's, little evidence of the war-torn centuries remained and the villages were once again a paradise of meticulously tended vineyards and pastures dotted with sheep and cattle. Every town built a Catholic and Lutheran church, as often as not facing one another on opposite corners, peasant cottages with red tile roofs and brilliant whitewashed walls proudly displayed plaster coats of arms on the house fronts, and the towns of Kõvágóörs and Köveskál became important market centers.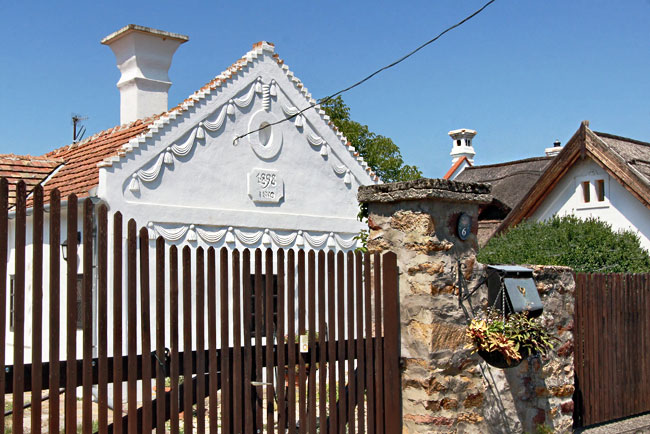 Unfortunately, the Káli Basin had not yet seen the end of difficult times, as the arrival of Fascism in 1948 dealt it another blow. Communism declared that country life was backward and provided inducements for anyone who would move. As a result, almost the entire younger generation moved into concrete housing complexes in the larger towns. Only the older people stayed. Homes began to crumble and decay, livestock disappeared, markets dwindled, and vineyards withered away. But every cloud has its silver lining; because the rural areas were considered undesirable no development occurred, saving the villages from ugly Soviet construction projects so ubiquitous in the larger cities. After the fall of Communism in 1989, the decaying cottages did not stay empty for long. Artists and professional people snapped them up for summer homes and restored them to their original condition, saving more than 100 examples of folk architecture in the process. Traditional crafts of stone masonry and thatch roof building were revived, and the tradition of markets arose with renewed vigor.
Can't view the above slide show about the Kali Basin Sunday Market? Click here.
It was to one of these present day markets that Zoli and I headed one Sunday morning. He drove in traditional Hungarian maniacal style, virtually ignoring the narrow road as he filled me in on the culture of the Káli Basin. Unlike markets that cater to the tourist trade, this one was filled with locals who sell only homemade products. Zoli led me around, introducing me to friends who insisted I try their wares. Sour cherry and cottage cheese pastries were followed by giant dill pickles. Farm fresh goat cheese melted in my mouth. Dehydrated carrots and beets were soft and chewy and bursting with flavor. Elderflower juice. Handmade soaps. Honey from local hives, redolent with the fragrance of local wildflowers.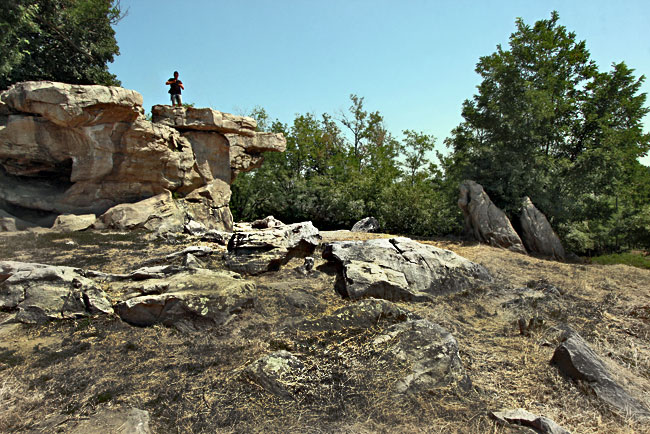 An hour later we hopped back in the truck, bound for the Sea of Stones, where I could walk off the five pounds I gained at the market. Under a scorching sun, these high grasslands had turned a brittle yellow, relieved only by giant dull grey stones that pocked the landscape. During the Miocene era, these stones had been a deposit of clean sand. Hot springs bubbling up from the original Pannonian Sea saturated the sand with a silicate solution, cementing it into hardened rock. When the sea receded, the softer strata were eroded by wind, gradually exposing the cemented slabs, many of which are stacked one upon the other in bizarre formations. Some of the slabs are are so perfectly balanced that they can be rocked back and forth but never topple.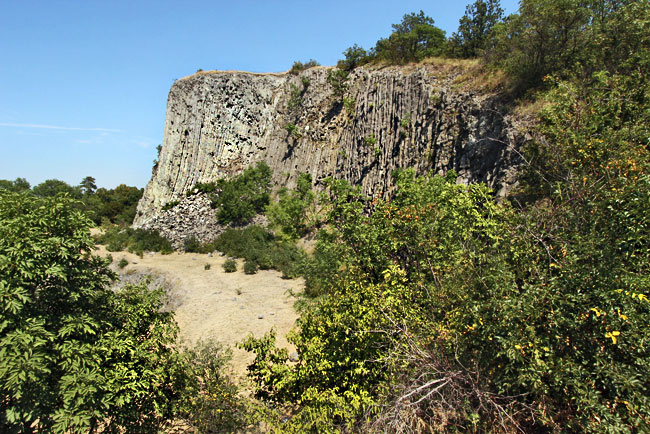 Our last stop of the day, Hegyestü Geological Interpretive Site, provided the most astonishing geological sight of the day, a 150-foot high eroded Basalt volcano cone that had cooled into crystallized columns when it finally became dormant five to six million years ago. From the viewpoint I turned 180 degrees, to scan the scene before me. Lake Balaton had never been far away as we criss-crossed the Káli Basin. Each time I thought it had disappeared we rounded a corner and it peeped out, and here it was again, shimmering in the valley below. A short drive later we were back at Hullam Hostel, listening to a local trio play Hungarian folk tunes on a bass fiddle and two violin. I dipped my bowl in the communal pot of Hungarian Goulash that the hostel prepares each night smiled to myself as I surveyed the sunburned guests. The placid waters of Lake Balaton may be a summer playground for residents of Budapest, but I'd experienced a unique slice of Hungarian culture that was so much more interesting than a day at the beach.

Disclosure: My Eurail Global Pass was provided by Eurail.com however, the receipt and acceptance of complimentary items or services will never influence the content, topics, or posts in this blog. I write the truth, the whole truth, and nothing but the truth.