Jagged chunks of crumbling slate threatened to turn my ankles as I made my way to a pillar marking the easternmost tip of Spain. Just a few miles away lay the artsy village of Cadaqués, but the vista that spread before me felt like the end of the world. Rocky fingers of land dipped into a cobalt Mediterranean rippled by blustery winds. Gusts climbed the high ridge upon which I stood and whipped my hair, stinging, into my eyes. Renegade clumps of coarse grass had managed to pierce the scree but offered precious little relief from the relentless gray of Cap de Creus Natural Park.
I scanned the desolate landscape, thinking that this must be why the region was named Costa Brava. In Spanish, the word costa means coast. The word brava has several meanings, but in this case it is most often translated as wild or rugged. It is an apt description for this 400-million year old mountain chain comprised of mineral-rich metamorphic rocks that have been deformed, enfolded and sheared by geologic forces and plate tectonics, making for a spectacular landscape of exposed gneiss, schist, and slate.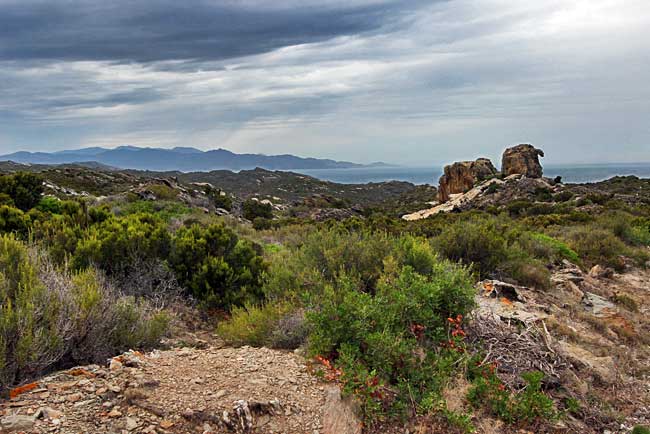 Winds that occasionally reach 90 miles per hour erode these softer rocks, revealing harder underlying volcanic pegmatites. Easily identified by their whiteish-orange color, they jut from the monotone landscape in a variety of fantastic shapes that locals give descriptive nicknames. Earlier that day I had come across one of the most famous formations, Es Camell; it looked for all the world like a giant camel, plodding across the hills.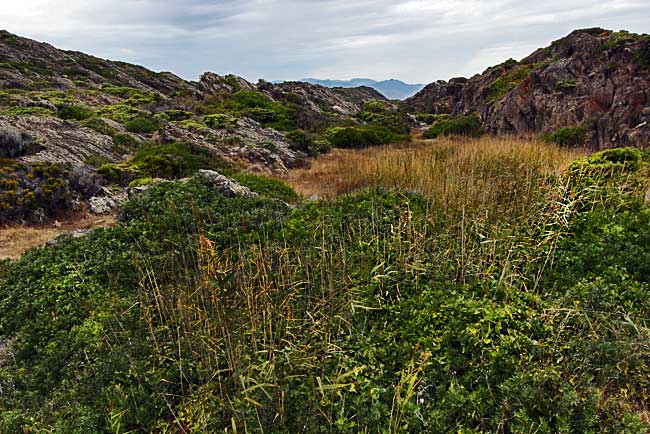 I had come to Cap de Creus because the previous month had been crammed with press trips to Hawaii and Spain, a dozen plane and train rides, a business conference, and the stress of maneuvering a huge rental car around the narrow streets of Catalonia. I needed serenity and solace, and this natural park was the perfect pace to find it.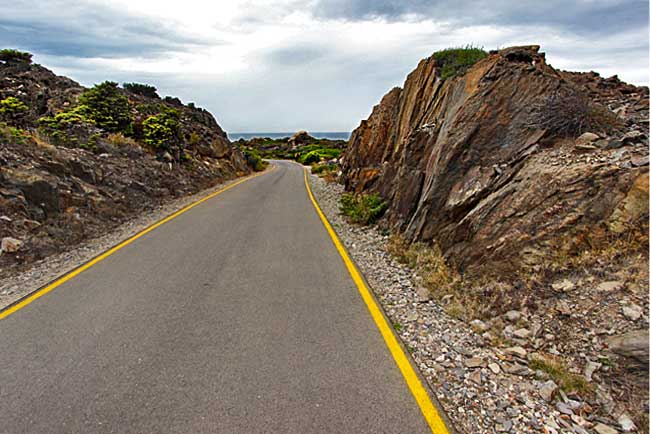 After a short hike through rugged landscape I drove the final few miles to the easternmost point. The road pierced crazily tilted rocks and tapered to a single lane leading across a narrow isthmus. I braked to a stop and surveyed the situation. The end of the road disappeared beyond a distant curve. Passing another car was out of the question and the thought of backing up, given the precipitous dropoffs on either side, made my stomach lurch. On the other side, perched atop a high promontory, was my destination: the Cap de Creus lighthouse.
Taking a deep breath, I put the car back in gear and made it across without meeting another car. Under bruised skies in the waning light of late afternoon, I clambered around the jagged coastline and explored the lighthouse before gratefully sinking into a chair at Cap de Creus Restaurant.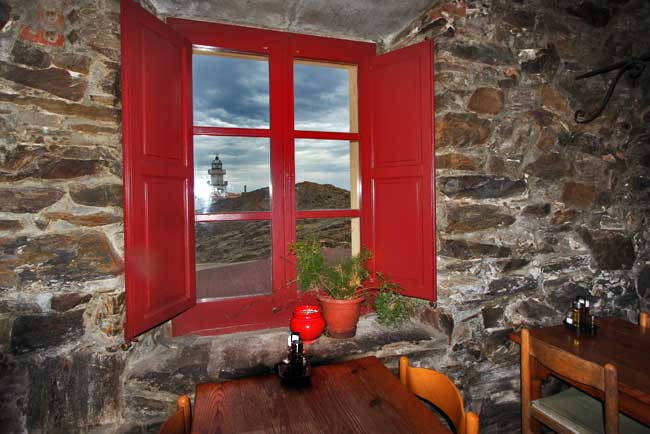 The lacquered shutters of the restaurant's windows, glowing neon red in the late afternoon sun, perfectly framed the lighthouse. As the sun slid toward the horizon, I gorged on fresh-caught fish and bread drizzled in olive oil. Once again, nature's spectacular show had restored me. Looking out over the magnificent scenery one last time before the curtain of night descended, I thought about the various definitions for the word brava. Though this definitely was a wild and rugged coast, I preferred the exclamation used to complement Flamenco dancers at the end of their performance. Brava! I thought. Brava Cap de Creus!
Visiting Cap de Creus Natural Park
With a total area of 32 acres, Capde Creus is Spain's first maritime-terrestrial park. Located in the Alt Empordà region, it includes the municipalities of Cadaqués, El Port de la Selva, La Selva de Mar, Llançà, Vilajuïga, Pau, Palau-Saverdera and Roses. Cadaqués is the closest village to the easternmost point and a walking trail is available between the two. In addition to hiking, mountain biking, horseback riding, canoeing, surfing, windsurfing and kayaking are popular sports, and the park offers guided hikes and boat trips.
The park's main information center and office is located in Palau de l'Abat Monastery of S. Pere de Rodes, 17489 El Port de la Selva, telephone: 972-193-191 (country code +34). To contact park guide service call 972-193-191. Visit Cap de Creus website (only available in Catalan or Spanish); email: [email protected].
My trip to Catalonia, Spain was hosted by Costa Brava Pirineu de Girona, which arranged for me to stay in Palau-Saverdera, courtesy of Niu de Sol Hotel Rural. However, the receipt and acceptance of complimentary items or services will never influence the content, topics, or posts in this blog.