While history may not specifically record the presence of Saint Giles in the Spanish Pyrenees, Catalans insist he made his way into Vall de Nuria, just over the present day border with France. A christian Abbot born in the middle of the seventh century, Giles left his native Athens in search of a monastic life of peace and tranquility. Eventually he settled on the south coast of France between Arles and Nimes, where he allegedly built the Benedictine abbey of Saint-Gilles. Since the abbey was the first stopping point for pilgrims bound for Santiago de Compostela in Spain, it is entirely plausible that at some point he wandered further up into the mountains, but Spanish pilgrims need no speculation. Their proof lies in legends that are backed up by a bell, a cross, a pot, and a venerated wooden carving of the Virgin Mary.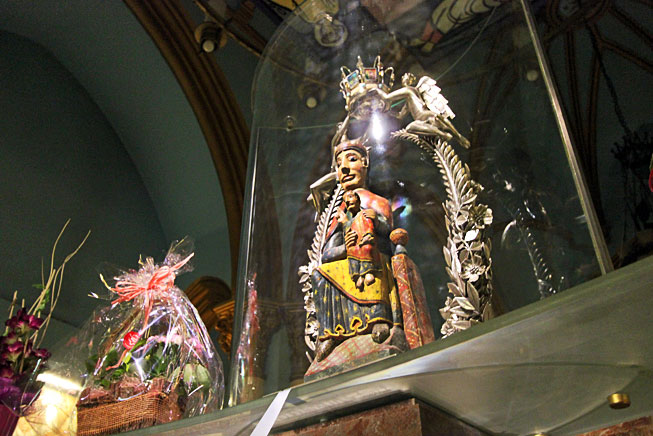 According to tradition, Saint Giles arrived in Vall de Núria around 700 AD, carrying with him a cross. He lived in a cave and enticed local shepherds to listen to the word of God by sharing the food he prepared in a copper pot, ringing a bell to alert them when meals were ready. Giles preached Christianity to the local populace for four years, until Romans threatened religious persecution. He fled, but not before secreting the pot, bell, cross, and an icon of the Virgin Mary that he had carved from walnut wood and painstakingly painted.
More than three centuries later, an angel appeared in a dream to a pilgrim named Amadeo, telling him of a place marked with a white stone where St. Giles had hidden valuable objects. Amadeo found the marker boulder and built a small chapel honoring the Virgin on that spot with the help of locals, however he failed to find the precious treasures of Giles. One day, seven years after Amadeus had initially begun his search, "a bull with fiery red hair" started kicking a stone wall with his hoof. Recognizing that this was a sign, shepherds began digging through the rock. The moment they broke through, a bright light shone from the image of the Virgin. Next to her sat a cross, a bell and a copper pot.
Today these objects are displayed in the Hermitage of Saint Giles, a chapel constructed in the 17th century on the the site of the original built by Amadeo. The Romanesque sculpture of the Madonna and Child, officially known by the name Our Lady of Núria, sits on a high lintel in the upper floor of the church, from where she casts her benign gaze on visitors. That the beautifully polychromed, 22″ high Romanesque carving has since been dated to the 12th or 13th century rather than the 8th century has not diluted its veneration. The Blessed Virgin is considered a patron saint of fertility and for hundreds of years couples have prayed before her and the cross to cure their infertility. Before leaving the chapel, the women place their head inside the pot while their husbands/lovers ring the bell overhead. Though there is no logical explanation, many of these couples report that they conceived following the ritual.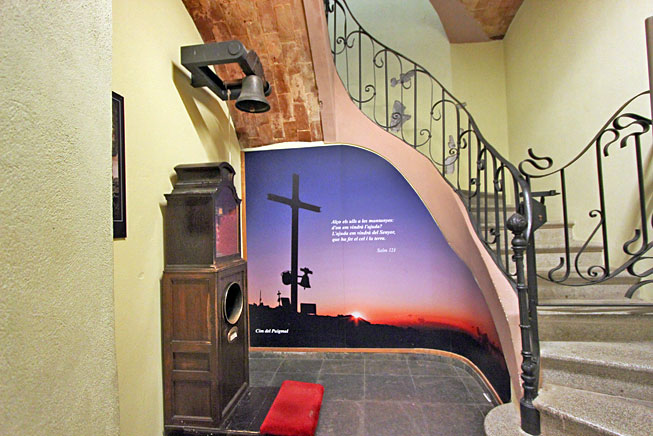 Vall de Núria today retains an atmosphere of sanctuary. Located in the eastern Pyrenees, within the municipal area of Queralbs, it is surrounded by peaks nearly 10,000 feet high. In a farsighted move, the local government decided to build no roads to the area. Access is on foot or via a rack railway, which carries vacationers and day-trippers 7.5 miles up the steep mountain inclines. In the summer, a myriad of hiking trails lead up through jagged peaks while winter offers ski and snowboarding adventures, but many visitors are present-day pilgrims who follow a route around the hermitages and sanctuaries that represent the stations of the cross, some of which are embellished by stunning works of art by local sculptor and painter, Domenec Batalla. Though the faithful may encounter more people than Saint Giles did in the 8th century, Vall de Núria is still an inspirational wilderness where the screech of a Golden Eagle circling in search of prey or the clatter of mountain goats gaining purchase on rocky scree are much more common sounds than human voices.
Can't view the above slideshow of Vall de Núria Sanctuary in the Spanish Pyrenees? Click here.
HOW TO GET TO VALL DE NURIA:
Drive or take the train (RENFE) to one of three stations: Ribes-Enlac, Ribes-Vila, or Queralbs, where you can connect with the Rack Railway that takes you to Vall de Nuria. Free car parks are provided at all three stations. Travel time from Barcelona is approximately 1 hour, 45 minutes; from Girona 1.5 hours.
ACCOMMODATIONS:
Hotel Vall de Núria offers 65 rooms with with safe deposit box, bathroom with hairdryer, telephone and satellite TV, as well as 12 fully equipped self-catering apartments with bedroom(s), living/dining room, satellite TV, telephone, bathroom(s) and kitchen. Prices are available to suit most budgets and the resort often offers specials; phone for reservations at 972 73 20 30 (country code +34)
EAT:
The resort offers five different restaurant options, ranging from full to self-service, several of which allow diners to enjoy the traditional cuisine of Vall de Núria.
RELIGIOUS SERVICES:
Winter and spring (November 3 through June 28): Saturdays and Sundays at noon, mass and hymn singing. Weekdays religious services are available by prior arrangement by calling 972 73 20 39. Christmas services are held in keeping with celebrations. Summer (June 29 through November 3) mass and hymn singing each day at noon and 6:30 p.m.; Vespers Singing of the Ave Confessions before each mass.
RETREATS:
Retreats and periods for meditation and prayer are frequently organized at Vall de Núria.The priests and the team that look after the sanctuary provide a haven of spirituality, with a solemn participative liturgy and organ music.
ANNUAL FESTIVALS:
June 29: The date when the sanctuary was reopened and sheep flocks were once more guided up to mountain pastures is still celebrated with a solemn mass and a blessing of bread and porridge.
September 1: Saint Giles' feast day when the Feast of the Shepherds is celebrated. This day marked the traditional end of the season for upper mountain shepherding.
September 8: Held on the birth date of the Virgin Mary, this event brings together a large number of people christened with the name Núria. After the mass, the image of the Virgin is carried from the sanctuary (main building) to the hermitage of Saint Giles (the rock-church), where hymns are sung to her.
My trip to Núria Valley was hosted by Costa Brava Pirineu de Girona (Costa Brava Girona Tourism Board). However, the receipt and acceptance of complimentary items or services will never influence the content, topics, or posts in this blog. I write the truth, the whole truth, and nothing but the truth. If you are planning a trip to the Catalonia Region of Spain and would like to visit Vall de Nuria, contact Costa Brava Pirineu de Girona  Av. Sant Francesc, 19, 4t, Girona, 17001, Spain, Phone:972 208 401 (country code +34), Website contact form.