My visit to Cambodia was simultaneously intoxicating and exhausting. Each morning, rested and ready to tackle a new day in no-holds barred Phnom Penh, crumbling Battambang, or mind-boggling Angkor Wat, I stepped from my air-conditioned hotel room into the summer's suffocating heat and humidity. Within minutes I was drenched from scalp to toes, clothes stuck to me and sweat running down my glasses. By the time I had climbed to the top of my 18th temple at Angkor Wat I needed a rest. Fortunately, I had a perfect place in mind to kick back and recover; Caranee Thianthai, the owner of Nern Chalet Beachfront Hotel in Hua Hin, Thailand had invited me to stay a few days. I packed up and hopped a bus to Bangkok and the following day caught a shuttle for the 2.5 hour ride down to Hua Hin.
Upon arrival, the smiling front desk clerk checked me in and toted my small suitcase up three flights of stairs, apologizing as we climbed. "Sorry, it is a long way up but a very nice room." He threw open the door and led me into the gigantic bedroom. My jaw dropped open. Khun Caranee had arranged for me to stay in the top floor Seafront Suite, the most luxurious room in the hotel. On the opposite side of a king-size bed where towels were twisted into kissing swans, wrap-around picture windows framed a stunning view of a brilliant beach and the sparkling turquoise Gulf of Thailand.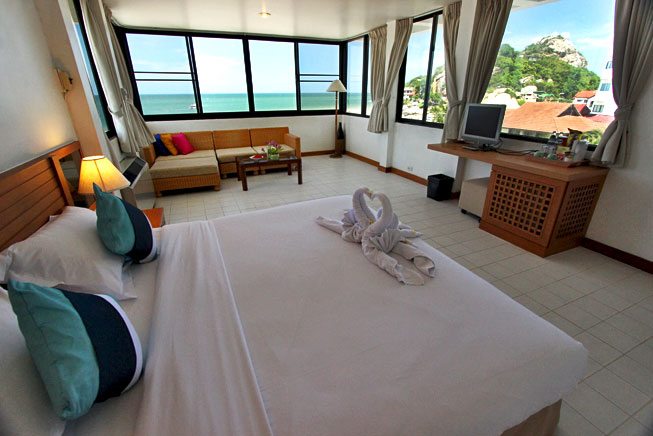 I breathed a sigh of contentment and sank down on the sofa, letting the chill air conditioning sink into my sun-baked body as I nibbled on tropical fruit that had been left in my room as a welcome gift. Hours later, blissfully relaxed, I recalled that Caranee had recommended I hike up nearby Khao Takiab hill, with its enormous Buddha standing in "Calming the Ocean" pose. From my window the statue glowed golden, its outstretched hands beckoning in the setting sun. Reluctantly, I left my plush suite for a stroll down the beach.
I am a huge beach fan. Some would say a beach bum. In fact, if expert testimony about beaches was needed in a court case, I would qualify. So believe me when I say Kaho Takiab Beach is one of the most gorgeous beaches I have ever seen. Beyond the hotel's infinity pool I wiggled my toes in cool white talcum powder sand. The tide had gone out while I chilled in my suite, leaving traditional wooden fishing boats beached on the golden sand of the exposed sea floor, patterned with perfectly spaced ripples.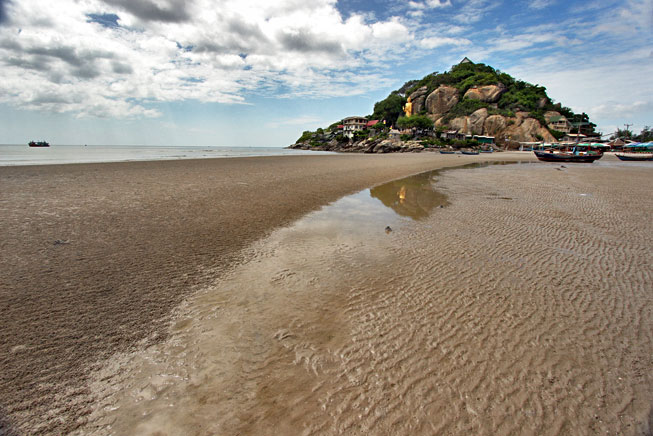 For six days I followed Caranee's advice about what to see and do in Hua Hin. Early one morning I visited Fisherman's Village, just steps away on the back side of Khao Takiab hill. At one stall I sampled scallops with crab garnish baked on delicate fan-shaped shells; another talked me into trying eel. A mouth-watering aroma drew me to the end of the narrow lane, where a family grilled giant shrimp over a charcoal brazier. We agreed on 90 Baht (less than $3 USD) for a half-dozen. I stuffed huge prawns into my mouth as fast as I could tear off the heads and peel the shells; they were SO delicious I ordered another six. Between mouthfuls I chatted with the family, who seemed delighted by my gluttony. Finally sated, I rinsed my hands in a bucket of water and was preparing to leave when the wife appeared with a plate of fresh cut pineapple, on the house.
Can't view the above slide show of Hua Hin, Thailand? Click here.
One morning before dawn, Caranee took me to Khao Hin Lek Fai Viewpoint to watch the sun rise over town, after which we cruised through the Chat Chai Fresh Market, where locals purchase food for monks in order to earn merit. Another day she took me to a little-known Hindu Brahma shrine famous in local circles for answering prayers from childless couples who wish to conceive, and then arranged for me to be driven to the local Artist's Village. Best of all, on my final day I was invited to lunch and dinner with Caranee's 90-something mother, who lives on site. I listened to mom's fascinating tales of the days when Nern Chalet was the first hotel to be built on the beach and the street that leads to the hotel was lined with ramshackle wooden shacks belonging to fishermen.
I was treated as an honored guest but I was not given special treatment. During the delicious breakfasts (included in the room price) and gourmet dinners whipped up by the hotel's chef, Caranee flitted from table to table, personally welcoming folks, making sure everyone was having a pleasant stay, and offering information about area attractions and activities. Everyone who comes to Nern Chalet is treated like family and that is the real beauty of the place.
Stay at Nern Chalet Beachfront Hotel:
Contact: Nern Chalet Beachfront Hotel, 144/7 Nongkae-Takieb Road, Hua-Hin, Prachuab Khiri Khan 77110 Thailand
Phone: +(66-32) 655-211 , +(66-89) 224 8888
Fax: +(66-32) 536-050
Email: [email protected]
Website: www.nernchalet.com
Get there: Daily trains run from the historic Hua Lum Pong train Station Bangkok to Royal Railway station Hua Hin. The trip takes about 4 hours. Mini buses run from Century Plaza, located near the Victory Monument BTS/Skytrain Station in Bangkok. Mini buses leave every 15 minutes from 6 a.m. to 8 p.m. every day. The trip takes approximately 2.5 hours and costs 400 Baht (about $10 USD). SGA Airlines provides daily flights to Hua Hin (45 minutes). For more information, contact SGA Airport office Bangkok (66-2) 134-3233, (66-2) 134-3234, or Hua Hin (66-32) 522 -300, (66-32) 522 -3002. Nern Chalet is located right on Takiab Beach (the most beautiful beach in Hua Hin), just 5 Kilometers from Hua Hin Town Center and guest are picked up from the bus, train, or airport free of charge.
Accommodations: All rooms are equipped with superior bedding, air conditioning, cable TV, mini-bar, refrigerator, hot/cold water and free wireless internet. Room choices range from Deluxe Garden View rooms to Seafront Suites for individuals, couples or families. Prices range from 3,000 to 11,700 Baht, depending upon season and type of room (from $99 to $378 USD per night, based on currency exchange rates as of this writing).
Eat: Nern Chalet offers beachfront dining that includes a wide selection of gourmet Thai and International cuisine. The open-air dining terrace faces the sea and offers a relaxing, tranquil atmosphere. A delicious buffet breakfast is included in the room price.
Nern Chalet Beachfront Hotel kindly hosted the author's stay. However, the receipt and acceptance of complimentary items or services will never influence the content, topics, or posts in this blog. I write the truth, the whole truth, and nothing but the truth.