Cigarette dangling from his mouth, our wiry Cambodian engineer yanked the starter rope on a small motor mounted to the rear of our open-air rail car. The engine sputtered momentarily, then roared to life. Straining at the weight of the iron frame, he pushed our rudimentary vehicle down the tracks a few feet, hopped aboard at the last possible moment and broke into a wide grin. Within moments we were speeding down tracks that looked as if they had melted in the sun and dried warped. I sat back and let the breeze dry perspiration that had beaded on my brow and upper lip in Cambodia's unforgiving summer heat and humidity. A pair of butterflies parted before me, narrowly escaping being plastered on my nose, and jungle vines reached out on the narrow right-of-way, whacking me in the arms and face as we sped along at our top sped of 25 miles per hour. Gaps between the kattywampus rails caught the steel wheels; their jarring clunk-clank set my teeth rattling. With no railings on either side and only a thin bamboo platform separating me from the ground rushing by below, it was totally unsafe. And I loved every moment of it!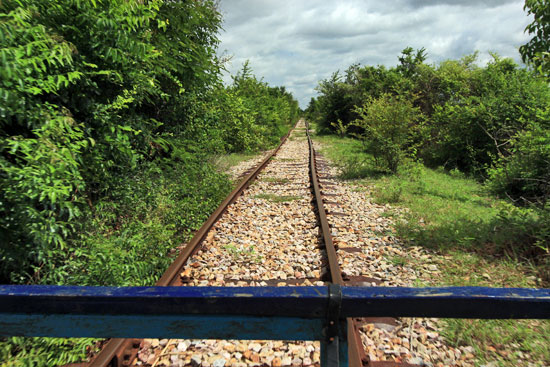 After the Khmer Rouge were overthrown in 1979, locals needed a way to move people and goods around the country. Trains no longer ran but the track were still in place, so with typical Cambodian ingenuity, they salvaged old train axles and wheels, built iron frames and laid a platform of bamboo on the top. Initially, the cars were pushed along the tracks with large wooden paddles but eventually small motors were installed. When the country reopened to the outside world, tourists discovered this curious means of transport and christened it the Bamboo Train. Today, the train carries visitors and locals alike on the six-mile route between two tiny villages just outside of Battambang.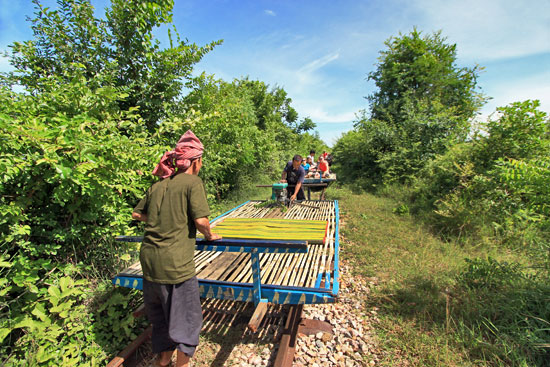 We crossed an old wooden trestle and sped through overarching trees that parted every so often to reveal chartreuse rice paddies shimmering in the afternoon sun. I looked up as our engineer backed off the engine, allowing us to coast to a stop. Another rail car approached from opposite direction and slowed to a stop in front of us. Someone would have to give way, and it was us. Custom dictates that the car with the fewest passengers must break down, move aside and let the others pass. We climbed off and stood aside as the two engineers picked up platform and motor, setting it on the side rail. Once the wheels and axles had also been tossed into the gravel, three waiting cars whizzed by, the final one stopping to help put our car back on the rails. After several stops to allow oncoming traffic to pass, we finally arrived at our destination, a tiny rural village with a scattering of shacks and two stores built specifically to serve the tourist trade.
Proprietors of the two shops met our car with friendly smiles, each trying to outdo the other with promises of ice cold drinks and handmade silk scarves. Despite the heat, I declined their offers, instead wandering down a dirt path through the jungle where I discovered a local brick factory, owned by a family that was eager to give me a guided tour of the three immense domed kilns that stood on a ridge, overlooking a clay pit framed by lovely rice paddies. Clad only in a pair of old navy shorts, a diminutive clay-smeared Khmer man balanced atop a mountain of clay, working the material with his feet until it was soft enough to be squished into molds and cut, using a machine that resembled a giant cheese slicer. Finished bricks are left under cover to dry for six days, then fired for 12 days in a kiln fueled by rice hulls. The blackened hulls that remain after firing are bagged up and used as fertilizer in the paddies, completing the circle. For their backbreaking efforts, the family earns 200 Riel (five cents) for each brick.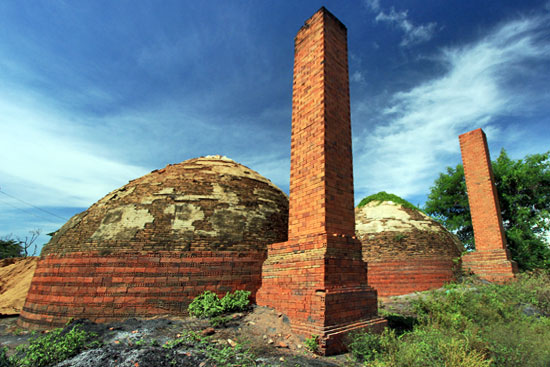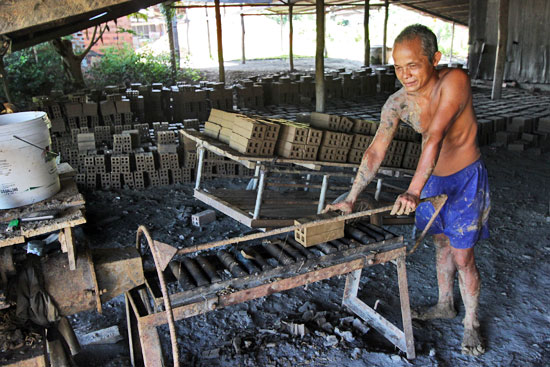 I made a small donation to the family for their kindness and meandered back to the store, ducking into the shade beneath their covered porch with a handful of other sweat-soaked tourists. Delighted to have an audience, the bare-chested 71-year old owner, Mr. Sum, beamed at us as he expounded on his life.
"I was colonel and general in Cambodian army." He pointed to the angry scar that crossed his chest. "I fight until 1986, when I wounded and go to Thai hospital. Almost die." But I get better and come here. Now I sell to tourist. No more army; no more fighting. Now peace."
Unfortunately, Mr. Sum's peaceful life may once again be upended, as the days of the Bamboo Train are rumored to be numbered. At present, only two trains per week use the tracks around Battambang: one carrying goods from Phnom Penh and a second, later in the week, returning to the capital. Because the tracks are in such poor condition, trains are restricted to 20 miles per hour and the dilapidated rolling stock often breaks down, cancelling runs altogether, thus it is not difficult for the Bamboo Train to share the rails. However, eager for access to the Gulf of Thailand and its shipping ports, China is pouring money into building new railways in Vietnam, Laos and Cambodia. In Cambodia, work has been completed at both ends of the line, leaving only the central portion of the narrow-gauge tracks to be ripped up and replaced.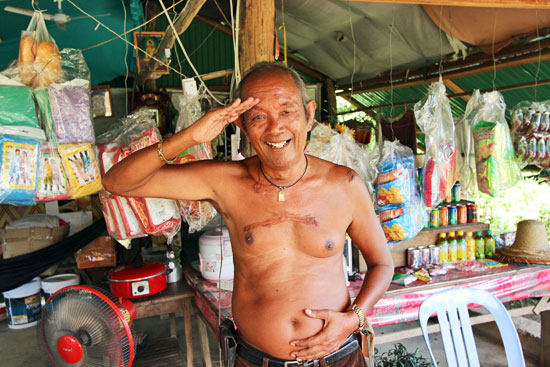 I wondered what would become of the little village and its entrepreneurial spirit once the Bamboo Train was just a memory. The brick factory might endure, but I thought it unlikely that a station would be built at this out-of-the-way speck not even shown on local maps.
"Is it true that the Bamboo Train will soon stop running?" I asked Mr. Sum.
"Yes, maybe."
"What will you do if that happens?"
He shrugged his shoulders in resignation, his smile never faltering. "Maybe it still run between trains."
I hope he is right, but even if he is, the new Bamboo Train will run on slick and straight rails, on a widened right-of-way, cleared of encroaching vegetation. It will never be the same.
In order to access some of the rural areas around Battambang, you will need to hire a tuk tuk driver. I was lucky; I met Seth Vina on a street corner and ultimately hired him to take me to the Bamboo Train and to visit the handicraft villages on the other side of the river. Seth speaks perfect English and is well-versed on the area history. His one day tour cost $25 and he will work out custom itineraries for clients. Find out more on his website: http://www.aboutbattambang.com, or call him in Battambang at 92-862-018 (country code 855).