Once my traveling companion, Larry Bosco, and I had exhausted land-based attractions in Phnom Penh, Cambodia, we turned to the water. Rivers are the lifeblood of Cambodia and Phnom Penh is located at the confluence of the Mekong, Tonle Sap, and Bassac. We walked along Sisowath Quay beneath international flags of countries flapping in the breeze, perusing the various options for sunset river cruises on the sluggishly flowing chocolate Tonle Sap.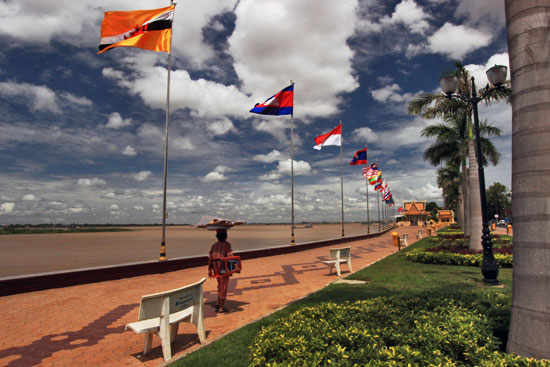 On a whim, we popped into one of the piers at water's edge, where a tout with finely honed radar pounced. He shoved a plastic laminated flyer under our noses and reeled us in with the photo of an attractive cruise boat, pushing us to make a quick decision if we hoped to see the sunset. With only a few days in Phnom Penh, we seized the opportunity, hoping that the overcast skies would clear enough to see the Royal Palace silhouetted by a red sky. The tout hurriedly flagged down a cyclo-rickshaw and we were off to board the boat. A couple of minutes later he pulled up to a high concrete abutment and motioned for us to descend to the bottom via a narrow set of steps. At the bottom, we were met by a stick-thin, sinewy man who led us through a minefield of scrap lumber and soggy marsh grass to a row of boats shoved up to the shore.
To our right were several attractive yachts and double-decker boats that resembled Mississippi River paddle-wheelers. We turned left. My brow furrowed as I balanced on a rickety narrow board leading through the swamp to a row of broken down boats. A moment later, we stopped in front of a decrepit, derelict scow with a handful of plastic red chairs set on the otherwise barren deck. With a gap-toothed smile, our guide motioned for us to climb up the unsecured narrow wooden gangplank.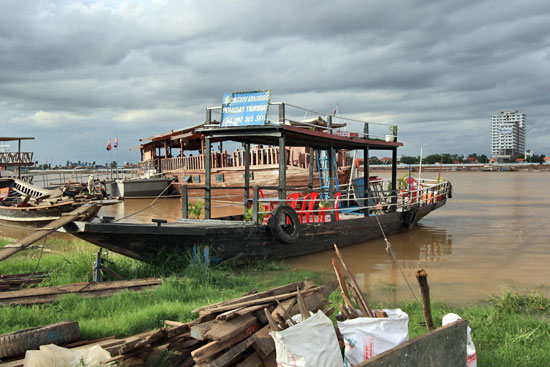 "No way in hell I'm getting on that boat," I said, stopping in my tracks. "This is not the boat in the photo. What happened to the nice new boat we were shown in the photo?" "Boat safe," our guide insisted, but no amount of wheedling would convince me to set foot on that disaster of a barge waiting to sink. When I crossed my arms and demanded our money back, he finally changed his tune. "New boat coming, just wait. I think you want to go right now, so I bring you to this boat." Sure enough, a nice craft soon slipped into the shore. We waited for the passengers to disembark, then stepped onto the one-way wooden plank leading to the boat. Our guide redirected us at the last moment, pointing to an older wooden craft tied up next to the one that had just emptied. I grimaced. It wasn't much larger than the boat I had rejected, but at least it appeared to be more seaworthy.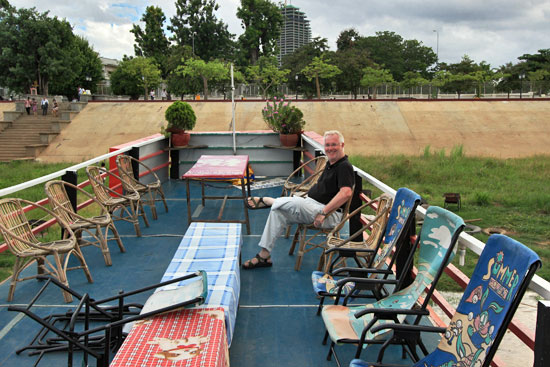 Using wooden cross slats to gain purchase, I struggled up a severely inclined six-inch wide board with no railings and stepped onto the prow, questioning whether I'd lost my sanity. We settled into chairs on the upper deck as we motored out for our one-hour float down the Tonle Sap to the confluence of the Mekong River. Out in the middle of the river a refreshing breeze dried the beads of perspiration on my brow and the hypnotic slapping of silt-laden water on the hull lulled me into relaxation.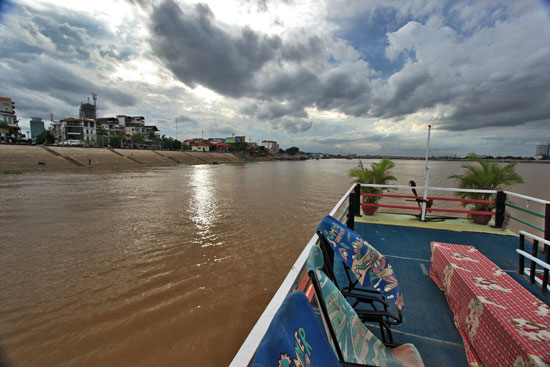 The last speck of clear sky disappeared behind leaden clouds as we sailed past the Royal Palace, removing any hope for a colorful sunset, but by the time we turned around at twilight Phnom Penh's squat skyline was nicely lit up. We picked out a twinkling riverfront restaurant located just a short walk away from the landing site and gratefully settled into comfy chairs at a table with a prime view of the river.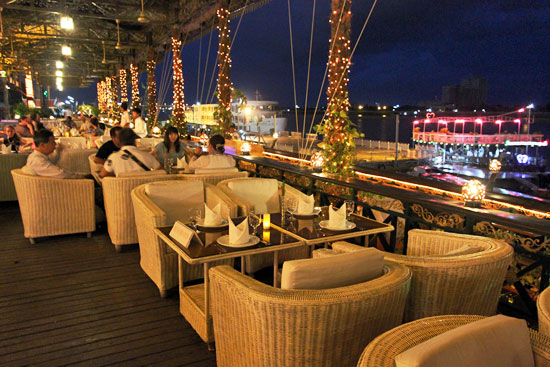 "Take a look behind you," Larry said as we perused menus. I glanced over my shoulder to a pier where scores of people were boarding a double-decker river boat bedecked in multi-colored lights. "That's the boat in the photo." We had a good laugh and after an absolutely delicious dinner, decided that we never would have tried the restaurant were it not for the boat ride, so everything worked out in the end. But as far as sunset cruises on the Tonle Sap go, next time I'm going to demand to see the actual boat before I pay for the tour.