More than worrying about whether I would be able to carry my heavy backpack while trekking the Lower Mustang area in the Himalaya Mountains of Nepal, I was concerned about altitude sickness. I had learned the hard way during a two month visit to Ecuador late last year that I do not react well to elevations over 10,000 feet. Though I was fine in Jomsom, Kagbeni, and Marpha, all of which are at lower elevations, the town of Muktinath lies nearly 12,500 feet high, and the temple of the same name is 300 feet higher than the town. Just to be safe, I popped a high-altitude sickness pill the night before and opted for a 4WD jeep rather than making the four-hour trek each way.
As directed, I arrived at 8:30 a.m. and was told the jeep would be delayed until 9:30. Two hours later, I was still waiting; the jeep needs a minimum of 12 passengers to make the run and since I had opted to travel in the low season no other customers had arrived. Fearing that I would miss my opportunity to visit Muktinath altogether, I pressed the issue and the manager finally pointed to a rough, rocky trail leading to the upper reached of Kagbeni. "You go top, get jeep." Fortunately I had done some day-trekking around the area and knew the road to Muktinath was in the general direction where he pointed, so I scrambled up to the top of town and stuck my thumb out. Sure enough, a dust-caked jeep soon jounced around a corner and rumbled to a stop in front of me. "Muktinath?" I asked. The driver hopped out and unchained the back door of the jeep; I squeezed in with a family on Indians on a pilgrimage to visit the temple.
For the next hour our hotshot driver threaded a needle between soaring cliffs on one side of the rough graveled track and precipitous drop-offs that plunged thousands of feet to the valley floor, at times taking curves at a frightening speed that had us all banging on the roof for him to slow down. When the jeep finally rolled into town we breathed a collective sigh of relief and shakily climbed out.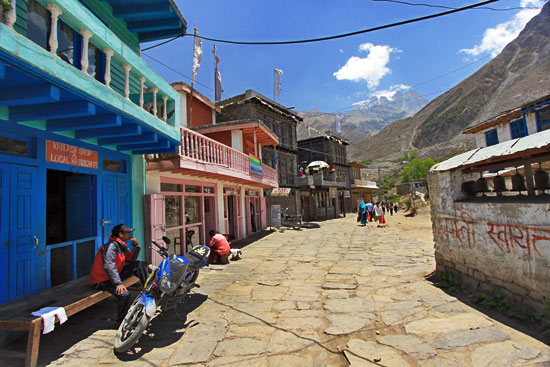 My rubbery legs carried me through the tiny village, not much more than a handful of brightly-painted wooden structures, to the trail that ascended to the temple itself. Halfway up I turned and looked down upon Muktinath, regally backed by a purple and blue Himalayas that took away what little breath remained in my straining lungs. At the entrance I silently congratulated myself and collapsed on the ground next to a group of Sadhus (Hindu holy men) dressed in orange robes and painted white with Shiva's ashes. With my limited Nepali vocabulary and their few words of English, we exchanged pleasantries until I was somewhat acclimated to the elevation and was able to continue my upward journey. Twenty minutes later I mounted the final staircase and stepped into a broad courtyard where fully clothed worshipers were immersing in two waist-high pools of water in front of the unassuming temple. Amidst much shrieking and merriment, husbands coerced their wives into the ice-cold water and fathers carried their children across the pools, stopping for a quick dip in the center of the pool.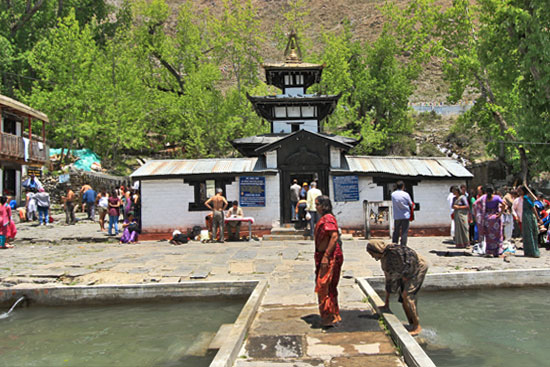 Despite crystal clear sunshine and warm midday temperatures, the water temperature remains near freezing year-round, as its source is a spring that wells up from the mountain behind the temple. The water is captured and diverted into 108 fountains in the shape of bull's heads, where it runs everlastingly into a three-sided enclosure that surrounds Muktinath Temple. After immersion into the pools, faithful make a run through these fountains as well, again in most cases fully clothed, though some of the men unashamedly stripped down to the briefest of skivvies.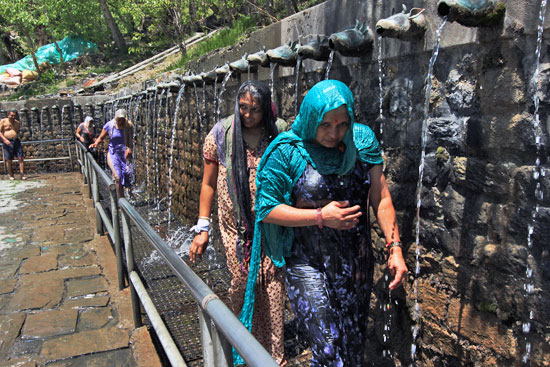 Not willing to subject my camera to a dousing, I joined the line of pilgrims waiting to enter the inner sanctum of the temple. Considered by Hindus to be one of the eight most sacred sites in the world, Muktinath is also an extremely important site to Tibetan Buddhists, who call it Chumig Gyatsa, which means 'Hundred Waters' in Tibetan. For Tibetans, Muktinath is one of the 24 Tantric places in the world and home to the Dakinis, goddesses known as Sky Dancers. Narsingh Gompa, a smaller temple within the larger Muktinath site, holds a golden icon said to be a manifestation of Avalokitesvara, a bodhisattva who embodies the compassion of all Buddhas and of whom the current Dalai Lama is said to be an emanation. Tibetan Buddhist tradition also states that Padmasambhava, the founder of Tibetan Buddhism better known as Guru Rinpoche, meditated at Muktinath on his way to Tibet.
Can't view the above slide show about Muktinath, Nepal? Click here.
However, I was not at the revered Buddhist site; I was waiting to enter the main temple, which is holy to Hindus. As I passed through the exterior structure that encloses the actual temple, a stern-faced officer in blue camouflage uniform stopped me with an upraised palm. "Only go to doorway. Look inside, not go inside!" Once again, as with Pashupatinath Temple in Kathmandu, it seemed I was going to be denied entry. Rather than try to sneak in, which had decidedly not worked at Pashupati, I took a different tack this time. Flashing him a big smile, I nodded graciously and said in Nepali, "Maw Buddhist ho." I am Buddhist. His brooding demeanor vanished, replaced by a wide, gold-toothed grin. Twirling his wooden baton, he glued himself to my side as we slowly approached the doorway. At the threshold he motioned for me to stick my head inside, then pointed to the metal statues, naming each in succession: Lord Vishnu, goddess Laxmi, Saraswoti, Janaki, Garuda, Lava-Kush and Sapta Rishis.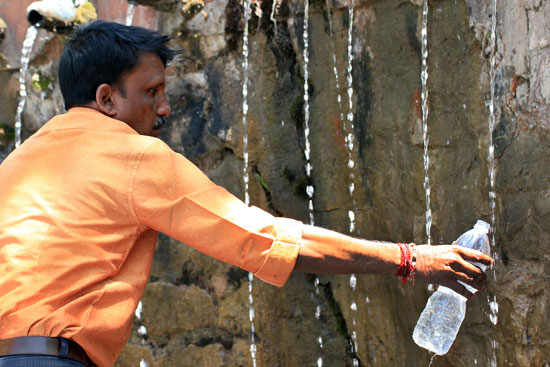 Back outside I made one more circuit of the 108 fountains, where faithful were filling plastic bottles to take home for future prayers and ritual cleansing. I had brought nothing to fill, but I reached inside the metal railing, caught some of the holy water in my cupped palm, and tossed it over my head and shoulders. I'll take all the blessing I can get. Considering that a year ago I thought I would never be able to trek again, something is working. Who am I to doubt the mysterious workings of the universe?