Sarita was only 13 years old when her parents sold her to the owner of a hotel in Kagbeni, high in the Himalayan Mountains in the Lower Mustang area of Nepal. For the next year, she slaved in the kitchen, preparing meals for the 10-20 men who stayed at the guest house. She was paid 8,000 Nepali rupees for the year, about $91 USD. Sarita hated the work, but without any means to pay for food and lodging, she was trapped. Then one day she met Nicky Chhetri, who along with her two siblings, Dicky and Lucky, had opened Three Sisters Trekking Pokhara Nepal. Nicky was scouring the mountains for underprivileged girls who would agree to be trained as trekking guides. If Sarita could find her own way to Pokhara, Nicky promised, she would be given food, lodging, education, and specialized training that would allow her to become one of the first female trekking guides in what had, up till then, been an exclusively male profession.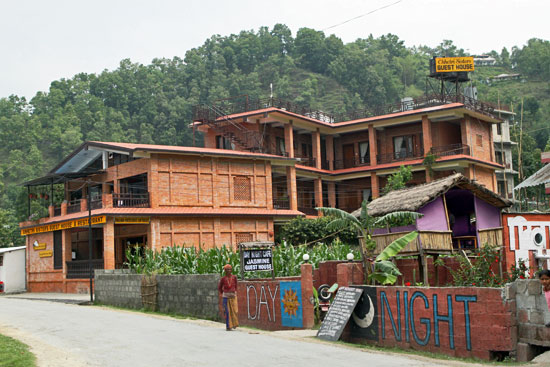 The Chhetri Sisters had seized upon the idea of female guides because many trekkers, especially women, reported feeling unsafe on the trails when accompanied only by male guides and porters. They battled Nepal's male-dominated society, never giving up on their idea regardless how many times they were told that only men could be licensed as trekking guides. Finally, they gained permission and set up their own school in the top floor of an older building on the north end of Pokhara, using the remainder of the building to house the girls.
Sarita scraped together the few Rupees needed for bus fare but when she arrived in Pokhara she could not find Nicky, so for the next seven months she worked as a laborer in the construction industry until, one day, she found a business card with Lucky's name and contact information. Full of hope that she was finally on the path to a better life, Sarita presented herself at Three Sisters Trekking, only to be attacked by Lucky when she discovered Sarita was of a lower caste than the sisters. "You can't come here, we are all Karki," she sneered. Eventually, the sisters accepted her as a resident, but Sarita's lower caste was often used as an excuse to treat her like a dog.
"What are you, a buffalo? You eat paper?" screamed Nicky when Sarita ran out of paper to do her schoolwork. "This is paper I buy from my pocket money, you should not waste."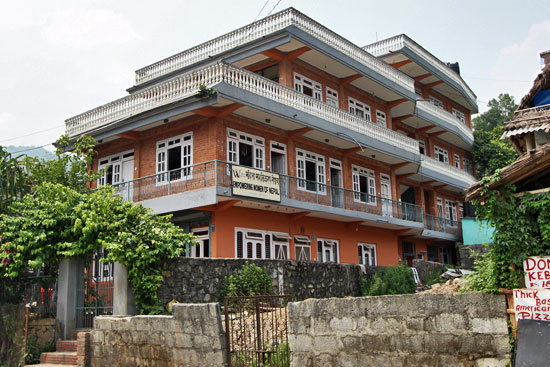 Gradually, 21 girls, ranging in age from five to 16 years old, became residents of the home, which soon prominently displayed the sign Empowering Women of Nepal (EWN), a non-governmental organization (NGO) that the sisters set up for the purpose of soliciting donations to support the children. At first, the girls were paraded out before contributors who visited the center to see first hand the result of their donations. Sarita recalled one such instance: "One day I was sitting in the library with a foreigner, who told me, 'you must do good work, study hard.' The visitor explained how he made donations to help us. After this, we were never again called to talk to foreigners. The sisters always told us they paid for everything; they did not want us to know that other people were sending money."
Jean-Luc Perrotin and his wife, Sabine, were among the earliest supporters of the agency. They met Lucky Chhetri during a trek in the Annapurna Himalayas in May 2006 and were very impressed with the sister's work to rescue marginalized girls, especially after meeting 13-year old Sarita in the restaurant where she was slaving away. In his delightful French accent, Jean-Luc recalls how their association began. "We want to contribute to the welfare of these children and we start to make some donations, quite heavily." They returned to Nepal twice each year, sometimes staying with the children in their home and other times in the Chetri sister's guest house behind the trekking office. "After some times, we realize that all the children…are not well treated, and it seems that all the money was not used for the children – only a small part was used for the children."
According to three former residents I interviewed (whose names have been changed here to protect their identity), the children lived in deplorable conditions, despite generous monetary gifts from donors around the world. They had use of only one toilet and a shower with cold water. Because the well often ran dry, the girls were allowed to wash their bodies only twice each week and their hair three times per week. On days when there was no water, they bathed in the nearby lake, which is considerably cleaner than the brown well water that was also their only source of drinking water. The girls slept in dorm rooms, four or five bunk beds to a room and usually two girls to a bed. They were expected to rise at 5 a.m., clean their dorm rooms and the bathroom before eating breakfast, after which they walked 45 minutes to school. Anyone who didn't get up on time risked the wrath of the sisters. "Lucky poured cold water on our faces," said Sarita.
Though the Chhetri sisters tell donors that the girls are being fed a healthy diet, Sarita claimed that they ate mostly dal bhat, a combination of stewed lentils and white rice, with only one meal per week that included vegetables, chicken or egg. "The sisters tell us all the time that we come from poor families, so we are used to simple food." Food was also used as a punishment. Another former resident of the house, Ritu, recalled the time she was falsely accused of breaking the sink. "They took away food for two days."
One December, the Perrotins arrived to find the children shivering in thin, short sleeve shirts, and no socks in near freezing temperatures. When he asked why they did not put jackets on or wrap themselves in blankets, the girls explained they had none. Jean-Luc and Sabine promptly purchased jackets and shawls and distributed them directly to the girls, which angered the sisters. Jean-Luc later heard that the sisters had confiscated the warm clothing. On another occasion, after watching the girls do their laundry by hand, the Perrotins offered to buy a washing machine for the home. "We speak about that with the three sisters and immediately they say 'Oh, what a wonderful idea.' Right away we went to market and we buy a brand new washing machine and (it) was supposed to be installed within the children's house." After the Perrotins departed, the children were told that their clothes were "too dirty" for the washing machine; the Perrotins later learned that it had been installed in the sister's private home.
Confiscation was not limited to large ticket items. When Ritu came to live with Chhetri sisters, they took her ring, necklace and watch and refused to give it back when she eventually left. When Jean-Luc brought the girls T-shirts with a picture of the Eiffel Tower, those too were taken away. The girls tell stories of a large room within the facility, stacked to the ceiling with donated merchandise, none of which is ever distributed to them. Disillusioned by what they saw, the Perrotins stopped supporting EWN.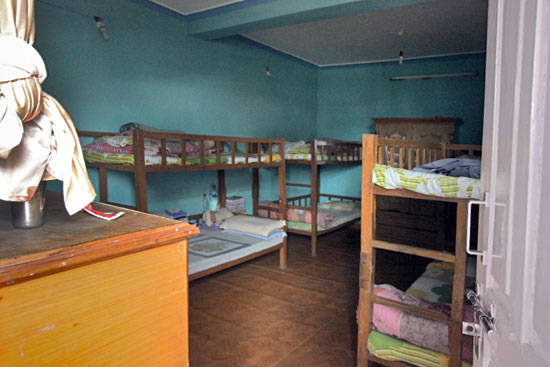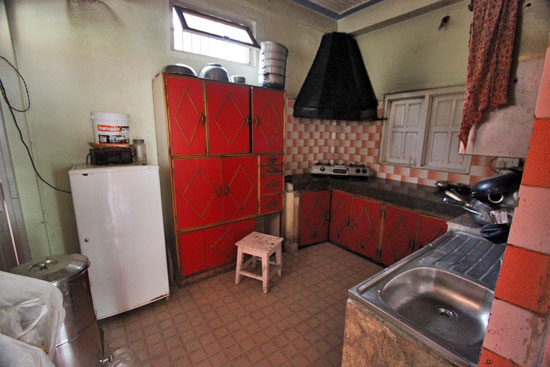 I wanted to witness for myself the conditions of the orphanage and home for the trekking guide trainees, so I showed up unannounced one day. It was mid-afternoon and all the children were in school, but I convinced one of the employees to give me a brief tour of the facilities. It was not as bad as I had expected, given the description of the former residents. Still, considering the trekking office, hotel, and most recently, the palatial private home that the Chhetri sisters have built, I was frankly appalled by the conditions in which the orphans live. They sleep in dark, windowless rooms in the ground floor, into which three or four bunk beds have been crammed, and prepare meals for 20 in a cramped, dirty kitchen.
Trekking guide trainees seem to be treated considerably better than the orphans; they have better accommodations on the second level, including decent bedrooms that sleep two to a room and a large, bright kitchen. Twice each year, Three Sisters provides a free 6-month trekking guide apprenticeship program, free accommodation and food at the EWN hostel, as well as free trekking equipment to women from remote rural areas. When they successfully complete their course of study, the girls can begin work as porters, earning 700 Rupees (about $8 USD) per day. If they prove themselves, they can then become trekking guides, who earn 850 Rupees (about $9.50 USD) per day. According to the NGO employee with whom I spoke, had they stayed in their villages, tending fields, at most they would have earned 350 Rupees ($4 USD) per day. While this is certainly an improvement in their circumstances, it must be noted that the going rate per day for a porter and trekking guide is $40-50 USD.
Three Sisters Trekking has undoubtedly provided a better life for the girls who become trekking guides and porters, however I question what percentage of the revenues brought in by the NGO are actually benefiting the girls. Though there is no disclosure of revenues or financial statement provided on their website, in 2009 the sisters partnered with UnitingPeople.com to raise $26,484. As part of this process, they were obliged to provide an audited financial statement to the organization. One line item shows expenses of 672,269 Rupees (about $7,500 USD) NRS for "ice climbing training." Yet in a supporting document entitled "Rock Climbing and Ice Climbing Report" the sisters disclosed that only one girl was actually trained in ice climbing and four in rock climbing. Given that the site of their rock climbing training is a cliff behind their office, the $7,500 expenditure seems improbable.
Expenses for 'female trekking guide training" were shown as 1,472,233 Rupees (about $16,500 USD). On the day I visited, the current trekking class consisted of ten girls and I was told the maximum was 15 girls, twice each year. Assuming that they trained 30 girls in 2009, the cost per girl would be 49,074 Rupees (about $550 USD) per girl. While that may seem reasonable, according to Three Sisters website, "At the end of this 4-week training course, the women start work in the apprenticeship program where they will be paid while acquiring field experience working as trekking guide trainees." Five hundred fifty dollars is a significant amount of money in a country where the per capita income is less than $2,700, according to the World Bank, especially since other line items in the financial statement make it clear that the training costs do not include rental of the building, food, clothes or health care. Another line item shows 43,600 Rupees ($3,633 USD) for Internet. Having lived here off and on for the last three years, I am well aware that Internet costs nowhere near that much.
In 2009, two years after the Perrotins had discontinued their aid to Three Sisters, Jean-Luc reestablished contact with two of the girls, who had by then fled the agency. Hoping to help, the couple returned to Pokhara, where they also reconnected with Devu and Bina, the other two girls they had been supporting through the NGO. Bina related what had happened. "I stayed two years at Three Sisters, but I knew what was going on was wrong, so I confronted them. They said 'You are not respecting us.'" She was made to sign a document, admitting that she had misbehaved, and was kicked out. The Perrotins decided to directly support all four of the former residents of Three Sisters Trekking and have been doing so ever since.
Ritu married and now has a small child. She recently divorced her husband and is looking for a job. Devu, the youngest, is in secondary school and has moved back in with her mother and step-father. Bina is in grade 12, studying management. Sarita, soon to be 21, has just completed her final year of secondary school and has passed her SLC exam; she will start nursing school in September. When Sarita looks back upon her time at Three Sisters Trekking, she says, "Life is not good there. The Chhetri Sisters treat children like a farm. They grow children, pick them, and use them to get money from other countries. If foreigners want to help, they should give money directly to people who need it instead of to a local NGO."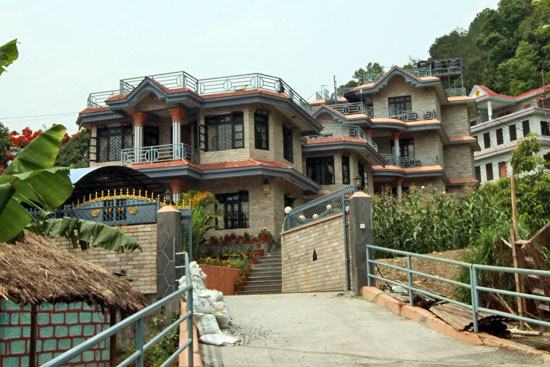 Though there are some deserving and well-run charities in Nepal, many local NGO's are thinly disguised means to solicit donations, the majority of which line the operator's pockets. After the country was opened to the world in 1951, money began pouring in via International NGO's and Nepali quickly learned that the quick and easy road to riches was to set up an NGO and bilk good-hearted tourists. If the private, gated residence of the Chhetri sisters, which is reputed to be the largest house in all of Pokhara Nepal is any indication, it is a lesson that Nicky, Dicky, and Lucky learned well.
Update June 28, 2012, Author's note: A reader contacted me to correct the price for trekking guides that was quoted in the above article. There was a typographical error in the account; originally it said "the going rate per day for a porter or trekking guide is $50 USD." It should have said: "the going rate per day for a porter AND trekking guide is $50 USD." The reader commented: "Barbara do you use pot or so. What kind of nonsense are you writing about. A rate for a porter is around 15 dollar a day, you pay to every company all over Nepal." Based on this comment, I re-checked with several other trekking companies and was told that the average price per day for guides is $25-30 and for porters the average is $20-25 per day. However, in the pursuit of complete accuracy, I have modified the price in the story to a range of $40-50.
Considering a future visit to Nepal? You'll want to check out my Essential Travel Guide for Pokhara, Nepal, which is updated regularly.