Let me just say it…I love hostels! Don't get me wrong, I appreciate luxurious resorts like Inkaterra Machu Picchu Pueblo and upscale hotels like the Eau Palm Beach in Florida too, but there's a special kind of energy in hostels that doesn't translate to other accommodation types. Travelers who stay at hostels are generally less interested in being pampered and more interested in having an authentic experience in the country they are visiting. It's not uncommon to plop down in a chair in the common area and soon be engrossed in a conversation about the best undiscovered restaurants and local places not included in the guide books that are definitely worth a visit.
Unfortunately, I so often hear objections to hostels, especially from travelers in my age group. There is a pervasive belief that hostels are frequented by 20-somethings who party half the night and then return to the dorm room and have noisy sex. Many also believe that hostels are dirty, are located in dangerous neighborhoods, and that things go missing in the dorms. On all counts, they couldn't be more wrong. I have stayed in hostels all over the world and most are clean and located in safe areas of the city, plus they all have firm rules about no sex in the dorms (I've never experienced a situation where this occurred). And in all my years of traveling, I have never had anything stolen in a hostel.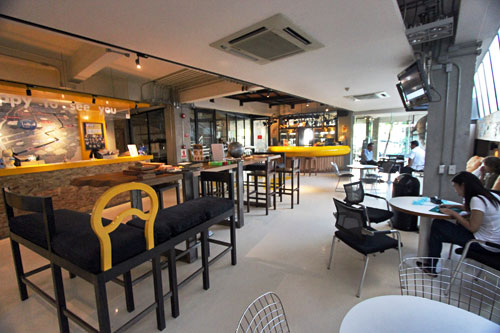 What will be a surprise to anyone who hasn't considered staying in a hostel is that almost all of them now offer private rooms in addition to dorms, and the private rooms almost always have private rather than shared bathrooms. Add to this the very affordable prices offered by dorms and you have an unbeatable combination. Like hotels and resorts, however, amenities and facilities vary from one hostel to another and I've gotten adept at reading between the lines of customer reviews when choosing a property. My criteria, in order of importance, are: in-room wifi, location near the city center, price, safety, and cleanliness. Most of the time I can't meet all my criteria but once in a while I get lucky, as I did several years ago when I discovered Lub-d Hostels in Bangkok, Thailand, which offers the following amenities, among others:
Free high-speed wifi access in the rooms and common areas
Lub-d has two hostels in central Bangkok, one in Siam Square (the heart of the shopping district) and another in the Silom (the commercial and nightlife area), both of which are an easy walk to the Sky Train and MRT subway
Lub-d Hostels are exceptionally safe and secure, with closed-circuit TV, electronic keycard access, fire protected emergency exits and fire & smoke alarms throughout the facility
Without a doubt, Lub-d are the cleanest hostels I have ever stayed in; their website says: "At Lub-d, cleanliness is not an option. It is the foundation of everything we do." I believe it; their shared bathrooms virtually sparkle!
Extremely affordable prices that range from $13.56 per night for a dorm bed to $47.46 per per night for a double room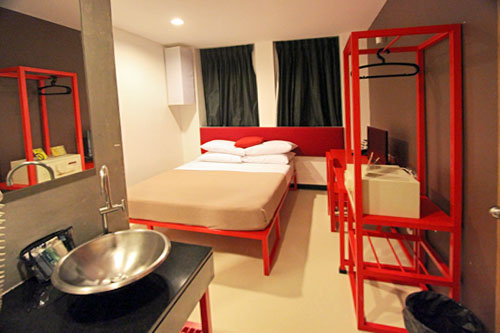 Since I often use Bangkok as a base for my Asia travels, I've had the opportunity to stay at Lub-d numerous times. Initially I chose Lub-d Siam Square, where I stayed in the female dorms; by my second visit the staff was greeting me by name when I walked in the door. This time around I opted for Lub-d Silom because it was better located for some business I had to conduct while in Bangkok, hoping that it would be as wonderful as its sister property. In a word, it was unbeatable. I arrived at 1 a.m., dead tired after 36-hours of flights from the U.S., and was quickly checked in and my luggage whisked up three flights to a private double room with flat screen TV, in-room safe, hair dryer, free bottled water, and of course, the standard of cleanliness that I had come to expect. Over the next two days, I chatted up other travelers in the lobby common area, washed my laundry in their coin-op machines, and watched a recently released movie on the large screen TV in their on-site theater.
Though I love both Lub-d Hostels, in the end, Silom was my favorite. My preference may be be partially due to the crowds being less intense in this area of the city. Or it could be because Silom is located within walking distance of the famous Dusit Thain Hotel, where I enjoyed a buffet breakfast one morning with three fellow travel bloggers who happened to be in Bangkok as well: Jodi Ettenberg of Legal Nomads, and Iain Manley and Claire Claire van den Heever of Old World Wandering. Most likely though, it has to do with their endearing staff who, having discovered it was my 60th birthday, sang happy birthday to me on the morning I checked out and sent me away with effusive waves as I blubbered out the front door.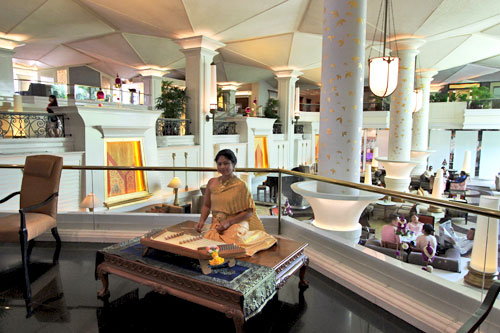 Lub d Bangkok was rated "one of the 17 coolest hangout hostels in the world" by Britain's influential daily, The Observer, and it's easy to see why. If you've never considered staying in a hostel, you might just want to take another look. And if you're Bangkok-bound, you can't do better than Lub-d, my favorite hostel in the world.
Disclosure: Lub-d Silom kindly provided two nights of complimentary accommodations during my recent visit to Bangkok, Thailand. However, the receipt and acceptance of complimentary items or services will never influence the content, topics, or posts in this blog. I write the truth, the whole truth, and nothing but the truth. If you're considering a visit to Bangkok, my favorite site for finding the best prices is Booking.com. I earn a small sum if you book by clicking on the links in the above story, which helps keep this blog free for you to read.