Faithful readers of Hole In The Donut Cultural Travel know that I am no fan of all-inclusive resorts, so when Iberostar Resorts invited me to be part of a press trip to Mexican Riviera Maya, I thought long and hard before accepting. My previous experiences with all-inclusives have left a bad taste in my mouth – literally. The food is generally horrible and little accommodation is made for vegetarians. Even worse, every all-inclusive property I've stayed at discouraged guests from leaving the property; in some cases I was even told that it is too dangerous to leave the grounds and that the hotel cannot ensure my safety if I do. This is anathema for a travel writer who specializes in culture. I want to interact with locals, eat what they eat, listen to their music, experience daily life for indigenous people, and I can't do that if I'm barricaded behind the walls of an exclusive resort. However, I love Mexico and most especially the Yucatan. So after due consideration (about five seconds) I accepted the gracious invitation from Iberostar, hoping for the best.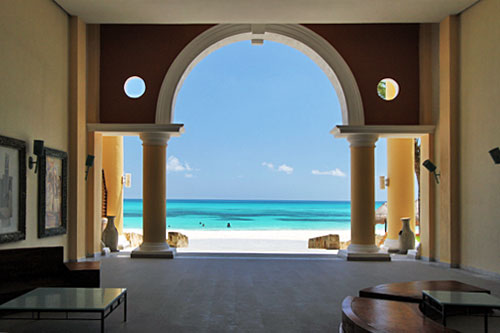 By the end of my five day stay at Iberostar Paraíso Maya and Iberostar Grand Hotel Paraíso, my opinion had entirely changed. I could tell you about the fabulous buffets, filled with mouth-watering vegetarian selections or the spa where I spent an entire afternoon getting a massage and soaking in the Roman baths and salt water pool. I could wax lyrical about the stunning beach, with its powder-fine, white sand beach and other-worldly turquoise water.  But let me just say that it's now obvious to me that I just never chose the right all-inclusive resort. And I think this video postcard, kindly produced for me by Iberostar, says it better than any words:
Iberostar Resorts may be different because of their roots, which go all the way back to a simple shoemaker in Spain who worked hard and saved enough money to buy a travel agency in 1930. One travel agency became two, then three; then more. By 1986, the family decided bring hotels into the mix and the Iberostar brand was launched. Today there are 104 Iberostar Resorts in 16 countries in the Caribbean, South America, Europe and North Africa, all of which are top-notch, all-inclusive properties. In addition to including accommodations, cuisine, and amenities, the Iberostar all-inclusive experience includes tips and taxes, alcoholic beverages, non-motorized water sports, entertainment, and resort activities.
Can't view the above slide show of Iberostar Resorts at Playa Paraiso, on Mexico's Riviera Maya? Click here.
On the Mexican Riviera Maya, Iberostar's resort is actually five different properties standing side-by-side on a glorious strip of beach. All guests have use of facilities in four of the properties: Iberostar Paraíso Lindo, Iberostar Paraíso Maya, Iberostar Paraíso Beach, and Iberostar Paraíso del Mar. The fifth property is the Grand Hotel Paraíso, one of Iberostar's new category of luxury, adults-only resorts and hotels, based on a concept of upscale vacationing that is stylish and relaxed. Guests staying at the Grand Hotel have use of all five properties. Since I was staying at both the Paraíso Maya and the Grand Hotel, I was given a special plastic wristband that gave me full privileges. I didn't truly grasp the power of my magic wristband, however, until the day I decided to spend the afternoon at the Grand Hotel's exquisite pool. I swam up to the pool bar, clambered onto a submerged stool, and ordered a virgin Pina Colada, expecting to be asked for my room number. The bartender plunked the tall icy concoction in front of me and wandered away. I suddenly understood the concept of all-inclusive. For the next few hours I ordered every kind of virgin frozen drink I could think of. I was drunk with power.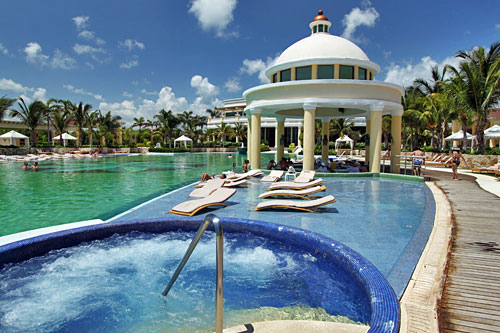 There was just no end to the fun. On my first full day the resort hosted our group on a snorkeling trip. Just a ten minute boat ride from the resort, the offshore reef that runs in front of the resort is part of the world's second longest coral reef, the same one that is home to Belize's famous Blue Hole and the spectacular reefs of the Bay Islands of Honduras. Every time I turned around we were eating. Three meals a day, from buffets so large they took up two and three rooms, put five extra pounds on me in five days. It was way too much food and more meals than I normally eat, but the food was so good that I couldn't stop. On the final evening our group was treated to dinner at the Geisha Japanese Restaurant, one of numerous specialty themed eateries on the property. Chefs standing in the open center of our square table bounced eggs high in the air on metal spatulas and fearlessly juggled razor-sharp hatchets. The show was as good as the meal. We ended the evening at the resort's Mexican Independence Day celebration, a riot of Mariachi music and traditional dancers wearing flamboyant dresses with skirts of many layers and exuberant ruffles.
Best of all was Iberostar's stance on leaving the property. They insisted we see the Mayan ruins of Tulum. Another evening we were treated to a dinner show at the cultural theme park Xcaret, which featured an exhibition of the ball games once played on ancient Mayan ball courts, followed by a reenactment of the history of Mexico, complete with Spanish Conquistadores, Mayan warriors and traditional dangers from provinces around the country. A third excursion took us to Rio Secreto, an underground river that, for me, was the highlight of the entire trip (Rio Secreto deserves an article all its own, stay tuned).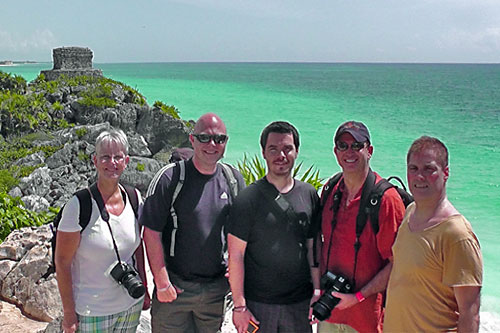 The five day trip came to an end way too soon. I could definitely get used to this. As I checked out of the Grand Hotel Paraíso I glanced at a sign on the counter that said "You could live here." I will, some day. But until that time, I'll be happy to stay in any Iberostar all-inclusive resort anywhere in the world.
Iberostar Resorts kindly hosted the author's visit to the Riviera Maya on the Yucatan Peninsula of Mexico. However, the receipt and acceptance of complimentary items/services received will never influence the content, topics, or posts in this blog. I write the truth, the whole truth, and nothing but the truth.