I met Valerie Jamieson almost a year ago, during a visit to Chitwan National Park in southern Nepal. Serendipitously, we had booked weekend safaris at the same lodge and ended up on the same bus back to Pokhara, where she was volunteering at an orphanage and elementary school. We bonded immediately and started meeting every morning for breakfast, where we compared notes on Nepal, shared life stories, and commiserated about getting older and not being able to do all the things we could when we were young. Eventually, Val's volunteer stint came to an end; she headed for a tour of Tibet prior to returning to her home town of Newcastle, England, with a promise that she'd email me when she got home.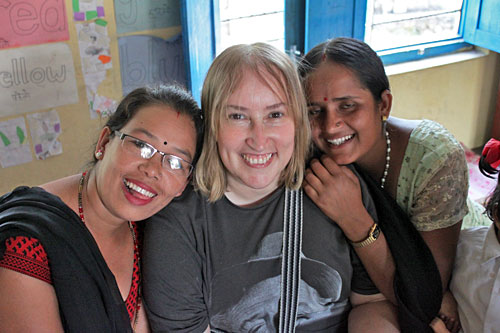 Certain that we were the kind of friends that would last forever, I was surprised when that email never arrived. I thought about writing to her but didn't want to push the issue if she had no interest in staying in touch. I just assumed she got busy with life or hadn't really felt the same kind of kinship with me that I had with her. Then one day, months later, I received the following shocker of an email from Val:
"Remember me from Nepal? You might have wondered where I went when I promised to keep in touch by email or that I didn't think we were friends after all. Well, neither is true! When I went home after Nepal I became more and more ill. You might remember that I had a problem with my eye. The investigations into that led to a CT scan and I was finally diagnosed with a benign brain tumour on 16th March this year. It was benign but very large and was pressing on my brain causing massive swelling and fluid on the brain. I had loads of symptoms (remember I had no sense of smell!) and in the weeks previous my balance went completely amongst a pile of other things but they were all disconnected and I never once thought of a brain tumour. By the time I was diagnosed it was an emergency and I was rushed into hospital that night and given massive doses of steroids etc. I had a full craniotomy on 25th March when the tumour was fully removed and I am home now recovering."
I had one of those "life is short" moments that always accompanies that kind of news. My next thought was that I was scheduled to be in Edinburgh, Scotland soon, which is just over the border from Newcastle. I emailed Val back, offering to come if she felt well enough to have visitors. Not only did she feel well enough, she insisted I stay with her and even met me at the train station.
My goal in visiting Newcastle was to spend time with Val. I certainly didn't expect her to be strong enough to show me her home town but not only did she look wonderful, she felt well enough to take me on a walking tour of the city center the following day. We listened to a musician play Irish Pipes in the Central Arcade, wandered through Black Gate and past Castle Keep, spent a couple of hours walking around Quayside on the Tyne River, and capped off the afternoon with a visit to the Baltic Centre for Contemporary Art, which occupies an old restored flour mill. Again I was surprised. As a child I had often heard my English grandmother remark that something was, "Like taking coals to Newcastle," a reference to the extensive coal mining that had occurred in that part of England. I had expected a sooty industrial city that was somewhat run down; instead I discovered a delightful metropolis full of exquisite stone architecture and eager-to-please locals. Best of all, Newcastle hadn't yet been discovered by tourists. We had the sites all to ourselves.
Can't view the above slide show of Newcastle, England? Click here.
Prior to my arrival in Newcastle I had noted changes in my friend. She was still the same Val I had come to know in Nepal but she was also different: lighter, full of gratitude and welling with childlike joy over the simplest things. On one Facebook status she wrote, "I have just walked by myself to my local newsagent! A small step but a big one for me in the return to independence. It started raining on the way back and I got soaked. It was the most wonderful rain I have ever felt…"  I remember feeling like that when I abandoned corporate life to pursue my passions of travel, writing and photography. Everything was new and exciting. I couldn't walk by a flower without sniffing it, I suddenly became aware that the air was filled with the sounds of birds twittering, even colors were more vibrant. I lived in the present moment at all times. After being with Val I realized that my childlike joy has grown just a bit tarnished. Another friend who almost lost his life in a hurricane some years ago told me that after surviving the ordeal he, too, was awed by the richness of life but it wasn't long before the intensity faded. He sagely concluded that the challenge is to hold onto the joy.
Visiting the undiscovered gem of Newcastle was wonderful but Val's exuberance for life was an even greater gift. I'm hoping that she never loses her new-found wonderment and so far, so good. I checked her Facebook Page again the other day and found this comment about having to take the bus everywhere because she can't yet drive:
"Spent 2.5 hours travelling to and from Cramlington on the bus today – would only take half an hour in the car. But…as I was waiting in the bus stop an electric blue bird flew up ahead. Being in the city could only have been a budgie I think but it was incredibly beautiful and it was magical moment. Wouldn't have seen it if I had been in the car….maybe it's true that every cloud has a silver lining"
Way to go Val. You're an inspiration and my new hero. And Newcastle now ranks among my favorite cities in the world.