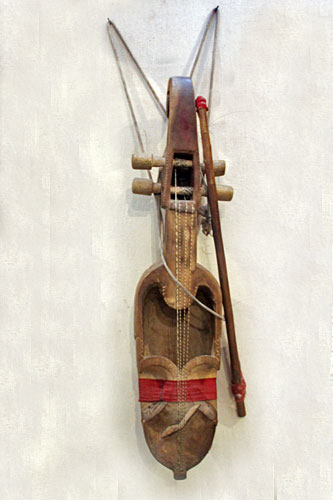 Standing on street corners amidst clamorous horns and revving engines in Kathmandu and Pokhara, young musicians play sarangis, a traditional handmade wooden Nepali folk instrument that resembles a small fiddle. Although the sarangi is today used by many, it was traditionally played only by people of Gandarva, or Gaine caste, as they are commonly known. The most famous of sarangi musicians, Jhalakman Gandarva, in 1962 produced the song, "Amale Sodlin, Khoi, Chhora Bhanlin (My Mother Will Ask Where Her Boy Is)," a narrative folk song about a Gurkha soldier's final words of remembrance to his family as he lies dying of a wound to his head in World War II. Jhalakman is the first singer to record Gaine song and bring the voice of his indigenous people to the masses.
Today, Gaine caste members like brothers-in-law Sandu Kancha Gandarva and Bukun Gandarva are are working to preserve the culture of the sarangi. Hailing from Tanahun, the two were born and raised in a family where the sarangi was a way of life. Sanu Kancha, who is a founding member of the Gandarva Culture and Art Organization, left his village at the age of 12 and came to Kathmandu to seek his fortune. He made and played sarangi on the streets in those early days, selling the instruments to tourists for three and four times what it cost to make them. Fifteen years ago, Bukun came to Kathmandu to begin working with his brother-in-law ; today he performs nightly at Bhojan Griha Restaurant in Thamel, the backpacker area of the city, and gives sarangi lessons during the day.
Although Bukun has recorded two albums with other folk artists and toured Asia and Europe, the brothers-in-law are worried about the future. During the annual Sarangi Day Celebration this past October, Sanu Kancha ws interviewed by the Kathmandu Times about the fate of his beloved sarangi:
"The younger generation is no longer interested in learning their ancestral craft. I wanted to teach my two sons what has been in our family for generations but not one of them showed any interest in learning. It's difficult to imagine how many will play this instrument 50 years from now. We, the older generation, will be dead and I wonder how many Gandarvas who actually play the sarangi will be around."
If the number of wandering musicians are any indication, the sarnagi will be around for many years. Tourists can hardly walk down a street without these modern day minstrels trying to sell one of their instruments. Occasionally, however, these youngsters will oblige with an impromptu concert, such as the duo in the short video below, which was shot on the streets of Pokhara. They make different notes by touching the upper strings with the fingers of the left hand while drawing the bow across the strings at the junction between the two cavities.
Modern sarangis are still hand-carved from a very light local wood known as Khiro. The body is carved into a hollow frame with two openings, the lower of which is covered with dried sheep-skin. Originally, the four strings were made of sheep intestine but these days steel or nylon are generally used, just as nylon has replaced the horsehair tail traditionally used for the bow string. The strings are supported by two bridges on the sarangi's fretless neck and tuned by Kunti (tuner). With this attention to detail and commitment to maintain the historical design, few souvenirs are more representative of the Nepali culture than a sarangi.
Considering a future visit to Nepal? You'll want to check out my Essential Travel Guide for Pokhara, Nepal, which is updated regularly.