I walked cautiously, trying not to slip into the concrete gutters that separate George Town's row houses from the narrow road. Beside me, a gaunt Chinese man with flowing white hair pedaled an ancient bicycle. The foot-long hairs growing from his bulbous black chin mole bounced in perfect time with his pumping feet. Distracted, I wandered too far out into the street. A motorbike whizzed past me with only centimeters to spare. A horn blared on the other side of the motorcycle. For a moment our trio – a car passing a motorcycle passing a pedestrian – hogged both lanes, oblivious to the oncoming panel van. Focus, I thought. I must focus.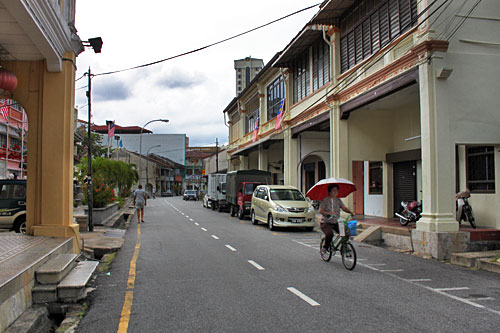 At first, I tried using the sidewalks in Malaysia's famous island of Penang, but they don't exist in the normal sense of the word. Shopkeepers and homeowners have poured small concrete pads in front of their entrances without regard for the level of their neighbor's stoop. As a result, the height of the cement changes every few feet.  In some places, steps provided access to the multi-levels; in others the walkways simply dead-end. Level sidewalks, in the rare places they existed, were blocked by parked motorcycles, bicycles, and piles of merchandise. And so, like everyone else, I walked in the street.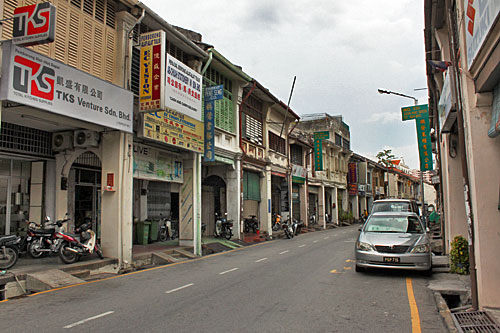 I'd tried other forms of transportation during my visit. One evening I hesitated a nanosecond too long in front of a row of lemon yellow pedicabs wrapped in rainbow of plastic flowers. Sensing fresh meat, the Chinese driver smiled a gap-toothed grin and launched into his practiced spiel:
"You rike lide rady? Give you good lide. One hour. Thirty Lingit." My feet were aching from hours of walking. I hesitated. He went in for the kill. "Give you velly, velly good lide, show you all praces in George Town."
My mental calculator kicked in. Thirty Ringit was only about $9 US. I hopped in. The stick-thin driver, who looked as if he could barely carry a bag of groceries, promptly launched us into traffic on one of the main highways in George Town. He nonchalantly pedaled across two lanes and straddled the center yellow line, putting us at the mercy of rush hour traffic. Luxury motor coaches, trucks, cars, and motorbikes swerved to avoid us and cut back in front of us with maneuvers that would impress a Le Mans driver.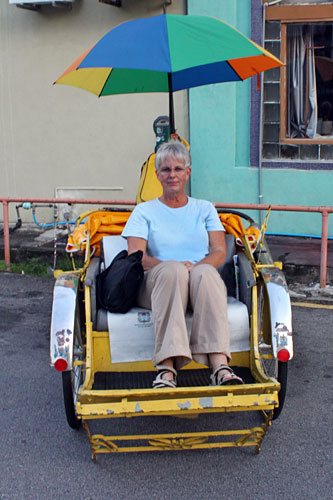 When not walking, buses were my favorite mode of transportation on Penang. Clean and modern, they run regularly from dawn until 11:30 p.m., traveling to all parts of the island for ridiculously low fares (66 cents U.S. for a 20-minute ride from my homestay to the center of George Town). Their enormous size gives them the right of way; the only risk on a Penang bus is catching pneumonia from the arctic air conditioning.
That afternoon, however, I was back to seeing the city on foot. When monsoon showers made their inevitable afternoon appearance, I ducked into an open-air coffee shop. I rested my weary feet at a street-side table, where I had an unobstruced view of some of George Town's most colorful row houses. For two hours I sipped lattes; gorged on pita bread with hummus, eggplant, and tzatziki spreads; and devoured toasted banana bread. Cyclists wheeled by, steering with one hand while holding an umbrella with the other. Pedestrians hurried past in a potpourri of colorful, inventive rain gear.
I may have lingered too long; the waiter eyeballed me half a dozen times and was no longer refilling my water glass. With no sign that the showers were ending I reluctantly dug into my backpack for the umbrella I had purchased during one especially drenching rain in China. I shook it out and stepped into the puddle-riddled street with a grin. Not only would it keep me dry, its pointy end would make a powerful weapon against motorbikes who dared to come too close.