It is monsoon season. And while many avoid Asia during the rainy season, I think it may be the best time to visit Malaysia. Every morning dawns clear and sunny with a breeze that freshens, keeping the monstrous heat at bay. By early afternoon., blue-gray clouds roll in and darken the sky, threatening to release a deluge. The wind dies down; humidity and suffocating heat take its place. Everything drips. Inevitably, the rain comes, sometimes in sudden, torrential sheets that stop as quickly as they begin but more often as a steady drumbeat that lasts the afternoon and continues into the evening.
I have not yet adjusted to this pattern. It is my habit to write long into the night and sleep until 9 or 10 a.m. I do not need much sleep these days – five or six hours per night suffice – but even so I am missing the only sunny part of each day. The rhythm of life here is different and I am not yet in tune, but I like it.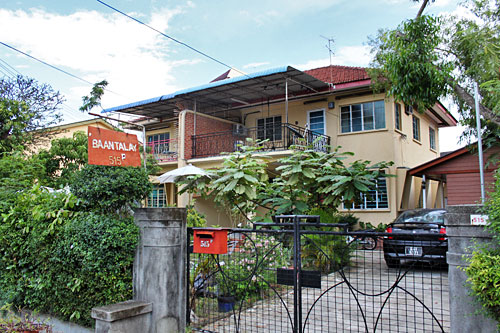 I like being in a homestay with an extended local family, where I can experience the ebb and flow of Malaysian life. Taking my shoes off before entering the house does not come easy and I often catch myself taking a couple of steps into the front foyer before I remember to back up and shed my sandals. I am taking advantage of their onsite library to read real books rather than iPhone books; it is good to hold an actual book in my hand again. My first choice was the newly released "Once a Jolly Hangman," by Alan Shadrake.
Baan Talay Homestay has a very personal connection to this book. The author stayed here while writing this expose about Singapore's capital punishment policy, which results in secret hangings most any Friday at dawn. When Shadrake traveled to Singapore recently as part of a publicity tour he was promptly arrested on trumped up charges. Now released, he is fighting the charges but he cannot leave the country. Several days ago the owners packed up his computer and drove down to Singapore to deliver it, since he will likely be trapped there for an extended period. I haven't seen them since, and I worry that they, too, will be in danger of prosecution, due to their association with the controversial author.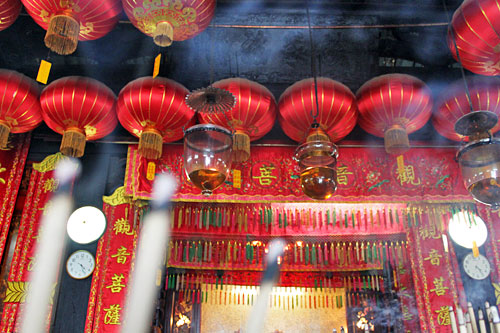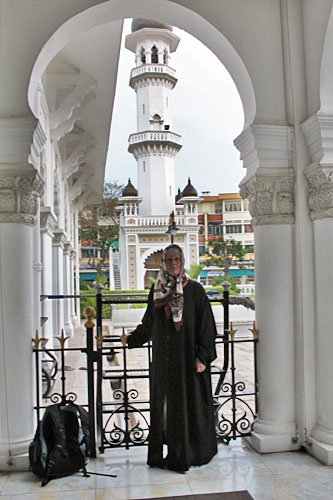 I also like the easy blending of cultures in Malaysia. Three major ethnic groups make up the population: Indians, originally from the southern part of India, who speak Tamil; Chinese who hail mostly from the Fujian province of China and speak Hokkien, a dialect entirely different from Mandarin or Cantonese; and Malays, the original inhabitants, who came over from Indonesia and speak Malay, which is so similar to Indonesian that I recognize words from previous travels around Bali. I like the way everyone speaks a minimum of two languages and how almost everyone speaks a little English, even if they claim not to, because English is a mandatory subject beginning in elementary school. I especially like the way everyone bends over backward to help, even if they have only broken English skills.
With all this diversity, I am astonished at how well the various ethnic groups seem to accept and respect one another, living side by side in harmony. Signs of peaceful accord are everywhere. In George Town, the capital of Penang, a mosque, Buddhist temple, Hindu temple, and Christian church coexist alongside one another on aptly named Harmony Street. Incredibly cheap Indian and Malay restaurants mount a friendly competition for customers with "hawkers" – open-air food courts surrounded by dozens of shiny stainless steel rolling food carts, each owned by a different proprietor offering his or her specialty.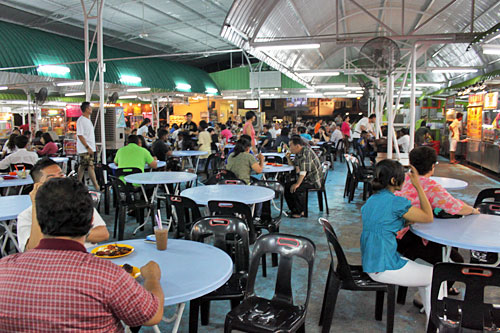 One of these hawker courts occupies the corner at the end of my street. If the rain has dampened my activity level it certainly has not dampened my appetite. Each day I sample something new: steamed sesame buns filled with creamy sweet custard, tempura shrimp fried in the world's lightest and crispiest batter, giant steamed buns stuffed with sweet/tart red bean paste, melt-in-your-mouth fried fish cakes, steamed bums with butter cream and salted egg yolk, all washed down with the strongest, thickest Malay coffee imaginable, each meal priced less than $5 U.S.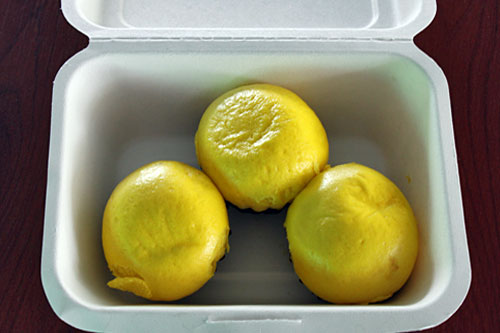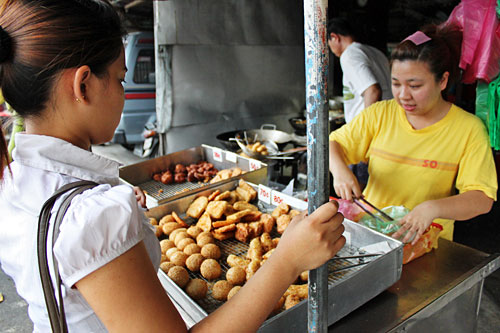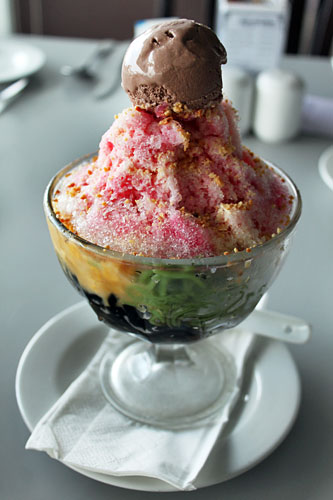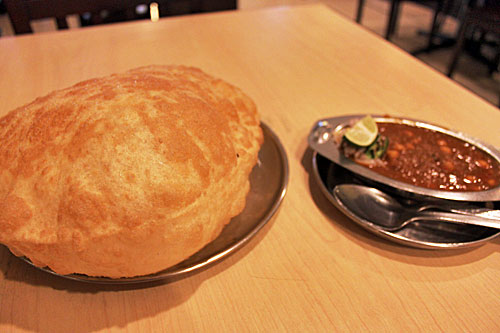 One day I gorged on fresh longan fruit purchased at the night market the prior evening. I pinched the top of each kumkuat-sized fruit, peeled back the sandpaper brown husk, and sunk my teeth into the juicy, cream colored bulbous fruit. I couldn't get enough of it and the family with whom I am staying laughed about my new addiction. Last night, dinner was a bowl of Dry Char Hor Fun, wide flat rice noodles drenched in oyster sauce and stir fried with fresh prawns, fish cake, and fresh-picked local vegetables. This time I tried two cups of incredible White Coffee, a slightly sweet mocha-like concoction brewed from beans grown only on the island of Penang. The price for the entire meal? $7.30 Malaysian Ringit, or about $2.35 U.S.
Even the cats – there are thousands of them in Penang – seem to have reached an understanding. They gather beneath dining tables and take turns retrieving whatever falls or is tossed at them without aggression. Diners, upon rising from their seats, pick their way through the sprawling felines so as not to disturb. Everywhere, there is a spirit of conviviality and friendliness. Already, I have been invited to participate in the annual Mooncake Festival at the local Burmese Buddhist temple. Yes, despite the rain, and the fact that I am gaining weight, I really, really like it here. No doubt about it, monsoon season is the best time to visit Malaysia.
This article is part of the Lonely Planet Blogsherpa Travel Blog Carnival, where this week's topic is "Food Around the World." If you wish to see more photos and stories of food from some of the world's best travel globetrotters and bloggers, cruise on over to Tie Dye Travels, the travel blog of Kat Robinson, who is hosting this week's carnival.