I ended up in China because of the World Expo 2010 in Shanghai. My second cousin, Len, sent me a message on Facebook, asking if I'd be interested in going, and suggesting we gang up on his mom, my cousin Loretta, to convince her to join us. My original intention to attend the Expo quickly mushroomed into a month long cross-country trip, especially when Len and Loretta decided to fly into Beijing rather than Shanghai. I arranged for a visit to the Great Wall of China where we were actually able to camp overnight on a remote section of the wall and flew from Shanghai to Beijing to meet up with them. After a whirlwind tour of the Forbidden City and Tiananmen Square it was back to Shanghai to finally attend the World Expo.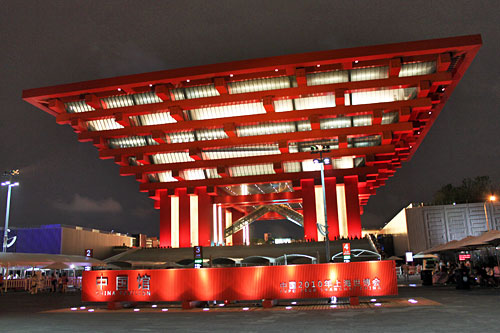 Had my visit to China not expanded to include things other than the World Expo, I would have been sorely disappointed. Problems began before we ever set foot on the grounds. We had ordered our three-day tickets months earlier from Peregrine Travel, China's officially designated ticket agent in the U.S. They emailed us a "voucher," which we had to redeem for our actual tickets once we arrived in Shanghai. The morning before we planned to attend, we took a very expensive taxi ride across town in the pouring rain to the Peregrine office.
At the "Modern Universe Business Plaza," we rode the elevator to the 26th floor and stepped out into a dimly lit narrow hallway where plain brown wooden doors stretched in both directions. Following the fraying carpet around in a semicircle, we eventually located suite 2613 by its tiny stick-on numbers and knocked on the door. Nothing. We knocked again and waited. A young girl finally cracked open the door and peered at us. We held up our vouchers and explained we we'd come to redeem our tickets; she hesitatingly opened the door wider and motioned us to take a seat. With our vouchers in hand, she disappeared behind a screen and began banging on a computer. Some minutes later she emerged shaking her head. "Mei you," she said; it is an expression I have come to know well in China.
"What do you mean you don't have any tickets?" I exclaimed.
"You come back Monday. Have ticket then."
"We leave on Monday. We want to go to the Expo Friday, Saturday, and Sunday."
With a shrug of the shoulders and a flinging of hands into the air, she repeated: "Mei you," and insisted we come back on Monday. When we again explained that we were leaving on Monday, she offered a different solution: "We give you refund."
"Refund?" I asked, growing aggravated. "Are you going to give us a refund for our plane tickets and our hotel rooms? You will owe us many thousands of dollars. Can you pay us thousands of dollars?"
She nodded yes; obviously much was lost in translation. A second girl in the office emerged from behind her screen to explain in broken English that they had run out of three-day tickets for that weekend. Since there are no limits to the number of people who attend each day, what that meant was that they had planned improperly and were too lazy to go get more tickets from the Expo site.
"If you are out of three-day tickets, give us one-day tickets."
"Oh no, one day not enough for Expo." she insisted.
"Not one one-day ticket, three one-day tickets each. This is your fault, not ours. You must find tickets for us."
The two girls exchanged glances, the second one giggled, and I came unglued.
"IT'S NOT FUNNY!" I yelled.
"Yes, I know,"she said meekly.
"Then why are you laughing. This is not funny. Don't laugh, fix it."
Len, who had been sitting quietly by my side, finally lost his cool. "We came here specifically to see the World Expo and your company told us we could redeem our tickets at any time. When we return to the United States, I will sue your office. I work for a law firm and can do this easily, and your boss is not going to be very happy with you when this happens."
That did the trick. Following a hurried conference with a superior ensconced behind a closed door, the now serious giggling girl emerged, dug through a desk drawer and pulled out nine one-day tickets, explaining that they belonged to a "colleague." In a single hour we had witnessed the height of Chinese incompetence and the ever-present need to save face.
Can't view the above slide show of World Expo 2010 in Shanghai, China? Click here.
Over the next three days we wandered the Expo grounds, visiting various country pavilions, many of which were pretty lame. Most bore no relationship to the theme of the Expo: Better City, Better Life. We never got inside the stunning China Pavilion because tickets were limited to 50,000, given out free at the gates each morning on a first-come, first-serve basis, and we were never lucky enough to get them. Queues were long and tiring, in some cases requiring up to six hours to get into the more popular pavilions, during which time I continually fought being poked in the forehead with Chinese umbrellas that are ever-present, rain or shine. This also also meant it was impossible to plan attending any of the cultural performances, since I never knew how long I would be standing in line or how long it would take to tour a pavilion once I got inside.
Frankly, after my first day in the pouring rain, I looked at the gray, threatening skies on day two and took a pass. Fortunately, day three dawned clear and sunny, and I headed back to the Expo for one final day with the specific goal of visiting the USA pavilion. I'd read bad reviews about it; Popular Science opined that the USA Pavilion was so full of corporate sponsorships that it was a disgrace. I STRONGLY beg to differ. For me it was the best of the Expo, incorporating an hysterical movie of Americans on the streets of New York City trying to master a greeting in Chinese and a precious film about a young girl who attempts to turn a junked up lot in her neighborhood into a park, effectively delivering a message that we can only be successful if we work together.
Following an inspirational message of friendship and cooperation from President Obama, spectators were ushered into a room full of displays by corporate sponsors. Though this portion of the pavilion disgruntled the Popular Science author, I had no problem with it; in fact, most of the pavilions at the World Expo were subsidized by corporate sponsors, which seems far better to me than spending tax dollars.
All in all, I was underwhelmed by World Expo 2010, but in addition to the USA pavilion, there were a few high points, as shown in the above video. Hong Kong is next, and I only hope there is less pushing, shoving, and rude behavior there than in the rest of China.