I should have gone right to bed when I arrived at the hostel in Shanghai, China late yesterday afternoon. During the week prior to my departure I'd had a total of perhaps 20 hours of sleep; in the final three days, only four hours. So much remained to be done and I was running out of time. As I counted sown the final 48 hours I learned that RBC Bank had arbitrarily canceled one of my two debit cards on my checking account and an insurance company informed me that a refund they'd promised me would not be forthcoming. I fought those battles successfully, but that left other crucial things undone, forcing me to stay up around the clock on my final night, trying to check everything off my to do list. Just as I thought I might make it, the Internet went out for two hours. In the end, I finished what I could and just got on the plane. Everything else would have to wait.
Despite being dead tired, I couldn't sleep on the plane to Chicago, and during my three hour layover I was afraid to sleep for fear I would snooze right through the call for my connecting flight. No worries. There would be ample time to catch up on my sleep during the 14-hour flight to Shanghai. Wrong. Perhaps I was too excited by the prospect of my first visit to China, but sleep simply would not come. Two bad movies and three worse meals later, insufficiently wrapped in a postage stamp-sized blanket to ward off the frigid cabin temperature, I was wriggling in my not-designed-for-comfort airline seat, trying to find a comfortable position for the final three torturous hours.
My intention to hit the sack immediately after checking in evaporated instantly during the taxi ride from the airport, which carried me past Shanghai's stunning skyline along the Huangpu River; as darkness fell and the lights of the city winked on, I simply could not control my urge to explore. In my sleep-deprived state I hunched into my backpack, grousing about the unaccustomed weight of a tripod I had decided to haul along on this trip. Four blocks later I climbed the steps of  The Bund, a wide elevated promenade that runs for a mile along the western shore of the Huangpu River, and gazed across dappled waters that reflected myriad gold, red and purple neon-lights that outlined the skyscrapers of the city's famous skyline. My decision to carry a tripod suddenly seemed inspired.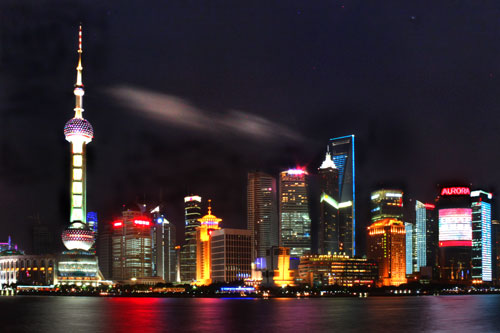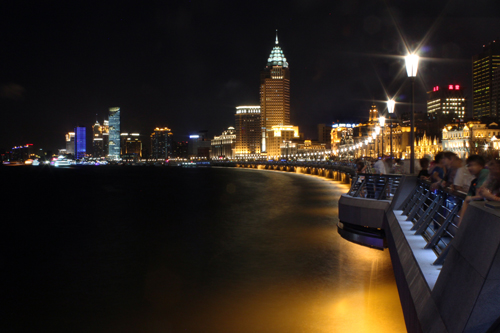 After taking my fill of photos I walked south along The Bund to Nanjing Road East, Shanghai's premier pedestrian shopping street, intending to walk only four blocks of its 3.4-mile length on my way back to the hostel. I turned the corner at the eastern terminus of Nanjing Road and immediately went into sensory overload. Thousands of neon signs stretched as far as I could see, blinking and flashing in a dizzying array of changing colors, right down to a tiny storefront McDonalds. The dazzling spectacle sucked me in; I let myself be swept into the throngs of Chinese shoppers and swept down the mall, dazzled by a lineup of more than 600 stores that included upscale retailers Tiffany, Mont Blanc, and Dunhill. I've often heard New York called the "Greatest City in the World," but Times Square has nothing on this city. Shanghai is Times Square times ten – squared.
Can't see the above slide show of Nanjing Pedestrian Shopping Mall in Shanghai, China? Click here.
To keep from dropping I loaded up on Chinese candy from a corner store: gooey sesame-studded caramelized sugar and a block of honey coated pistachio nuts. I finally ran out of steam and headed back for the hostel but got waylaid once again when I saw a foot massage store just steps from the hostel. Tired as I was, my aching feet could not resist. An hour later I floated back to my room, crept quietly into my bunk bed so as not to disturb my dorm-mates, and was was asleep the moment my head hit the pillow. I am so glad to be back on the road again. I'm home.