It's a high school girl's worst nightmare, discovering that her phone number has been scrawled on the boy's room wall. Those five words: "for a good time call…." speak shameful volumes about a girl who has given in to temptation, in search of elusive popularity, love, excitement.
Not so long ago, virginal Cabo San Lucas was a sleepy village of sand streets and gaily painted wooden fishing launches, where excitement meant the sight of migrating whales or a fiery sunrise bursting through the rocky arch at Land's End. Although sportsmen discovered Cabo's legendary marlin fishing in the 1950's and 60's, it was the construction of a trans-peninsular highway in 1973 and completion of Los Cabos International Airport in the '80's that finally launched Cabo as a tourist mecca. During the ensuing development, lady Cabo not only spread her skirts across the broad coastal plain, she lifted them.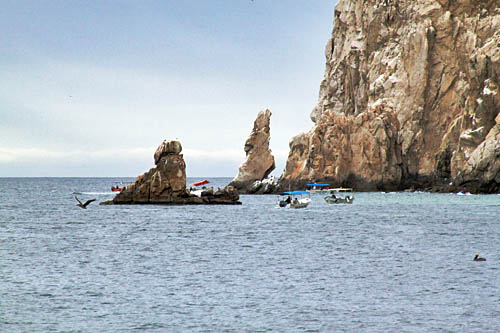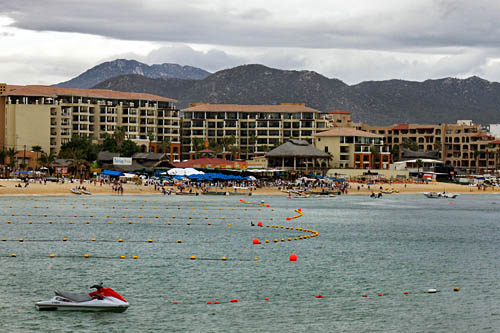 Cabo San Lucas was not one the places I planned to see on this trip but as with all long-term travel, my plans were fluid. For two nights I had been a hosted guest of the spectacular new Rancho Pescadero Resort, located about 45 miles north of Cabo, and the owner invited me to stay another two days. Since Rancho Pescadero is one of the most stunning properties I have ever visited, I jumped at the chance, but the resort was sold out for the next four days. In the interim, I decided to check out  Cabo San Lucas.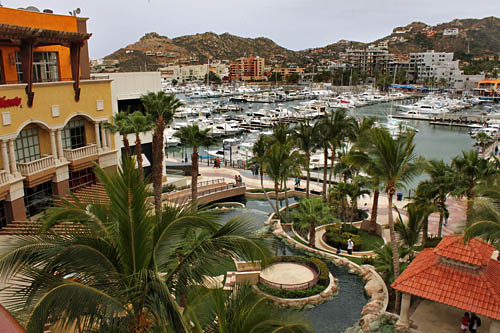 I expected crowds, cruise ships, and cheap souvenir shops. I even expected to be pressured to sign up for tours. But I could not possibly have anticipated the depths to which Cabo has sunk. At Darsena Marina I was accosted every ten feet by salesmen offering the deal of the century. Timeshare salesmen promised me $180 to attend an 89 minute presentation for a new condo project and one boat captain after another insisted his glass bottom boat tour was the best in town. Puerto Paraiso shopping center, anchoring one side of the marina, was an abomination of man-made waterfalls cascading over fake rocks and ubiquitous franchise operations. I could have been anywhere in the world; nothing hinted of Mexico.
Beyond the marina, music blasted from the bars lining the main drag. At the most famous of the clubs, "Squid Roe," the beat went on – literally all day and almost all night. Three of the four days I was in Cabo, a DJ took up the mike at 11 p.m. and screamed non-stop until 5 a.m. Although my hotel was three blocks away, I might as well have been next door.
I am not alone in my criticism. Many of the locals I spoke to expressed sadness and regret over what has happened to their city, although most confessed to initially believing tourist dollars would make their lives better. The young girl whose phone number is scrawled on the bathroom wall may find redemption, but for Cabo there is little hope. Its Mexican soul was sold long ago.