One of the things I promised myself when I embarked upon this trek around Mexico, Central and South America was NO planes, unless absolutely necessary. Back in the days when it didn't take three hours to get checked in and through security, back when the airlines actually cared about their passengers, flying was a lot more pleasant and was a real time saver. But even back then, flying was a buzz kill for anyone hoping to immerse in the local culture. Since cultural travel is all-important to me, I decided adopt a slow travel mode by using autos, trucks, boats and trains whenever possible.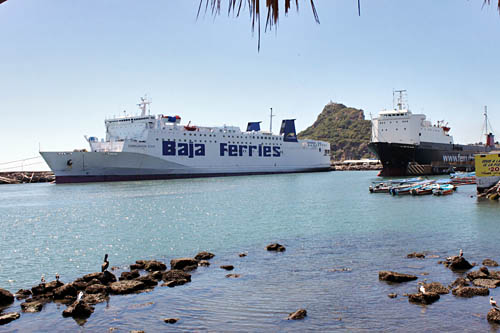 My first challenge came early in the trip. I needed to get from Mazatlan, on the west coast of Mexico's mainland,across the Sea of Cortez to La Paz, a mid-size city halfway down the long, skinny peninsula that is the Mexican State of Baja California Sur. I quickly discovered that Baja Ferries sails between the cities and found their schedule and rates online, but even after scrutinizing their website there were many many questions left unanswered. In an attempt to help others who may wish to use the ferry, I have described more thoroughly the process below.
With the possible exception of holidays like Semana Santa, it is not necessary to buy a ticket well in advance – a day or two ahead of time will be just fine. The ticket office at the ferry terminal, located just south of the lighthouse at the inlet to Mazatlan harbor, is open seven days a week from 7 a.m. to 3 p.m. Both credit and debit cards are accepted and you will need either your original passport or a copy to buy tickets. The ship sails from Mazatlan on Monday, Wednesday and Friday at 5 p.m., and from La Paz to Mazatlan on Sunday, Tuesday, and Thursday (5 p.m. on Sunday, 8 p.m. on Tuesday and Thursday). The crossing takes about 12 hours.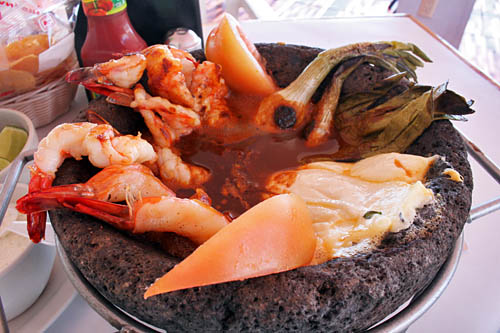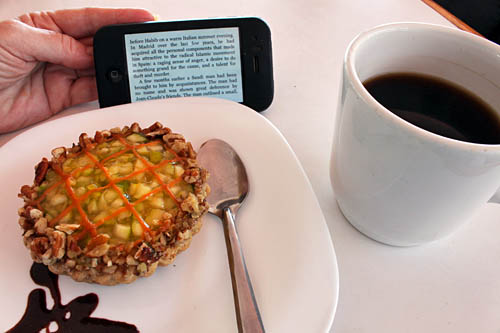 On the departure day, you may drop off your checked baggage as early as 11 a..m. and spend a few hours doing touristy things until 3 p.m., when you are expected to be in the second floor waiting room in preparation for boarding. Your luggage is tagged by an attendant, who gives you a claim check and loads it on a long luggage carrier that is towed into the bowels of the ship just before departure. (Hold onto your claim check, as it is carefully examined upon arrival.) It is worth noting that you are not allowed access to your checked luggage during the crossing, although hand luggage may be carried on, so it is wise to pack a toothbrush and toothpaste in your carry-on. If you're hungry, I wholeheartedly suggest walking next door to the Point Restaurant, which serves excellent food and offers a splendid view of the harbor. This turned out to be the absolute best meal I had in Mazatlan, and I was even more pleased I'd eaten a big meal on shore when I later sampled the mediocre (and fairly expensive) food on board the ship.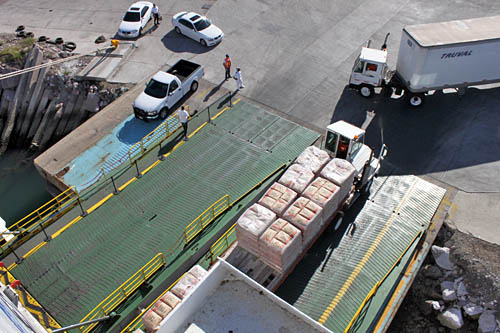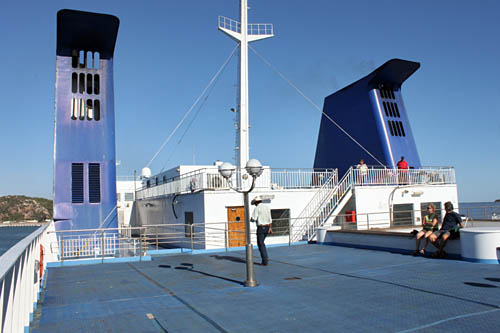 Boarding begins promptly at 3 p.m., when a ship employee arrives to escort passengers across the busy tarmac, where dozens of semi-tractor trailers are being loaded into the bowels of the ship. As soon as there is a break in the truck traffic, passengers are led into the lower deck and up four flights of stairs to check in. An elevator is available for those who cannot negotiate stairs. On the day I departed, the majority of passengers had purchased "boarding rights" passage for $1,200 pesos (slightly less than $100 U.S.). This fare included an assigned seat in one of the ship's large "salas"  – rooms outfitted with wide upholstered chairs that recline for sleeping.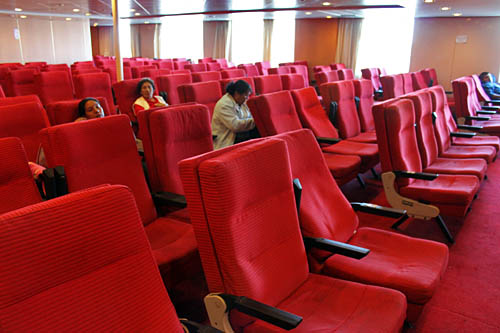 In addition, private cabins with twin beds are available for an additional 600 pesos (~$50 U.S.). I splurged on the cabin because I was concerned about falling asleep in an open sala where anyone could walk off with my backpack, laptop, all my money, etc. However, I spoke to a number of passengers who made the crossing using only the seats and was told that this is never a problem due to the extensive security on board. One major drawback to the open sala is the loud music from the nearby bar and TV lounge. A cabin, on the other hand, not only has the benefit of being more comfortable and quiet, but also has a private bathroom with shower that is equipped with soap and shampoo, eliminating the need to carry these items in your hand luggage. Cabins also have electric receptacles, should you wish to plug in a laptop or cell phone, however since the ship was built in Europe, the receptacles are 220V with European style plugs that require both a converted and an adapter.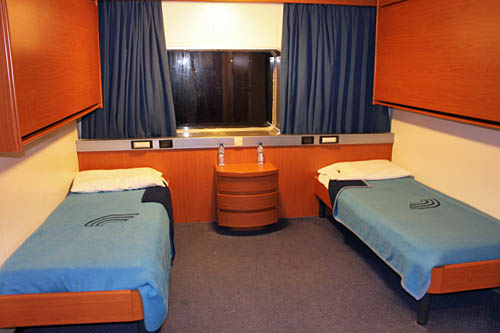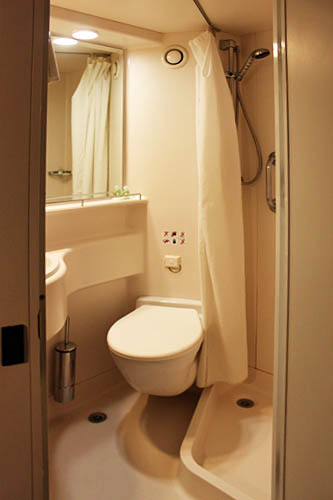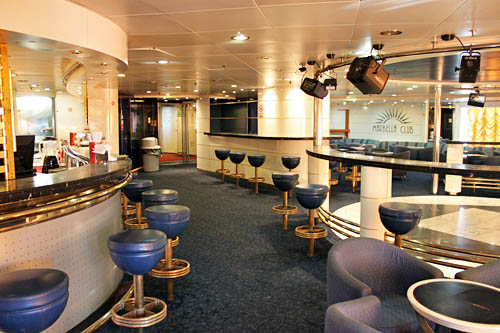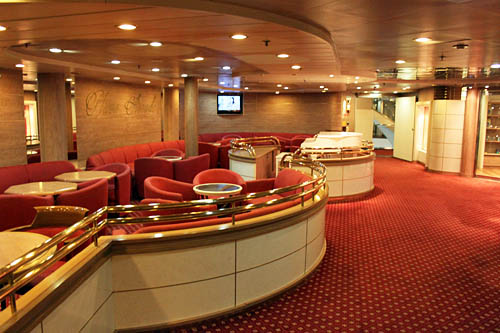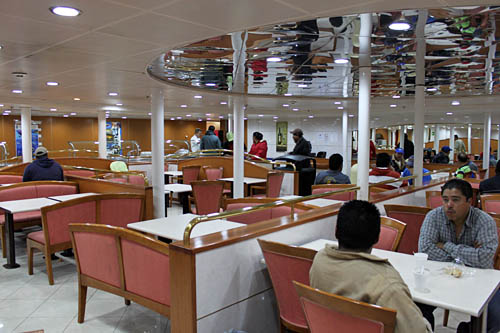 Around 6 a.m., ship's personnel begin making announcements over the loudspeaker to ensure people are ready to disembark on time. One of the things that is not well explained on the Baja Ferries website is that the ship does not arrive at La Paz; rather it docks at the port of Pichilingue, located about 20 minutes from La Paz. We disembarked, retrieved our checked luggage from the roped-off area on the sidewalk, and joined the line to go through an inspection station manned by military personnel carrying semi-automatic weapons. As we waited, another man compared out claim tickets to the luggage we had picked from the pile. When I finally reached the inspector, he unzipped my backpack, took one look at my camera and swimsuit, and waved me through.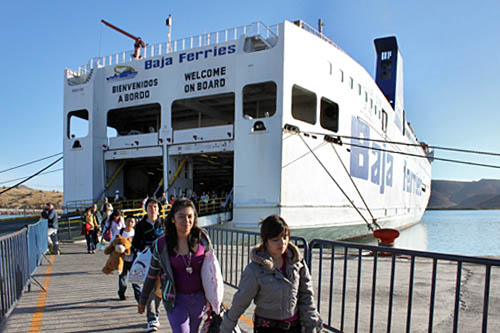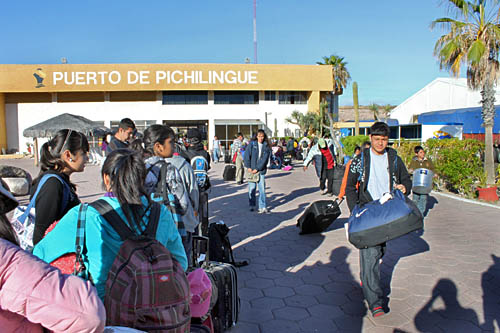 Though I had been told by ship's personnel that I would need to hire a taxi to get to La Paz for $25-30 U.S., I discovered the trip can be done much more inexpensively in a colectivo, a van that caries up to 10 passengers (I paid $70 pesos, or about $6 U.S.). Be prepared for a short wait; colectivos do not leave until the majority of the seats have been sold, but they will drop you off anywhere in town you desire. In my case it was the bus station in El Centro, where for an additional $77 pesos I caught the bus to Todos Santos on the other side of the peninsula.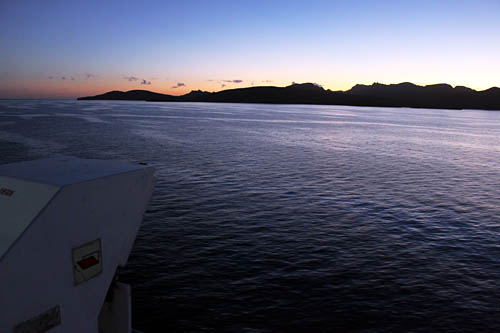 All in all, sailing with Baja Ferries was a very pleasant experience. I met some very nice Mexican folks, including a woman named Barbara (a fairly uncommon Mexican name), enjoyed a smooth sail, slept like a baby, and got up early enough to watch the tip of Baja California come into view under a full moon.