Blissful, blissful sleep. At 9 p.m. last night I pulled the hand-loomed blanked up to my chin and sank into the two thin pillows doubled beneath my head. There was no television to distract me. My cell phone has no international service, so it wouldn't be beeping every time I received an email. A few gringos conversed on the balcony outside of my hotel room door and street noises floated through the room's only window, but I was so exhausted that I was asleep in moments and did not wake until morning. I have been existing on three or four hours of sleep per night for more than a month as I prepared for my four-month backpacking trip through Mexico, Central and South America and this 12 hours of uninterrupted unconsciousness was a balm to my sleep deprived condition.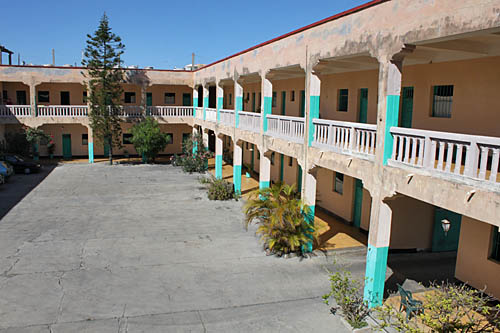 Hotel Lerma is a typical family-owned Mexican hotel. The building is old and patched but charming, built in a rectangle around a large open-air courtyard. The entrance gate is locked at 10 p.m., providing additional safety for parked cars and guests, however since the owners live on site, there is always someone available to open the big wooden doors for guests who stay out late. My room is modest but clean, with terra cotta tile floors, heavy wooden furniture, and crazy colors – marine blue for the concrete walls and bright turquoise for the doors and windows. The bathroom is tiny but adequate: the toilet flushes, the sink has running water, and the shower, which sprays directly onto the floor in one corner of the room and drains through the tile floor, has hot water (although the water smells like a cross between shrimp and iron).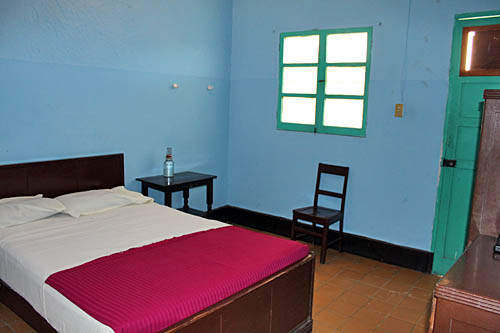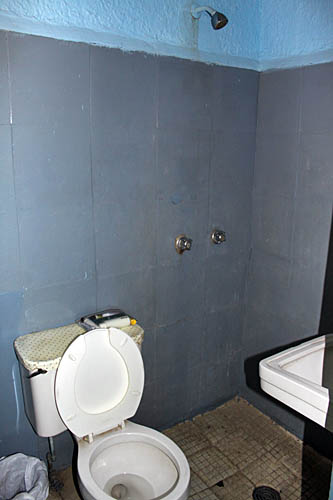 Apparently this property used to be a favorite with Mexicans vacationing in Mazatlan but over the past few years it has been discovered by gringos like me who travel on a budget. I met two of them last night as I dragged my backpack and small suitcase up to the second floor. At the top of the stairs I was greeted by two U.S. expats, a 40-ish man who came in January for carnival and never left, and a retiree who spends three months per year in Mexico. As we chatted my nose told me everything I needed to know. "A little Ganja going on here?" I asked. The younger man hesitated, then grinned. "A little," he admitted. Although I no longer partake, I am not likely to forget the sweet smell.
After settling in, I wandered around the neighborhood a bit. While most tourists stay in the "Golden Zone" – the part of town with all the glitzy, upscale tourist resorts – Hotel Lerma is in the old section of the city. I much prefer this area of town, with its authentic restaurants and historic buildings. On the Malecon, a broad promenade bordering the ocean, I found one of those authentic restaurants and enjoyed my first Mexican dinner of fresh shrimp covered in three different sauces (spicy barbecue, thick cream sauce, and a green chile sauce), along with tortillas, a basket of chips and salsa, and a giant fresh pineapple juice and coconut milk drink. My bill came to about $10, and this was an expensive restaurant; later I discovered dozens of street stalls where I can eat for $3 or $4. With delicious, inexpensive food and hotel rooms priced at $12.50 per night, it's not hard to understand why so many Americans are moving to Mexico.