If you look hard enough, you can pierce the phony facade in even the most tourist-choked destinations. In south Florida, I finally broke through that barrier when I connected with the artists in Miami Beach.
My first view of the art of Karim Ghidinelli was from a second floor balcony at the Art Center/South Florida, looking down into his open cubicle. The artist sat in the center of the room, hunched over a cell phone, surrounded by massive oil on tin paintings. Initially, the flamboyant colors splayed across each piece held my attention. But I was even more fascinated when I realized that a giant thumbprint had been etched into the center of each metal canvas. I had to see them up close.
The intense young man welcomed me into his studio and studied me with dark, brooding eyes as I examined his paintings up close. Each fingerprint whorl was formed by words, some readable and some not, spiraling in toward the center. I read snatches:
"…the most natural pressure is fear…"
"…all the traits that make the self do not come from the self so how do we claim…"
"…fall under the omnipresent post-modern theory of everything…"
"…fearless encounter…"
I asked Ghidinelli if the concept of fear was central to his work. "We all strive for stability but never achieve it," he explained. Ghidinelli is no stranger to this struggle; like most artists he never knows when his next paycheck is coming. But he compared his struggle to the corporate executive who lives beyond his means and our tendency as humans to spend as much as we make. Not having a regular source of income has spared him this experience, for which he seems grateful, if a bit resigned. He shrugged his broad shoulders and crossed his arms. "At least I know I will have at least a few good months each year."
On the opposite side of town, in the historic Spanish Village known as Espanola Way, Alberto de Meneses sat on the front patio of his tiny apartment/studio with two friends. Again it was color that stopped me in my tracks. A giant disc bearing a brightly painted Ohm (the Sanskrit symbol for peace) had been nailed to a post and multi-colored Buddhist prayer flags fluttered in the breeze. Wearing mismatched orange Yoga pants and purple T-shirt; with a brown knit cap covering his bald head, a red knit scarf wound around his throat, and a gold Conga drum gripped between his legs, de Meneses was himself an incongruous mismatched palette.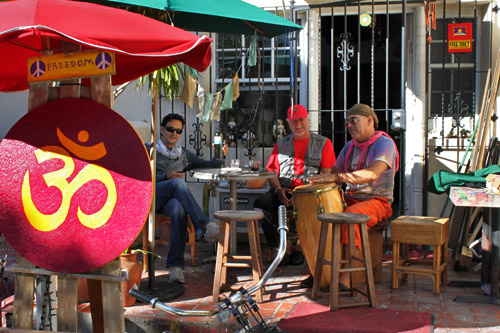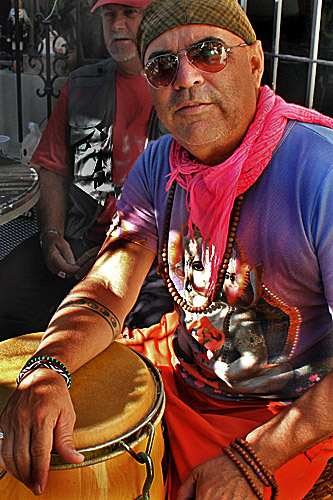 He welcomed me into the studio with a warning, "Watch out for the naked man inside." Indeed there was a man passed out on a chair inside but thankfully he was not naked. "He had too much to drink last night and I told him to stay here rather than go home," de Meneses explained. (It was by now three in the afternoon). Carefully navigating around sleeping beauty I perused the paintings and tapestries stacked on the floor and tacked to every available surface. Some depicted the Buddha, others were abstract, and a few depicted scenes from what I assumed was the Kama Sutra. De Meneses smiled beneath his mirrored sunglasses and apologized for the mess. "I am only here temporarily – until the landlord sells the building." When I asked where he will go from here he shrugged and replied, "Who knows?"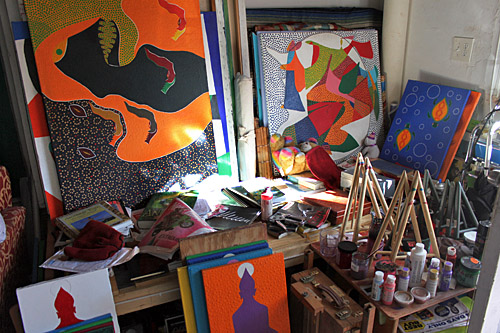 Like Ghidinelli, the uncertainty did not seem to bother de Meneses. Perhaps all creators must accept uncertainty and make peace with fear if they are to be true to their calling. I know I have.