Most of the time I arrive at a destination without preconceived notions, but Miami Beach was steeped in expectation. Thanks to the popular TV show, CSI Miami, I imagined exquisitely preserved art deco architecture, tropical weather, oiled body-builders with rippling muscles, exuberant Latin culture, and colors vivid enough to make your eyeballs hurt. It was none of those things.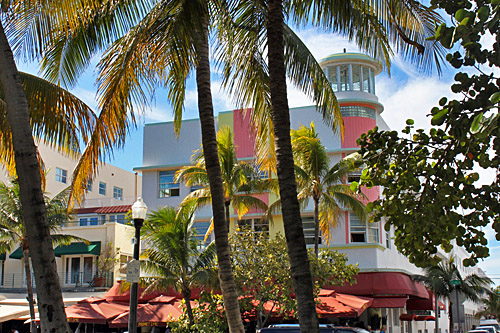 Just my luck, when I finally had an opportunity to visit Miami Beach, the temperatures plunged into the low 50's. I was not the only one unprepared; tourists everywhere shivered in shorts and sleeveless tops. Even the Holiday Inn Oceanfront, where I won a free night's stay in a contest held by Travel Wonders of the World blog, had a hard time coping. Housekeeping had set my room's thermostat at 50 degrees and it was ice cold. Even turning up the thermostat had little effect. Since south Florida temperatures are normally much higher, the hotel has both "room air" and "facility air;" the room air could be turned off but the facility air could not. It took a portable heater and extra blankets – which the hotel graciously delivered – to remedy the problem.
The frigid weather also nixed my plans to lie on the beach, although plenty of souls heartier than me ventured out in the middle of the afternoon, when temps soared to the high 60's. Not to be deterred, I put on my warmest available clothes and walked along the oceanfront, searching for the Miami Beach I envisioned. Rather than long legged, exotic women in skimpy bikinis I found families; instead of sugary white sands, grainy beige sand squished through my toes; and just one lone body-builder worked out at a makeshift pavilion.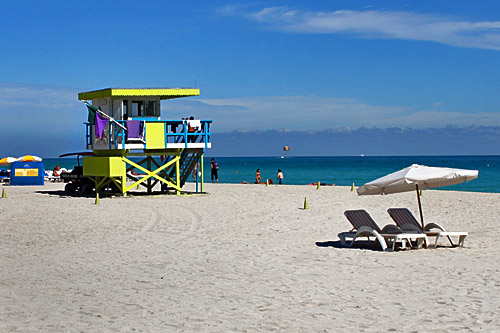 Still hoping to discover the exotic scenes in CSI, I turned my attention to the famous art deco architecture. Miami Beach is a barrier island, separated from the city of Miami by Biscayne Bay. Art deco buildings can be found throughout the island, but the preponderance of them are located in the area known as South Beach, which runs from about 22nd Street to 1st Street at the southern tip. Unfortunately, my hotel was located in Mid Beach at 43rd Street, an area that has been hit hard by the recession. As I walked the 20+ blocks to South Beach, I passed one abandoned building after another, many with black mold creeping from behind plywood-covered windows. Even new high rise developments stood half-finished, crumbling in the humidity.
In South Beach the blight vanished, replaced by luxury hotels, upscale shops, and restaurants lining a palm studded boulevard. Giant flamingo sculptures, painted in wild colors, were tucked into gardens and dotted the right-of-ways between sidewalk and street. Neon signs flashed messages: a liquor store advertised lotto tickets, a 24-hour deli was flashed its name in cherry red neon. At the skyline, art deco low-rises flaunted a palette of pastel colors; at street level, multi-colored awnings splayed over sidewalk cafes. Colorful, yes. But aside from an occasional bar or storefront, I did not see not the richly saturated, vibrant colors of Miami CSI, and I was not the only one making the comparison. Snatches of overheard conversations confirmed that others were of the same opinion.
Can't view the above slide show of Miami Beach, Florida? Click here.
I had expected Salsa and Merengue to boom into the streets, older men in embroidered white shirts to gossip over espresso, and mellifluous Spanish to be the primary language, but even the Latin influence seemed subdued. During my three day stay, brief glimpses of authentic Miami Beach included a struggling artist surrounded by behemoth paintings at the South Florida Art Center and a Buddhist Yogi living in a hole-in-the-wall in the Historic Spanish Village known as Espanola Way, but my primary impression was of a destination ruined by too many tourists and too much exposure on national TV.
I'm glad I went, but it's not a place I'd be inclined to revisit, not even in warmer weather. As for CSI Miami, I never really liked the show. I was just fascinated by the colors, which I now realize were manipulated. Really, it's my own fault for having expectations. I know better. As the old adage says, "Expectations are resentments waiting to happen." I won't go so far as to resent CSI Miami's misrepresentation, but I'm not likely to ever tune in again.