Trinkets and souvenirs rarely interest me when I travel, but I find it almost impossible to pass by a farm stand selling local honey. Each of the half dozen varieties lining my kitchen shelves has a particular use: a thick, full-bodied Blackberry honey from the Virginia hills is best drizzled over fresh fruit, while scarce honey from Sourwood tree blossoms found in the mountains of North Carolina is perfect on toast. However my most recent acquisition, Babcock Wilderness Nectar, had remained unopened since I purchased it from the gift shop at Crescent B Ranch in south central Florida.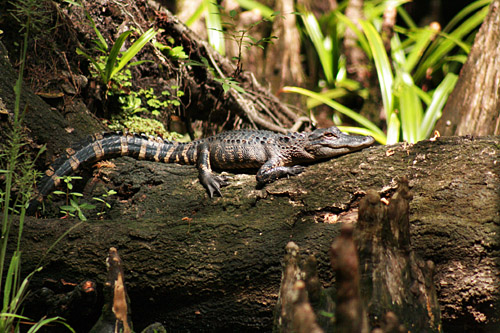 I'd gone to the Crescent B to take a Swamp Buggy Eco-Tour of the ranch's 90,000 acres of oak hammocks, pine woods, pastures, wetlands, and swamps, all located within the Babcock Wilderness Area. Swamps have always conjured images of black water, boot-sucking mud, and alligators submerged to their eyeballs, patiently waiting to chomp on a passing leg. To me these dank, dangerous places were devoid of beauty and to be avoided at all costs, thus it was with some trepidation that I boarded the old Bluebird school bus, long since painted in a khaki and olive drab camouflage, for my hour and a half tour.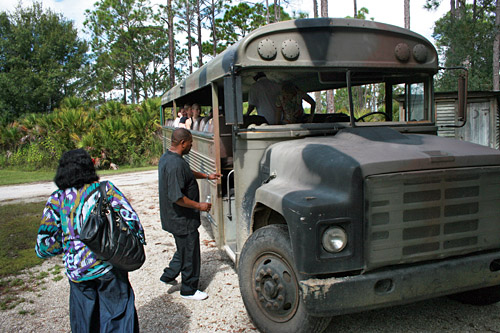 Our driver forced the rattletrap bus into gear and lurched onto a rough sand track. A moment later we sighted our first alligator, a foot long baby perched on a waterlogged branch in a drainage ditch. We rumbled across a brilliant chartreuse pasture and ducked into an unspoiled stand of moss-draped longleaf pine and Sawgrass Palmettos. On the other side, the forest opened onto a broad plain where cracker cattle roamed. These smallish, red and black splotched cows are descended from ones brought to Florida from Puerto Rico by Ponce de Leon during his 1521 voyage. Accustomed to people, bolder ones ambled up to the bus and stuck their heads in the open door, waiting for our guide to throw handfuls of hard corn onto the grass. Wildlife was everywhere. Wild turkey and pigs ran toward the bus for their share of the booty while wood storks swooped along the edge of the forest, spreading wings to their full thee-foot span to take advantage of midday updrafts.
We crossed a bridge flooded with three-feet of water and descended to Telegraph Cypress Swamp, named for telegraph lines that had to be routed around the swamp. Again the road disappeared beneath gently flowing tea-colored water. In this dense, dank forest hundreds of cypress knees poked through the water and alligator eyes followed our every move. On a speck of higher ground we disembarked and walked along an elevated boardwalk, examining frilly ferns and delicate toadstools that crept up red-barked trees, and then threaded through a maze leading to a wildlife enclosure containing two gorgeous, endangered Florida cougars. When the others returned to the bus I hung back. In reverent silence I surveyed the scene before me, astonished that one of the most exquisitely beautiful places I have ever seen was a swamp.
Can't view the above YouTube video about the Babcock Wilderness near Punta Gorda, Florida? Click here.
Impressive for more than just its beauty, the Crescent B Ranch is proof that man and nature can live in harmony. In 1914, E.V. Babcock purchased 156,000 acres in southwest Florida to log its pine and cypress trees. For many years, three trainloads of timbers were cut each day and shipped to South Africa, where they were used to shore up gold and diamond mine tunnels. Fortunately, Babcock came to understand the crucial role that cypress play in the swamp filtration process and by the 1930's cypress trees were no longer being harvested. E.V.'s son transferred 65,000 acres to the state of Florida in the 1940's; this portion of the original holdings is now managed by the State as the Fred C. Babcock/Cecil M. Webb Wildlife Management Area.
Can't view the above slide show of Babcock Wilderness in Florida? Click here.
Today, cowhands on registered quarter horses work the herd much the same as in the past, using dogs to round up 5,000 to 8,000 head of cattle, because they often roam into areas inaccessible to jeeps and trucks. Additionally, ranch operations have diversified into other profit-centered businesses, including sod and vegetable farming, eco-tours, and honey production from the Palmetto flower. But all operations on now use BEST management practices, a philosophy that protects the habitats and wildlife while simultaneously increasing productivity. Conservation programs put in place by the Babcock family have earned them numerous awards, including Tree Farmer of the Year from the Florida Forestry Association.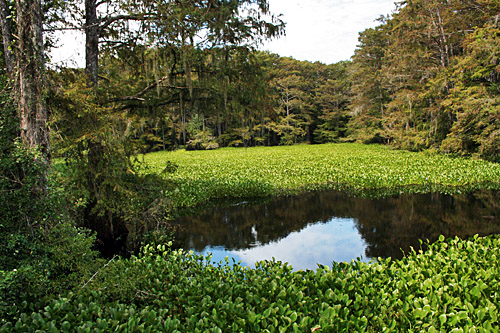 This morning, I finally cracked open my jar of Babcock Wilderness Nectar, not knowing what to expect. Somehow it seemed unlikely that honey produced from the saw palmetto plant, a miniature palm with trunk and stems covered in sharp spines, could possibly be sweet. I scooped out a heaping spoonful and let it melt in my mouth, delighting in its delicate, flowery taste. As I licked the spoon clean it occurred to me that honey, the only food that never spoils, is the perfect analogy for the environmentally sound management practices employed at the Crescent B Ranch. Like the Wilderness Nectar, this land will be preserved for all time.
Swamp Buggy Eco-Tours of the Crescent B Ranch are conducted by Babcock Wilderness Adventures in Punta Gorda Florida. Reservations for the 90-minute tour are mandatory and may be made by calling 800-500-5583.