Amazon.com has just introduced a new addition to their Kindle family of wireless reading devices: Kindle with U.S. and International Wireless. With this new Kindle, I can receive books, newspapers, and magazines wirelessly while at home or abroad in over 100 countries. Whether I'm in New York, Paris, Sao Paulo, Mumbai, Beijing, Tokyo, or Sydney, I can think of a book and be reading it in less than 60 seconds.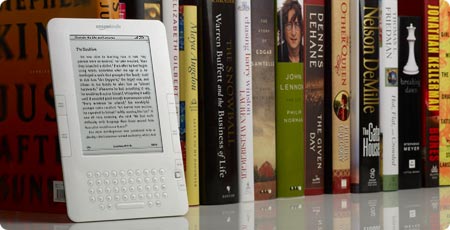 I can't believe I don't already have one of these! I lug around at least three paperbacks in my backpack when I travel long term. When I've finished reading one, I either trade with other travelers or exchange it for one in a hostel paperback exchange library. Unfortunately, the quality of the books I receive in return are never as good as those I trade in. Kindle would solve this problem for me while also eliminating a lot of weight in my pack. I also love the idea of buying travel guides in electronic form, because I inevitably leave the hard copies behind when I leave a country, simply to eliminate weight, and then have to buy the guide book again when I revisit that country.
Amazon's new Kindle with U.S. and International Wireless is priced at $279Â and can be pre-ordered today for delivery starting in two weeks. Their current, best-selling model, Kindle with U.S. Wireless, has been reduced to $259, down from $299, and is available for immediate shipment.
Kindle utilizes the same 3G wireless technology as advanced cell phones, so I'll never again need to hunt for a Wi-Fi hotspot. There are no monthly wireless bills and no yearly contracts. There is no software to install, and no syncing required. Kindle is as thin as most magazines and weighs less than a paperback, but it but can hold 1,500 books. Its electronic-ink screen looks and reads like real paper with no glare, even in bright sunlight. A long battery life allows me to read for up to two weeks on a single charge. The U.S. Kindle Store has more than 350,000 books, including 107 of 112 New York Times bestsellers, plus top newspapers, magazines, and blogs. Again, why do I not own one of these?