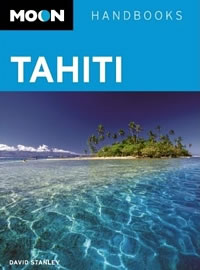 Several months ago, author David Stanley offered to send me a copy of his guide book "Moon Fiji," for which I wrote a glowing review. Since I was so impressed, Stanley offered to send me Moon Tahiti for review as well.
Travel guides, while unquestionably useful, are hardly the kind of books one chooses for an afternoon of leisurely reading. Usually, when heading for a new destination, I throw a guide in my pack and never even crack it until I arrive. Upon arrival I use my guide to identify budget accommodations, vegetarian restaurants, and attractions worth seeing. But I never actually read them and, because they are heavy, almost always leave them behind at the conclusion of my trip.
Stanley's guides are different. He has traveled the South Pacific so extensively that they beg to be read from cover to cover, and Moon Tahiti is no exception. Tahiti is just one of 118 islands in French Polynesia, a nation that encompasses a vast ocean area 18 times the size of California; any traveler who had not previously visited the area would be hard pressed to determine which islands are most worth a visit. As with his last guide, my favorite part of Moon Tahiti is in the very front of the book, where Stanley outlines seven, ten, and 14 day suggested itineraries that have been designed to coordinate with the schedules of local airlines and boats, many of which serve the outlying islands only once or twice a week. These itineraries alone, which could save hours or even weeks of research and planning, make Moon Tahiti well worth its modest price of $13.57 at Amazon.com.
Those on a budget will find this guide to be an especially valuable resource. Tahiti is a fairly expensive destination, thus Stanley's thorough inventory of accommodations, which are broken into price categories, as well as his discoveries of locals restaurants where delicious, reasonably priced food can be found, are a tremendous help in holding costs down. And since French Polynesia is one of the world's best diving destinations, Stanley has provided itineraries and extensive information specifically designed for dive vacations.
Moon Tahiti also is chock full of historical and cultural information that ensures visitors will get the most benefit from a visit – or take the proper precautions. I took note of Stanley's advice for women traveling alone:
"Despite the laissez-faire attitude promoted in the travel brochures, female travelers should take care. There have been sexual assaults on foreign women by Polynesian men. In many Polynesian cultures there's a custom known as "sleep crawling," in which a boy silently enters a girl's home at night and lies beside her to prove his bravery. Visiting women sometimes become objects of this type of unwanted attention, even in well-known resorts such as on Bora Bora or Morea. Women should avoid staying alone in isolated tourist bungalows or camping outside organized campgrounds."
With Stanley's guidebook in hand, travelers will know how to pick out a quality black pearl, understand the purported miraculous health benefits of traditional noni fruit, and know why Marquesans (residents of the Marquesas, one of the island groups that form French Polynesia) bite people on the head. With Stanley's hints, you might even find part of the $1.8 million in gold treasure said to be buried on Tepoto atoll, although you would have to marry a local first, as only landowners are allowed to dig. Without doubt, Moon Tahiti will be in my backpack when I finally head for the South Pacific.