After dinner, I stopped in the lobby to arrange for a 7:30 a.m wake up call the following morning.
"We'll be happy to do that, Ms. Weibel, and would you like a follow-up call 15 minutes later?" asked the woman behind the front desk.
My jaw dropped open. I have always wondered why hotels don't offer this service. Turns out I was just staying at the wrong hotels; at the Ritz-Carlton in Palm Beach Florida, multiple wake-up calls are standard operating procedure.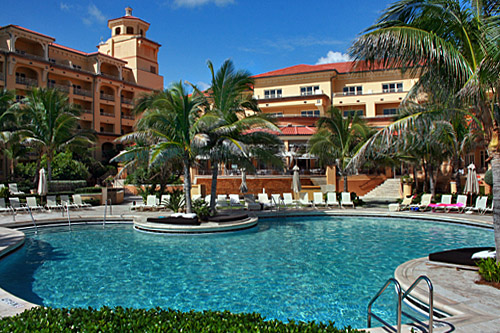 I had been invited to stay at the Ritz in preparation for writing a review about the property. Because the resort has earned the prestigious AAA Five Diamond and Mobil Five Star awards, I knew I was in for a treat. But I was also apprehensive. When I abandoned my corporate life three years ago, I traded my stressed-out life of luxury for a happier, albeit poorer existence. My wardrobe these days consists mostly of khakis and, since a laptop is an absolute necessity, I carry a backpack rather than a purse. My only other stay at a Ritz-Carlton had occurred some 15 years earlier, at a property with an extremely formal atmosphere where dressing for dinner was a requirement. I worried about being under-dressed, unaccepted, and judged this time around.
Ritz-Carlton hotels have a tradition of unparalleled guest service dating back to the original Boston hotel, built in 1927. Regarded as a private club for the very wealthy, the Boston Ritz was not shy about serving up a side of ostentation with its pampering. Up until the 1960s, the hotel was very formal. Guests were regularly checked to see if they were in the Social Register or Who's Who and the hotel sometimes went so far as to examine the quality of writing paper on which the guests wrote to the hotel requesting reservations (if it wasn't of high enough quality, they were refused). Dress codes were enforced for all guests, in great part due to the formality of Boston society. Restaurants were also very stringent with regard to whom they admitted. Women were not allowed to lunch alone and unescorted women were not allowed to enter The Ritz Bar until 1970.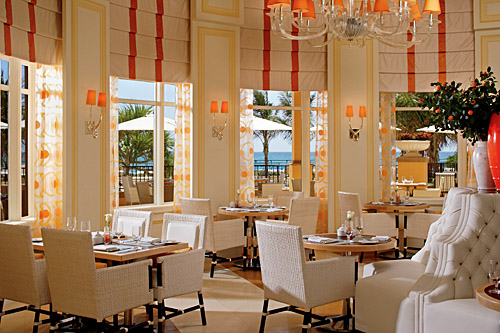 When The Ritz-Carlton Palm Beach opened in 1991 it reflected the corporation's time-honored tradition of old-world elegance and formality. Decor featured dark wood and a massive lobby fireplace blocked the view of the ocean. Employees were trained in the firm's scripted approach to managing guest outcomes, which ensured a loyal affluent clientele but also resulted in a formal atmosphere not particularly compatible with the "playground" image of Palm Beach.
It was a successful formula, until demographics began to shift. Recognizing that the guy sitting in the lobby wearing torn jeans could be a rock star worth millions of dollars, the firm implemented a new guest relations program that was a radical departure from the traditional one-size-fits-all approach. Dubbed Mystique, this computerized customer-relationship management system collects information about guests. In my case, the information that I am a vegetarian was recorded; the next time I stay at any Ritz-Carlton, anywhere in the world, staff will automatically know about my dietary preferences.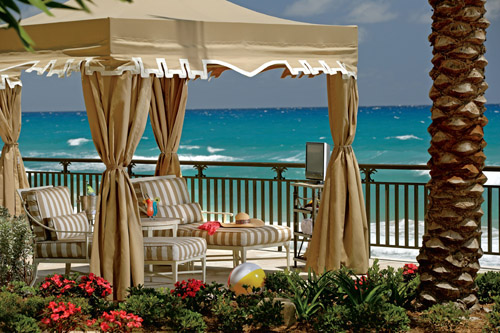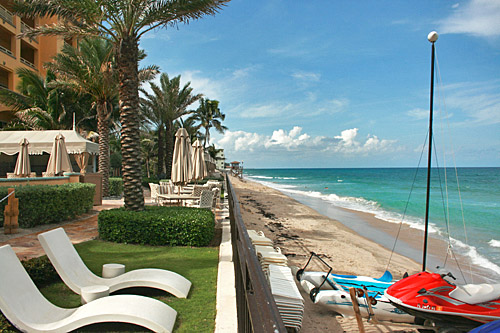 Simultaneously, management took a fresh look at its individual properties and required each to come up with a unique Scenography – scenes around which guest experiences could be built. The Ritz-Carlton Palm Beach defined its Scenography as: Fire and Soul of a Modern Life, which conveys the spirit of a traveler who has collected art, furnishings, and attitude from around the world. A two-year, $100 million renovation followed, resulting in an extraordinary new design. The fireplace was relocated to one side, providing guests with sweeping views of the ocean the moment they walk through the front door, and the dark wood was painted in light, beachy colors. The new design has brought new traditions: each evening, the fire pit on the outside terrace is ritually lit during a Resort Turndown ceremony, as are hundreds of votive candles scattered around the lobby. As darkness falls, scarlet outdoor lights reflect on the pool's shimmering turquoise surface like glowing, red hot coals. In the morning, a crimson sun rises over the azure sea…fire and soul, but not a hint of ostentation.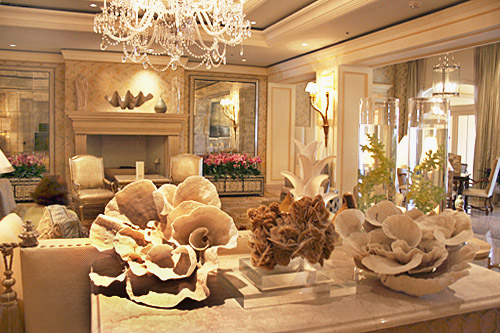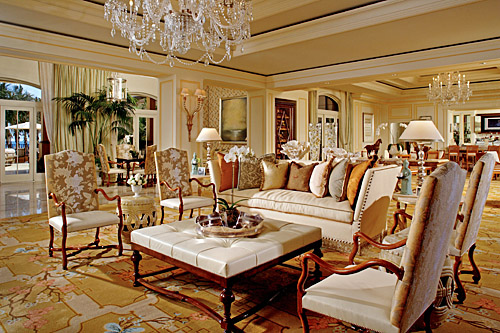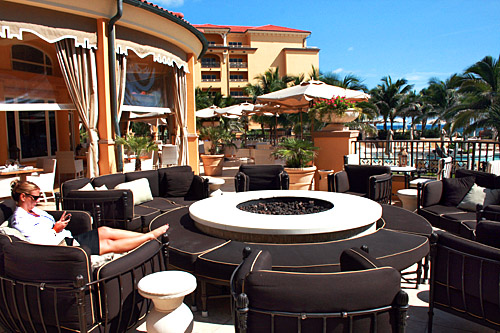 Each of the resort's 310 guestrooms and suites were also transformed during the renovation. My oceanfront room featured a marble bath with large tub and separate shower. Exotic lemongrass-scented toiletries lured me into the shower, where I luxuriated under the rain shower head. Finally, guilty over my excessive use of water, I dried off with an enormous Egyptian cotton towel and snuggled into a thoughtfully provided bathrobe. Hopping into the oh-so-soft bed, I slid between 400-thread count sheets, plumped up goose down pillows smothering the bed, pulled the duvet up to my chin, and clicked through the channels on the 32″ LCD HTDV flat screen TV. All rooms are equipped with the essentials: DVD player, fully stocked refreshment bar, hair dryer, in-room safe, iron and ironing board, desk with Ethernet connection and telephone, and WiFi access. Every detail has been thought out; the alarm clock even had a built-in iPod dock! And this is just a standard room; suites are much more elaborate, featuring two bathrooms, ocean view stone soaking tubs, multi-jet oversize showers, and two TV/DVD's.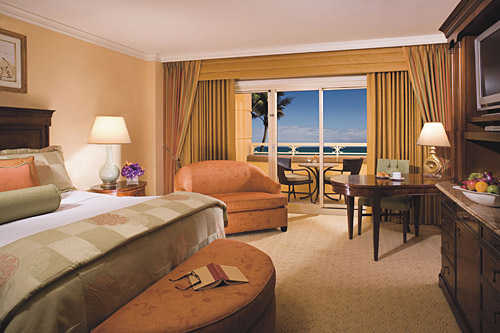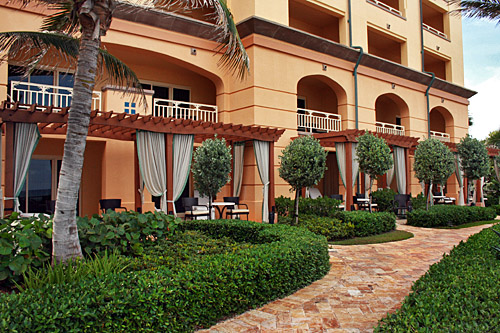 Perhaps best of all was my visit to Eau Spa, a glamorous on-site retreat where I opted for a facial. After changing into yet another cushy robe, I was directed to the Eau Zone, an indoor lounge with sumptuous furniture, diaphanous seafoam green floor-to-ceiling drapes, and a cut glasses chandelier made entirely from stemware. At the appointed time, my esthetician led me to a treatment room, where I selected my preferred lighting color (purple), aromatherapy (sandalwood for grounding), and settled in for a half-hour of pure pampering. Guests can spend the entire day at the spa, availing themselves of the steam room; sauna; jacuzzi with its column of falling water; or the Self-Centered Garden, a whimsical co-ed Garden of Eden where mod metal hanging chairs are suspended over ankle-deep warm water, fragrant plants attract butterflies, and a stone waterfall bench sends warm water cascading over sore muscles.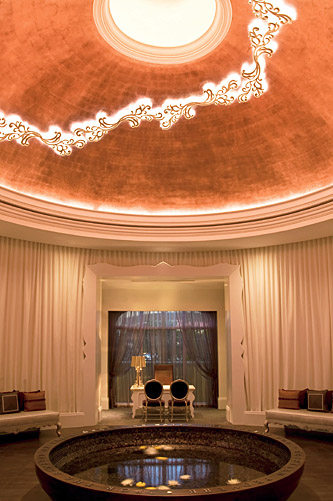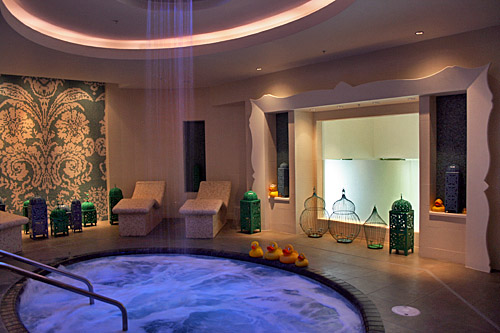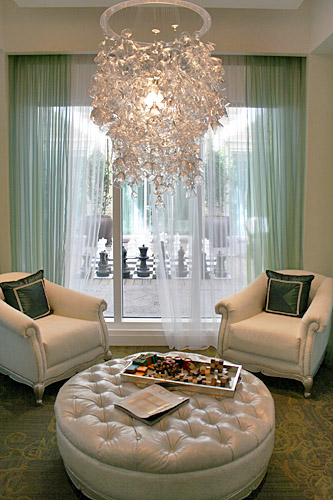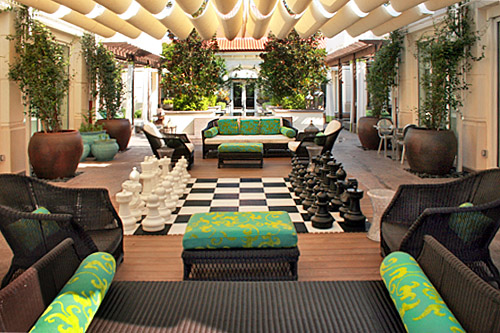 The next morning, following two wake-up calls delivered by a real live person rather than a recorded voice, I headed for my 9 a.m. breakfast meeting with the hotel's Director of Public Relations, Christine DiRocco. The hostess greeted me before I could open my mouth: "Good morning Ms. Weibel. Ms. DiRocco is due to arrive shortly. Can I seat you while you wait?" How do they do that? I was definitely impressed. Although Christine later confessed that she had sent my photo out to the staff, I am convinced that I was not afforded special treatment, as I repeatedly witnessed this same personalized interaction between employees and other guests. As to my wardrobe of choice, my khakis were never at issue, regardless whether I was dining in the formal restaurant or walking the grounds. The only problem is that I am now spoiled for life. Few other hotels are likely to compare favorably to pure class and pampering at The Ritz-Carlton Palm Beach.
Photos of hotel room, cabanas, spa fountain, lobby lounge, and Temple Orange restaurant courtesy of Ritz-Carlton Palm Beach.
Author's note: On July 30, 2013, I was notified that the Ritz-Carlton Palm Beach was recently rebranded as the Eau Palm Beach. I have not visited since the rebranding. If you're considering a visit to Palm Beach, my favorite site for finding the best prices is Booking.com. I earn a small sum if you book by clicking on the link above story, which helps keep this blog free for you to read.