Most people who travel a lot – especially budget travelers – have at one time or another invested in a guide book. Lonely Planet and Rough Guides are well known names in the genre; less well known are the Moon guide books. In fact, I had never before read a Moon guide until a copy of Moon Fiji came my way, courtesy of author David Stanley.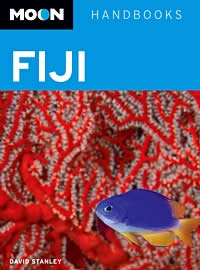 I have never actually read a travel guide. It usually gets stuck it in my backpack and pulled out for reference when I'm looking for an affordable place to stay, a decent meal, or to figure out which sights are must sees. Moon Fiji, however, is a different kind of guide book. That may be partly due to its author, who has crossed six continents overland and visited 193 of the planet's 245 countries. For his first trip across the Pacific in 1978, Stanley bought the longest ticket ever issued in Canada by Pan American Airways. Though Stanley has traveled widely and become a specialist on many parts of the world, he keeps returning to his favorite area, the South Pacific.
I read this guide book from cover to cover and Moon Fiji is the best Fiji guide book I have ever seen. It does everything right. Take, for example, the following examples of what I found within:
Detailed overview maps, located at the very front of the book, are easily thumbed-to for reference, and smaller regional maps are displayed in chapters that discuss specific destinations.
Reviews of accommodations, food, sights, and activities are broken up into various regions. The author has done an admirable job of researching and reviewing accommodations, dividing them up into pricing categories from budget ($25-50) to luxury ($250 and up). Perhaps most impressive, Stanley travels incognito, never announcing his status as author of a Fiji guide book and never accepting any comps from those he reviews. As a result, his reviews are reputed to be unbiased and extremely reliable.
Since he has spent years in Fiji, Stanley provides valuable insight into Fijian culture and history. This often translates into suggestions for seeing the "real Fiji," such as how and where to hike into the interior, and the local protocol that must be followed when asking for permission to visit local villages that are not normal tourist destinations.
Moon Fiji is stuffed with money saving travel tips that range from the cheapest Fiji flights to the most cost effective way to exchange currency. Stanley's knowledge of the bus and ferry system alone (not to mention his suggestions for traveling to any of the 106 inhabited islands) easily justifies the $19.95 price for the guide.
I have yet to find an oceanfront resort that represented their beach as anything other than spectacular, featuring luscious photos of pristine strips of white sand. But photos can be deceptive! More often than not, I am disappointed upon arriving. Stanley not only provides an honest assessment of beaches, but also of the diving and surfing opportunities around the island, ensuring you won't feel that you've been misled. He even advises which cultural fire walking demonstrations are the best priced and and most accurately portrayed.
By following the recommendations in the guide, you will avoid being scammed by shopkeepers and you'll be well-informed about which are crafts are indigenous and which are not.
Cultural taboos and Fijian etiquette are extensively addressed ("It is a Fijian custom to smile when you meet a stranger and say something like 'Good morning,' or 'Bula' … " and, "Take off your footwear before entering a bure and stoop as you walk around inside. Fijians consider it offensive to walk in front of a person seated on the floor (pass behind) or to fail to say tulou (excuse me) as you go by. Clap three times when you join people already seated on mats on the floor. Shake hands with your hosts.)
Moon Fiji is also chock full of special tips, such as the following: "Although jellyfish, stonefish, crown-of-thorns, starfish, cone shells, eels, and poisonous snakes are dangerous, injuries resulting from any of these are rare. Gently apply methylated spirits, alcohol, or urine (but not water, kerosene, or gasoline) to areas stung by jellyfish…it's worth knowing that the venom produced by most marine animals is destroyed by heat, so  your first move should be to soak the injured part in very hot water for about 30 minutes. (Also hold the opposite foot or hand in the same water to prevent scalding due to numbness.)"
While all of the above is invaluable information, my absolute favorite part of the guide is found in the very beginning, where Stanley has constructed a 14-day "Best of Fiji" itinerary with an eye to saving money and doing it the way the locals do it. For those who can stay longer, he offers a second 14-day itinerary that concentrates on visiting the many smaller islands that surround the main islands of Viti Levu, Vanua evu, and Tavenui.
My highest praise of all for Moon Fiji: during previous international travels I have inevitably left my guide book at hostels or inns upon leaving, in order to reduce the weight of my pack, but Moon Fiji is one I won't be leaving behind. It's simply the best Fiji guide book around!
Authors note: If you're a certified diver, a liveaboard dive boat is another great way to visit Fiji. If this sounds right up your alley, check out this article, which will help you find an amazing Fiji liveaboard experience.