If I wanted to stuff my face with Karamel Korn and funnel cakes, have my photo taken while sitting in the Dukes of Hazard General Lee car, play a round of putt putt golf in the world's most interactive black light golf course, or attend any one of a dozen honky-tonk song and dance shows, Gatlinburg would be my perfect vacation destination. A veritable carnival midway designed to empty pockets and fill stomachs, this Tennessee city is definitely not my cup of tea.
Yet standing in stark contrast to Gatlinburg, Tennessee's crass commercialism, the surrounding countryside overflows with natural beauty. Just a few miles east, the Middle Prong of the Little Pigeon River flows beneath a verdant green canopy, creating miniature white-water rapids as it deftly dodges protruding boulders. Tired from its descent, the river rests, becoming a mirror-smooth green pool. Some unknown visitor has painstakingly balanced rocks in these placid waters – a flock of birds feeding in the dusk. As daylight fades and temperatures drop, mist rises from the sun-warm water, curling around the stone birds. I hold my breath, afraid they will fly away if I make the slightest sound.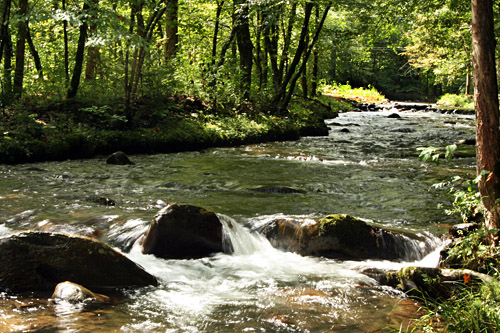 Tonight, in this enchanted cabin on the banks of Middle Prong, I am lulled to sleep by the tumbling creek and raindrops that have just begun to patter on the roof. It is hard to believe that I am anywhere near Gatlinburg.