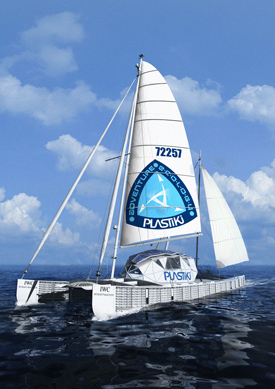 David de Rothschild is a man on a mission – literally. Sometime this summer he and a crew of experts, scientists and creatives will sail 12,000 miles from San Francisco to Sydney in a sailboat made from recycled plastic bottles and recycled waste products. De Rothschild hopes the experiment, dubbed the Plastiki Expedition, will raise awareness about a throwaway mentality that has created environmental disasters like the Great Pacific Garbage Patch, an area of the ocean twice the size of Texas that is overloaded with floating trash, through which Plastiki will sail on its maiden voyage.
De Rothschild accepts the fact that plastic is probably with us to stay, commenting: "From the moment you're born, the first thing that's put on your wrist is a plastic bracelet, followed by a plastic bottle in your mouth. Throughout our entire lives we're touching and feeling plastic in different forms and it would be impossible to ban plastics altogether, but what we can do is think about it in a smarter way." In short, he wants us to begin thinking of waste as a resource.
Plans originally called for the voyage to begin in April of this year, but the vessel is still being constructed at Pier 31 in San Francisco. When completed, the Plastiki will be made of 12,500 two-liter plastic bottles; weigh 9 tons; and will have a composting toilet, on-board renewable energy, and a garden. For a fascinating look at the ongoing project, watch the video on Treehugger.com, where he discusses why the design and construction is taking so long – little details like the need to invent a glue that eliminates toxic epoxies (they developed one from cashew sugar nuts) and to develop a totally "clean" plastic.
The billionaire adventurer and environmentalist certainly has what it takes to see the project through – at least through the construction phase. But it remains to be seen how he fares once the boat is launched, since he is the first to admit that he "gets seasick in a bathtub."