The next time you catch the travel bug and want to "wake up someplace special," check out the offerings at BnBFinder.com. This top rated Bed and Breakfast search engine, which has been in business more than 10 years (almost an eternity in Internet terms), lists thousands of B&B's in the U.S. and around the world, and its advanced search engine allows searching by more than 130 features such as rooms with Jacuzzis, frequent business travelers specials, or inns that accept bed and breakfast travel gift certificates. Searches take customers to a clean interface page, where each property is shown in a horizontal box that includes links to customer reviews and direct links to the B&B's individual web site. BnBFinder even offers customers the ability to save specific properties and compare them with other inns by creating a free account at their "My Inns" program.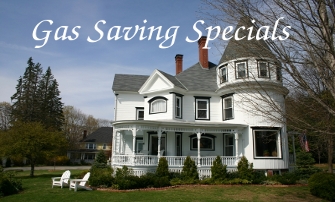 Best of all, the site tracks specials promotions offered by the inns. Currently, a number of properties are participating in "Gas Savings One Tank Trips," specials make summer travel desirable without breaking the bank. The following are justa few examples of the many gas saving specials available:
Parting Gift -You'll want to come with an empty tank to The Black Bear Inn in Bolton Valley, Vermont. Park your car for a three night stay and expect a simple, country style stay where you can spend the day without worrying about expenses. Enjoy a picnic basket, fishing in mountain streams, biking or hiking in the countryside. When you're ready to check out, the inn will provide a $75 free gas card.
Sleep On It – A good night's rest does a body good, especially if one night is on the house. Stay 4 nights for the price of 3 at Old Town Guest House in Park City, Utah. No driving is necessary once you pull up to the inn, with an efficient city shuttle service that lets you get around free of charge. Ask the innkeeper to direct you to the best hikes in the area or take a scenic gondola ride to the top for a day of mountain biking.
Feeding Time – Driving can cause hunger pains for you and your car. At Dakota Lodge Bed & Breakfast in Hinckley, Minnesota, you can feed your car with a $50 gas card or feed yourself. Inn will pay for dinner at a nearby restaurant. Both offers are valid with a two night stay. A gourmet homestyle breakfast every morning is included as well.
Good Credit – You don't have to have great credit history to receive credit. At Phipps Inn Bed and Breakfast in Hudson, Wisconsin, guests can receive a $25 credit towards gas for a 2 night stay or a $40 credit for a 3 night stay. It's just their way of thanking you for staying with them.
In addition to gas saving specials, B&B's also offer gourmet culinary courses, wine tasting, and extreme sports, just to name a few of many themed vacation possibilities.