Update January, 2019: Sadly, the reopening of Cypress Gardens was short lived. It unceremoniously closed its doors in 2009. The property was subsequently purchased and reopened as Legoland Florida Resort in May 2015. Legoland preserved the botanical gardens and re-themed the water park attractions to reflect Lego brands.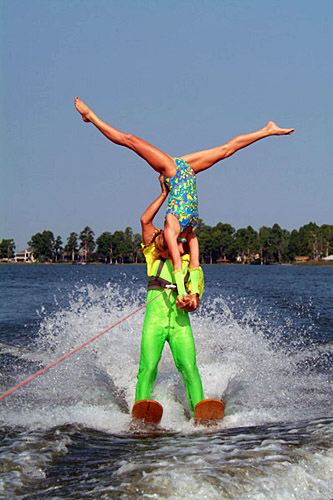 Closed since November 2008, Florida's first ever theme park reopened last week following extensive renovations. No longer Cypress Gardens Adventure Park, the attraction has been rebranded into two separate entities, Cypress Gardens and Splash Island Water Park. Animals from the attraction's former zoo have been transferred to new homes and park owners are in the process of removing the carnival and adventure rides installed in 2004. The new Cypress Gardens will focus on the botanical gardens along with Splash Island.
The famous ski shows and the electric boat tours for which Cypress Gardens is best known have resumed operations and concerts and special events, including flower festivals, will return as part of the regular entertainment package. The first water ski show at Cypress Gardens was performed in 1941 by accident. The park founder's wife, Julie Pope, sent a photo to the local newspaper that featured beautiful flowers with skiers in the background. The next day three servicemen showed up and asked what time the water ski show would start. Pope asked her son to round up some friends to perform for the soldiers, and the rest is history. With its daring lifts and jumps, as well as barefoot skiing, tandem jumps and the world-famous water ski pyramid, the show made Cypress Gardens "The Water Ski Capitol of the World."
The park is also well known for its 30 acres of gardens, where native plants and exotic species combine to form a spectacular botanical display. The Plantation Gardens at Snively Mansion include an aromatic herb garden, a rose garden, and a butterfly garden, which adjoins Wings of Wonder, the park's butterfly conservatory. Cypress Gardens' Topiary Trail features a collection of colorful animal topiaries, including a rabbit, swan, inch-worm, and ladybug.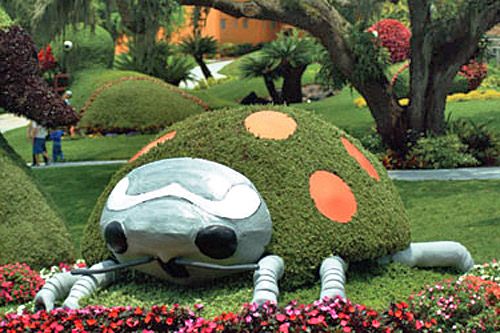 Although the gardens and the water park now have separate admission gates and separate ticketing, a combination pass is available. Best of all, park officials have announced that ticket prices have been reduced up to 40 percent from 2008 prices. Daily tickets for Splash Island are $23.95 for adults and $17.95 for children ages 3 to 9 and seniors 60 and older. Daily tickets for Cypress Gardens are $12.95 for adults and $9.95 for young children and seniors. Tickets for both attractions are $29.95 for adults and $22.95 for children and seniors. Previously, daily admission to the site was $35 to $40. Annual passes are also available for $49.95 for Splash Island and $39.95 for Cypress Gardens, or $69.95 for 12-month access to the combined parks.
Located in Winter Haven in central Florida, Cypress Gardens is just a short drive from central Florida's other popular theme parks, such as Walt Disney World.