"Don't be such a dingbatter," my grandmother used to say to my sisters and me. Another of her favorites was: "go to the store that's katty-whompus from your house and get yourselves some penny candy." We knew what she meant. We grew up with these words. A dingbatter was a silly or foolish person. Katty-whompus meant across the street diagonally. But they weren't words commonly used by our friends, or anyone else we knew, for that matter. So imagine my surprise when I wandered into the Ocracoke Preservation Society Museum and found those exact same words on an educational display!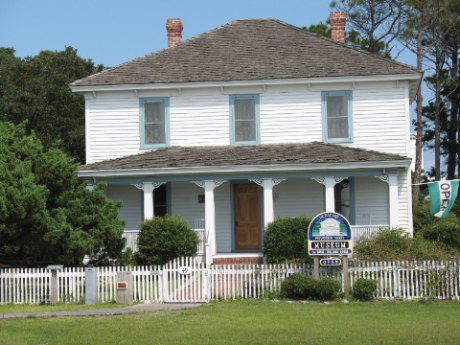 Ocracoke Island, an isolated 16-mile long strip of sand that is home to only 800 residents, is perhaps the most fascinating destination on the Outer Banks of North Carolina. Historically a fishing and whaling village, this tiny island was so remote and isolated from the rest of civilization that native "O'Cockers" developed a unique manner of speaking.
The isolation of the island began changing a number of years ago when the State instituted a ferry service. Soon, tourists were flocking to Ocracoke and the old way of life began to disappear. Today there are only a few remaining O'Cockers who speak in the old brogue, and most of them refuse to speak to tourists. Indeed, when I lived on the Outer Banks, I frequently spent weekends on Ocracoke and often encountered O'Cockers who pretended to be deaf rather than speak to you. Fortunately, the O'Cocker language will be forever preserved through the efforts of the Ocracoke Museum.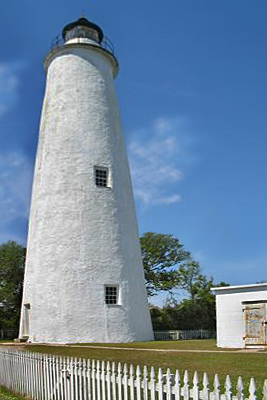 Housed in a historic white clapboard house, the museum contains historic furnishings; artifacts from Fort Ocracoke, a Confederate Civil War fort that was abandoned and destroyed; and displays about whaling and commercial fishing, which was for 250 years the lifeblood of the community. But the most fascinating feature of the museum is the "Brogue Room," which contains extensive research about the unique linguistics of the island and features a video of native O'Cockers speaking in their unique accent (view three short video clips featuring native O'Cockers speaking in the Ocracoke Brogue: clip #1, clip #2, and clip #3).
The first time I pulled up a metal folding chair to watch the video, I was shocked. While much of what they said was unintelligible, I easily recognized the words "dingbatter" and "katty-whompus." Fascinated, I began reading the displays to determine why I knew these words. I soon had my answer. The earliest residents of Ocracoke were fishermen who emigrated from southwestern England. This is where my grandmother was born and it must have been she who handed down these words.
Ocracoke is one of the most fascinating travel destinations in the U.S. In addition to the museum, the island offers miles of gorgeous undeveloped Atlantic beaches, an historic 1823 lighthouse, a World War II British Cemetery, wild ponies, hurricane lore, and a long history of piracy. Ocracoke is easily accessed by ferry from either Hatteras Village to the north, or the North Carolina mainland (Swan Quarter or Cedar Island) to the south. There is no charge for the ferry from Hatteras and both the Cedar island and Swan Quarter ferries levy one-way charges of $1 for a pedestrian, $3 for a bicycler, $10 for a motorcycle, and $15 for a vehicle of less than 20 feet in length.