Christmas morning dawned a cold but sunny 12 degrees. Although I never like being in Illinois in the winter, this year has been especially difficult. Because of repeated ice storms and snowstorms, I've been trapped inside more than usual. But yesterday's crystal blue skies meant that Dad and I could go to my sister's house without worrying about driving on treacherous ice covered roads.
Rather than taking our normal shortcut on back roads that were still slick, we chose the long way around. This road is better maintained because it crosses over a cooling lake that serves the nearby nuclear generating plant. In winter the area is often shrouded in thick fog that is generated when colder air temperatures come in contact with the the warmer lake waters. The past two days of sub-zero temps had turned the fog into a frost that coated the trees, creating amazing wind-blown ice sculptures from the naked branches.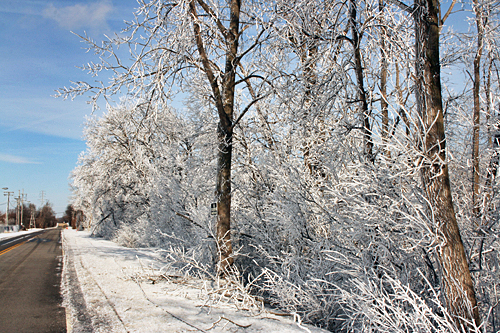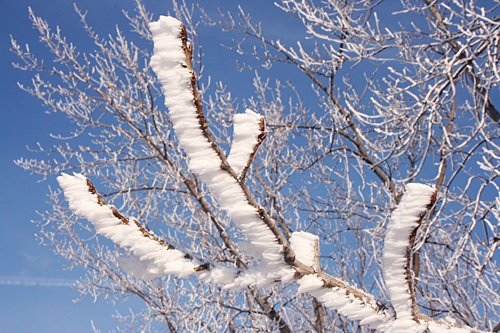 After a quick stop to admire this sparkling winter wonderland, we continued to Linda's house. The Weibel clan can disagree about many things, but where food is concerned there is never any disagreement – our motto is "The more, the better! " This was the spread of appetizers that greeted us upon arrival: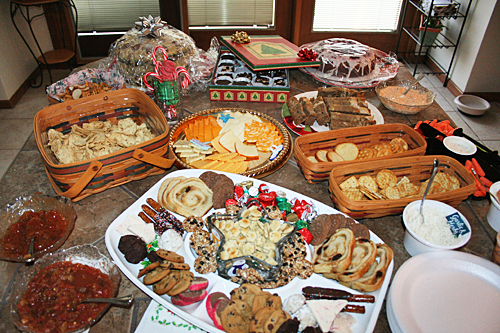 My baby sister, Nancy, got into the spirit with some fancy head gear and earrings: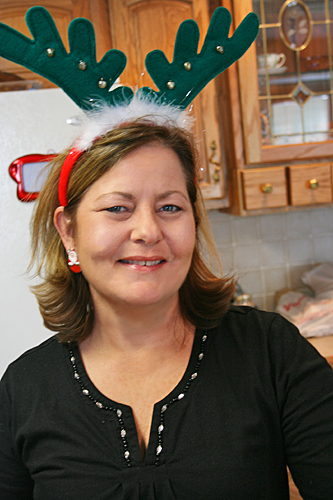 Linda's dog, Sandy, sticks close to Dad because she knows he is good for a puppy treat or two: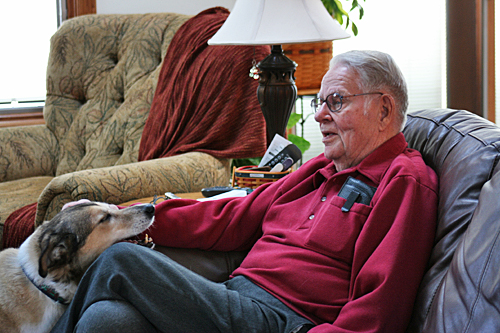 Prior to dinner, we took turns trying out Linda and Steve's new Wii Fit. Here, Steve is boxing. When I tried out the boxing module, I was knocked out in one round, but I did much better with the bowling module, nearly beating my sports nut of a nephew-in-law, Tony:
As dinner time approached, my niece Gina helped her mom whip the potatoes: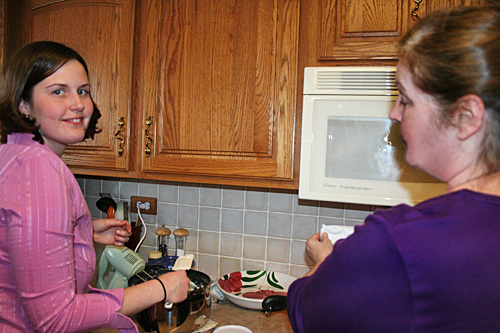 While Gina's husband, Tony, was put to work preparing the crescent rolls for baking: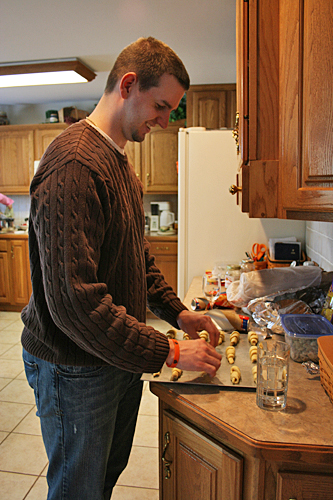 Busted! Brother-in-law Steve just couldn't resist sampling the turkey as he carved:
The Weibel's never have to be called twice to dinner. I had to practically arm wrestle people to keep them from diving in before I snapped a photo. The blessing was short and sweet: "God is great, God is Good, let us thank him for this food." The menu? Our normal carb-laden spread of turkey, stuffing, potato rolls, crescent rolls, mashed potatoes, gravy, carrots, broccoli, green and black olives, and a lovely salad with avocados and sliced almonds – a token offering for the only vegetarian of the bunch (me):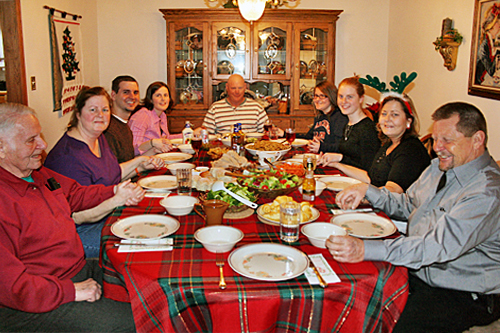 After dinner it was time to open presents. For the first time ever we drew names, so the pile wasn't as big as in past years, but I think everyone was pleased with their gifts. Here, Dad is opening a giant tin of peanuts, popcorn, and other goodies, while my sister, Nancy, and her husband, Dale, look on: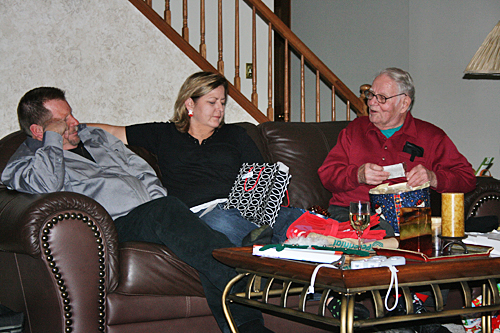 No one in my family particularly likes having their photo taken and they grumble the entire time I am snapping away. This year they tolerated me better than in years past, perhaps because they got their revenge. When I tried out my Christmas gift, a Styrofoam cylinder use for exercise routines, Steve grabbed my camera and caught me in a most unattractive position: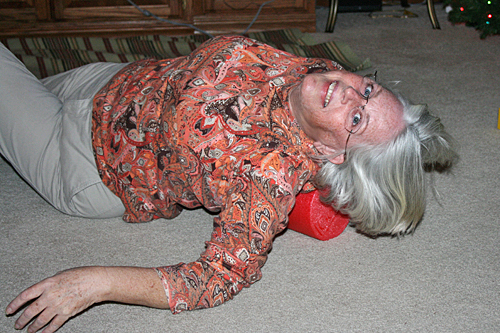 So far, our Christmas story had been great. Great food, great company, and great gifts. But the highlight of the day was about to begin. Everyone settled into couches or chairs or stretched out on the floor while Linda set up "Scene It," an electronic quiz game that hooked into the TV. We split up into four teams and pressed the start button on the controller to bring up the first question.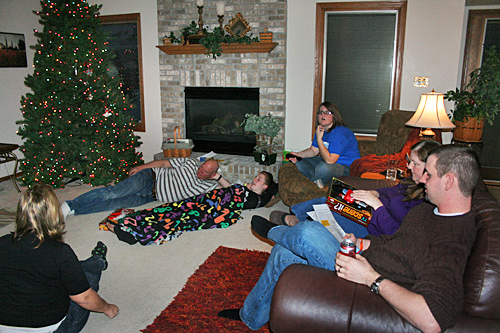 "It's an all play," Linda explained. "Four photos will be shown, one at a time. The moment you know what TV show the photos represent, yell it out."
The first photo appeared – a brick apartment building on a city street. "Oh I know that…what is that…uh, uh, uh…HELEN HUNT!" Dad yelled.
"Mad About You!" three other players yelled in unison.
"One point for us," Linda said.
"That's not fair, I had it first," Dad complained.
"Nuh unh,"Steve said. "You have to say the name of the show, not the actors."
"But I gave you the answer when I said Helen Hunt."
"Well, next time talk it over with your partner before yelling it out."
Points mounted up rapidly. The competition grew fierce. Another set of photos popped up on the screen, this time displaying a baby doll's face and a donkey.
"Baby Ass," Dale shouted.
"That's ridiculous, there's no TV show named Baby Ass," Nancy said. Nobody had another guess. The seconds ticked by until the buzzer sounded and the answer appeared – Dallas.
"That's what I said – Doll Ass!"
"No, you said Baby Ass."
"Same thing!"
"No it's not."
"Yes it is. Everybody knows I meant Dallas." I laughed so hard tears ran down my cheeks.
The next game, Taboo, was a take-off on Password. One person draws a card containing a word that they must make their partner say. However, each card also contains a list of words that cannot be uttered when providing clues. Facing her husband Dale, Nancy pointed two fingers at her own two eyes and then pointed those same two fingers at Dale's eyes. The Vulcan mind meld was in place; they were ready to go. Steve turned the 30 second timer over as Nancy drew her first card.
"Uh, this is a place where you go to see a f……uh, this is the place that you and I went where they had the cup holders that flipped down. It's a place we go all the time, where it's dark…."
"Concert?" Dale guessed.
"No, no…the place with the seats that FOLD DOWN and the CUP HOLDERS."
"I don't know what you're talking about. Pass it."
Nancy pulled another card with similar results. Then another.
"Time!" Steve said.
"Honey, we suck. We got zero points."
"What was the one with the cup holders?"
"Movie."
"Well why didn't you just say theater or film?"
"Because the card said I couldn't use those words. You try describing movies without being able to say theater or film or cinema, or television."
Nancy wasn't the only one who had trouble. I unsuccessfully tried to get Linda to say rabbit without using the words animal, bunny, furry, Easter, or ears. Having just seen "A Christmas Story" on TV the previous day, I immediately thought of the scene where Ralphie unwraps the gift from his aunt.
"This is the piece of clothing that Ralphie gets as a gift in "A Christmas Story." A totally blank look on Linda's face. "You know, the pink suit that his mother makes him try on – the one with the footies." Still blank. I switched tactics.
"It's a type of meat you can eat, but it's an unusual dish…oh just forget it." I pulled another card. Lawn was the word, but I couldn't use grass, mow, green, grow, or yard as clues. Oh, good Lord, I thought. "Ummm…… it's the thing in front of your house, between the house and the sidewalk, that you walk on and play on….." Nothing, nada, zilch. Before I could draw a third card, our time was up.
Then it was time for my two 16-year old nieces, to give it a shot. Kelly pulled a card. "This is something in your grandmother's medicine cabinet."
"Viagra!," Tori shouted. I dissolved in laughter and rolled off the couch onto the floor.
After all the games had been played, we ended our Christmas story as we had begun it. Linda rolled out a German chocolate cake and a raspberry swirl Bundt cake and we all ate until we could barely move. It was a wonderful day, full of love and laughter and way too much food. My father does not own a bathroom scale, but I won't be surprised to discover that I've gained five pounds in the last week. I'd like to say that I'm again being careful about what I eat now that Christmas is done. Unfortunately, Linda sent us home with a grocery bag full of leftovers and I've been eating my way through them all day today. There is no doubt that I'm a Weibel, through and through.