Music is one of the joys of traveling. In SE Asia I discovered Cambodian wedding songs. Hindu legends set to music charmed me in Bali. And music in Tanzania and Zanzibar was an amazing melange of drums, rhythm, and harmonizing voices. In years past, the only way to sample music around the world was to travel to these places. Fortunately, this genre of music has become very popular over the past few years, thus collections are more readily available in the U.S.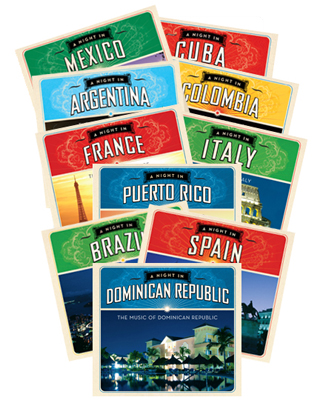 One example is Sony's new "A Night In" World Music Collection. Each of the collection's ten CD's features the music of a different country. "A Night in Cuba" features the outstanding singers and songwriters of Salsa, Son, and other Latin rhythms, while "A Night In Italy" presents the most exquisite voices of opera. Tango is the focus of "A Night In Argentina" and "A Night In Puerto Rico" encompasses the Afro-Carribbean rhythms of the Salsa, Plena, and Bomba styles. Romantic melodies and quirky jazz are the basis for "A Night In France" and "A Night In Spain" showcases artists who have successfully reintroduced folk elements and rhythms such as flamenco guitar and rumba flamenca into contemporary Spanish music. The collection is rounded out with four additional CD's that feature music from Brazil, Colombia, Mexico, and the Dominican Republic.
Many of the world music CD's I have sampled or purchased over the years have been disappointing. Although they usually contain one or two good numbers, the rest of the selections are marginal. In this case, however, Sony has  put considerable effort into compiling collections that are vibrant, exciting, and authentic representations of their respective countries. I thoroughly enjoyed each of the CD's and heartily recommend them for anyone who relishes world music.