With a nickname like the Sunshine State, it may seem odd that Florida is home to so many holiday events. From the annual St. Augustine Christmas Parade, to Santa's Enchanted Forest in Miami, to the myriad of Christmas events in Orlando, Florida is a literal hotbed (no pun intended) of holiday festivals. While these big productions are always entertaining, I much prefer the community-based celebrations  hosted in the small towns around the state. One of my favorites is the moving display of lights in Dunedin, Florida. And when I say "moving," I'm not talking about the "bring you to tears" kind of moving. I mean they were literally moving – on the water. At Dunedin's annual Holiday Boat Parade last night, thousands of people gathered on the waterfront to watch perhaps three dozen wildly decorated boats sail into the marina.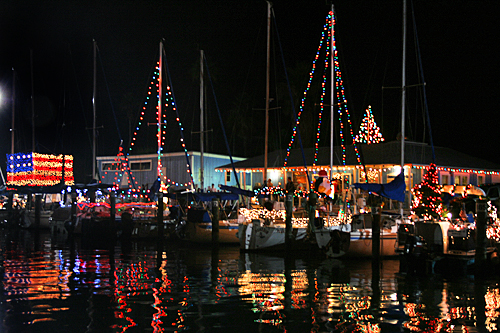 On one sailboat, an American flag in lights had been strung amidst its rigging and two women, dressed in red, white and blue USO outfits waved at onlookers from the deck. Another sported a penguin theme, with two giant inflatable penguins attached to the mast. Still another had created a palm tree outline in lights. While most were sailboats, several speedboats and one pontoon boat had been decked out for the holidays as well.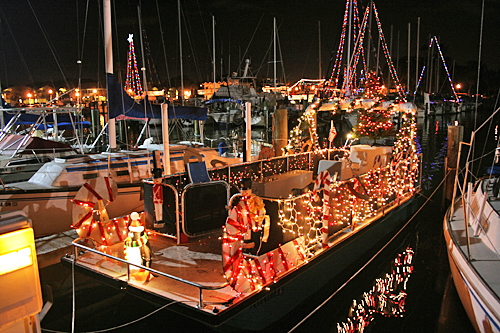 At the end of the parade, Santa arrived Florida style, on the Police speedboat. The Chief of Police pulled several doughnuts in the 'no wake' main channel of the marina as Santa waved to cheering children lining the shore. His arrival kicked up waves, creating an even more dazzling of Christmas lights as the decorated boats rocked and bobbed at their moorings. Santa stepped off his water-sleigh and walked to a stage set up in Edgewater Park, where he officiated at the town's tree lighting ceremony.
Dunedin is a lovely little town where children still ride their bicycles after dark without fear and a real sense of community abounds. And the events are not over. Dunedin still has a full calendar of events planned right through Christmas, with the next one being a Holiday parade on Saturday, December 13.