That little idiot light came on in my car yesterday. "Maint Req'd." I know what it means; the first time it happened I called the dealership because the nowhere in the manual could I find an explanation of the meaning of the light. Turns out that it simply means it's time to change the oil. I was traveling long distance at the time (on my way back to Florida) and the woman I spoke to said I could wait until I got home to bring it in for an oil change, since I was only 300 miles or so away. This time I'm in Virginia and I think waiting would be pressing my luck. Besides, that little orange light was driving me crazy. I swear it was screaming at me.
Since it was lunchtime, I decided to look for a town with a Toyota dealership or a quick lube place and get the oil changed while I ate. Luck was with me. I pulled off I-81 into Staunton, Virginia since I have long wanted to see this town anyway, and quickly found a Toyota dealership that could fit me in. After lunch I took a quick driving tour of the town and was extremely impressed by what I saw.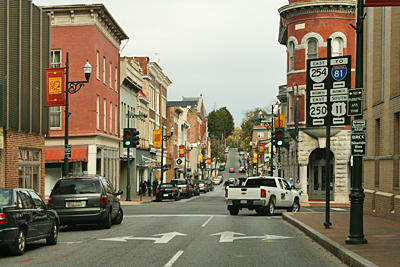 Staunton is tucked into a pocket valley at the head of the Shenandoah Valley. The city is built on rolling hills and its picturesque downtown features scores of historic red-brick buildings that house art galleries, shops, and restaurants. Staunton is home to the Blackfriars Playhouse, the only re-creation in the world of Shakespeare's legendary indoor theatre; the Frontier Culture Museum, a living history museum illustrating the daily lives of Shenandoah Valley's early settlers; and the Woodrow Wilson Museum and Research Library, which is the only presidential library in Virginia.
Although the town exhibited a mighty pull on me, I had to get back on the road. I have obligations in Atlanta and I must be there tonight. I have camped in Shenandoah National Park and know how beautiful it is; now I know there is a great town to explore the next time I am in the area. Besides, the weather is just getting too cold for my bones. It's time to get back to Florida for the winter. Shenandoah and Staunton can wait until summer.