Oh the weather outside is frightful,
But the fire is so delightful,
And since we've no place to go,
Let It Snow! Let It Snow! Let It Snow!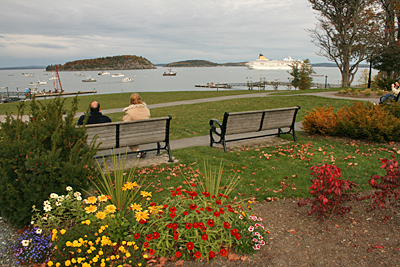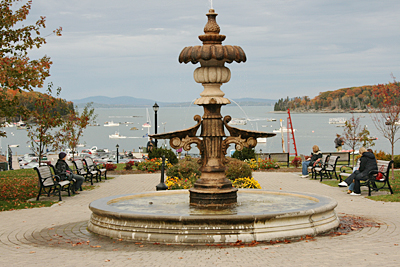 At the moment, the lyrics of this old song could not be more appropriate. I arrived in Bar Harbor, Maine at noon yesterday to skies so dark and gloomy that it was difficult to get a good photo. From the town pier I climbed the hill and strolled through Agamont Park where, despite the chilly weather, people sat on wooden benches enjoying the view of the harbor. I was surprised to find the town so full of tourists at this time of year but I soon learned why; two cruise ships had anchored off-shore for the day. Apparently the activity of "leaf-peeping" – traveling in search of colorful fall foliage – has been embraced by the cruise industry and Bar Harbor is one of their major ports of call.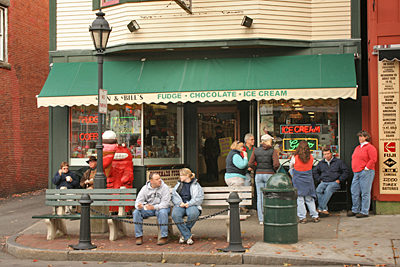 Indeed, the fall foliage along the coast of Maine is quite showy; the broad, leafy trees overhanging the steeply inclined sidewalks of town still exhibit brilliant colors. I wandered in and out of shops, stopping here for espresso, there for a freshly baked scone. To my amazement, many people were sitting outside eating ice cream. Apparently, ice cream is a Bar Harbor tradition; one store proprietor told me his family has been making its own ice cream since 1896. Still, tradition can only go so far; all I wanted to do was put something hot in my belly.
Late in the afternoon the sun finally peeped out from the clouds long enough for me to snap a few photos that didn't look dark and dreary: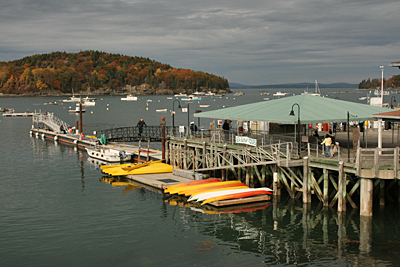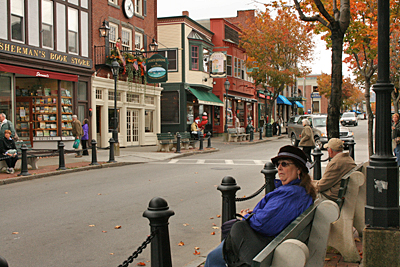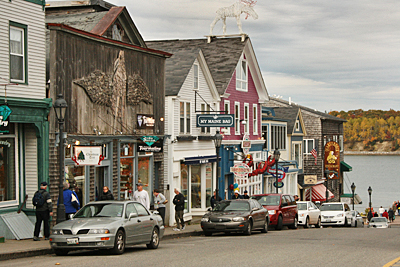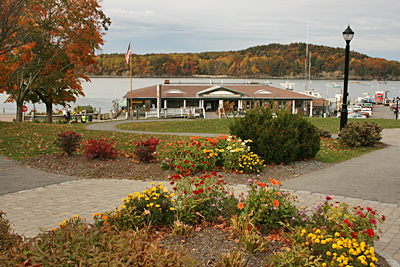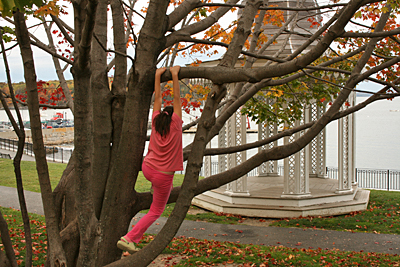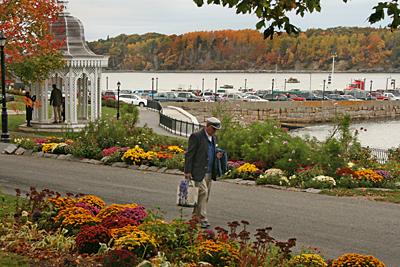 Back at the town pier I happened upon three women laden down with purchases that they insisted were gifts for their grandchildren, but from their blushes and giggles, I suspected otherwise. They were good sports, laughing at my teasing.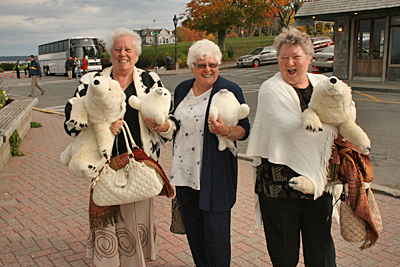 When I simply couldn't stand the cold anymore, I returned to the Bar Harbor Hotel via the waterfront path and soon afterward was enjoying a dinner of Lobster Pie, the specialty of the house at the Bar Harbor Inn's Reading Room Restaurant.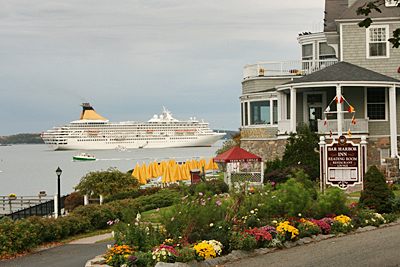 This morning the weather had further deteriorated. The wind is so strong and bitingly cold that it brought tears to my eyes when I went out for a walk. After a leisurely lunch at the Thirsty Whale, I hurried back to the hotel where, as in the song, I have since been happily ensconced in front of a roaring fire in the lobby. Although I had planned to stay only two days, the weather has changed my plans. Since the forecast calls for brilliant sunshine and more moderate temperatures tomorrow, I will stay through Friday to hike a couple of the trails in Acadia National Park, which surrounds the town of Bar Harbor, before heading back down the coast. From what little I have seen of Maine so far, it is remarkably beautiful and it would be a crime to leave without exploring it a bit more. I only hope it doesn't snow before I can get out!