Give me a Mom and Pop motel over one of the ubiquitous chain motels any day! They are often dated to the point of being dilapidated and offer only the most basic amenities: a couple miniature bars of soap, two or three cellophane wrapped plastic cups, a few scratchy towels barely big enough to be called towels, and a roll of single-ply toilet paper slightly less rough than sandpaper. The better ones occasionally even provide shampoo, conditioner, and a coffee maker. So why am I so attracted to these small, locally-owned operations? Aside from the fact that they are affordable, the owners of these establishments almost always bend over backwards to make you comfortable.
When I rolled into Woodstock, New Hampshire for my recent visit to Franconia Notch State Park, I spotted The Carriage Motel high atop a hill overlooking a river. It had that kitschy look that screams Mom and Pop, including an old-fashioned game room in the courtyard. True to form, owners France and Dennis Demers welcomed me with broad smiles, checked me in, and then proceeded to fill me in on the best restaurants and attractions the area had to offer.
Tired from my long drive, I immediately went to my room. It was definitely basic – old furniture that looked like it had been assembled from scores of garage sales, dented electric baseboard heaters, and barely enough light to read – but the room was exceptionally clean and a bargain at $69 per night during the height of leaf peeping season. About that time I pulled down the bed covers and discovered a
rusty old metal box mounted on the wall, with wires leading to the bed. The logo was still visible; "Magic Fingers" it read. It was beyond kitsch; it was a blast from the past – I hadn't seen one for years. Back in the day, many motels were equipped with Magic Fingers, devices that promised relaxation and relief from everyday stress by vibrating the mattress for 15 minutes when the patron placed 25 cents in the box.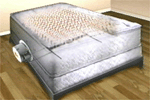 Over the next two days I wondered whether the Magic Fingers still worked. I thought about trying it – I thought about it a lot. But I couldn't bring myself to drop a quarter in the box. Perhaps I was worried that someone would know I used the Magic Fingers. But why would this be an issue? For some reason, in the back of my mind Magic Fingers has a vaguely sexual connotation. Even so, who would know if I used it in the privacy of my own room? Ah, but if it worked, it might make such a racket that the entire motel would know. On the other hand, it might not work at all. It might be so old that if I inserted a quarter it would short out the device and sparks would fly and catch the bed on fire, causing the fire department to respond, leaving me to guiltily explain how my depraved actions resulted in the loss of the motel and the ruination of the Demers.
Aaackkk! You see my problem? I am a truly sick individual. Since departing, I have been kicking myself for not popping a quarter in the slot. Would anyone who is planning to visit Woodstock, New Hampshire, please do me the favor of staying at The Carriage Motel? Ask to stay in room #12, pop a quarter in the Magic Fingers, and report back to me. Otherwise, I will spend the rest of my life wondering whether I could have enjoyed two nights being blissfully vibrated to la-la-land.
Author's update: The Carriage Inn was sold in 2015. Today it has been refurbished and is operating as Inn 32. Their website states that the rooms have all been refurbished, so I doubt the Magic Fingers beds were retained. But It's still a blast from the past to read about my experience.