"I'm just one person; what can I do?"
It's a fairly common lament. We are often quick to assume that our individual efforts are not powerful enough to have an impact. The next time you think this, consider the case of Alexandra "Alex" Scott. Alex was born in 1996 and by the age of one had been diagnosed with a particularly aggressive form of childhood cancer. For the next three years Alex battled her disease, going into remission and learning to walk against all odds, until 2000, when it was again discovered that her tumors were growing. The day after her fourth birthday, following a stem cell transplant, Alex announced to her mother that she intended to open a lemonade stand when she left the hospital to raise money so that her doctors could find a cure for pediatric cancer. True to her word, Alex raised $2000.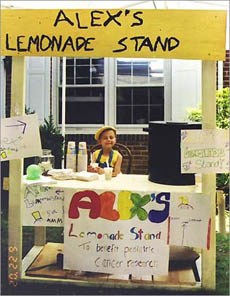 Despite her deteriorating health, Alex continued to raise money through her lemonade stand once a year for the next four years. When the media picked up the story, people all over the world began hosting lemonade stands and donating the proceeds toward childhood cancer research. Alex died in August of 2004. In her eight brief years she raised more than $1 million for cancer research. Her legacy lives on though Alex's Lemonade Stand Foundation, a 501(c)3 charity set up by her parents to continue her work; to date the Foundation has raised more than $20 million for pediatric cancer research.
We are never too small or too insignificant to make a difference.