Yesterday I left the Outer Banks, NC, bound for Illinois to spend the week of Father's Day with my Dad and the rest of my family. I had intended to start the trip at dawn, but as I turned off my road and headed for the Bypass, I was confronted by the biggest, reddest ball of sun that I have ever seen, and I had to divert to one of the beach accesses to take a photo: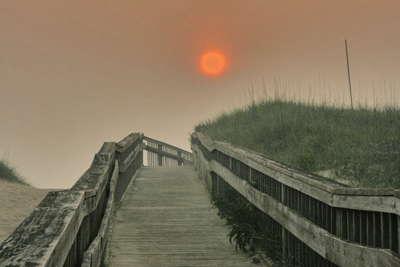 The sun's color was most likely the result of dense smoke from the wildfire on the mainland that is still drifting over the Outer Banks. In the event that anyone thinks this smoke is a minor matter, I turned around from the spot where I took the photo of the sun and aimed down the parking lot to the street beyond. What you see is NOT fog; it is smoke: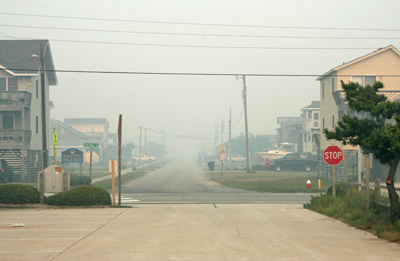 Visibility at 7 a.m. on this otherwise clear day was limited to less than a city block. It is hard to grasp the extent of the problem until the fire and its resultant smoke is viewed from space, as in this satellite image that was forwarded to me by my friend Bill Holt: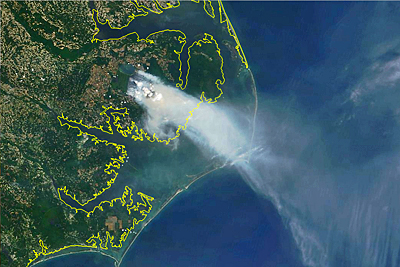 Not only does the Outer Banks stink like a campfire around-the-clock, the pollution is causing breathing problems for children, elderly, and infirm people. Suffice it to say that I was glad to be leaving for the next ten days.
Officials have warned of potential road closures on the mainland if and when the smoke gets thick enough to affect driving visibility. Since my usual route between the Outer Banks and Illinois would have taken me west to the mainland and quite near the source of the fire, I opted to go north through Hampton Roads and around Richmond instead. I started out at 7 a.m. and by 2:30 p.m. I was already traversing West Virginia. Normally, this is a two-day trip for me, but I made the decision to forge ahead and do the trip in a single day because my car was packed to the gills with all my personal possessions and I worried about someone breaking into the car if I stopped for the night.
Let me digress for just a moment. You may well wonder why I was carrying all my worldly possessions in my car. I have only alluded to what is happening in my life in a few previous posts because I am just superstitious enough to believe that saying it out loud could have jinxed it. But now that I am past most of the hurdles that could jinx the deal, I feel comfortable enough to tell you the BIG news. Yes, dear, devoted readers, my house in North Carolina is under contract and scheduled to close June 30th. I have been living in Sarasota while waiting for my house to sell and I like Sarasota very much, however I do want to check out San Diego as well, so I am storing all my "stuff" at my Dad's house until I decide where to put down roots.
It's very strange to think that almost everything I own – the entire substance of my lifetime thus far – fit into my Toyota Rav4. But then, I've never been a packrat and am a firm believer that "things" weigh you down. Over the past few years I gathered too many "things" around me, which made me feel heavy and trapped. I have done this several times before in my life. I settle down, buy a home, and begin to acquire "things." Then I decide to move on and go through a cycle of eliminating "things," which is always a freeing experience. This time was no different, but somehow I suspect that I have closed the circle for good this time. What I now want is a simple life without the burden of too many things. Simplify, simplify, simplify – that is my mantra!
So, back to my trip. I did push through and arrived at Dad's slightly after midnight, following a 17 and a half hour drive with only four stops for gas, two bathroom breaks, and a quick stop at a McDonalds drive-through for a couple Filet 'O Fish sandwiches and a large fries (I eat horribly when I am driving). Then today, in just under three hours, we unloaded the "stuff" that it had taken three days for me to load into the car. Most of it fit into a small, empty bedroom closet.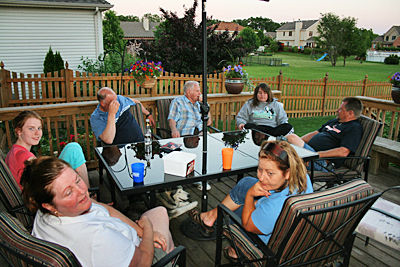 Since my sisters both live only a few miles from Dad, in the afternoon we gathered at Nancy's house, where I gorged on candy, cream puffs, pretzels with cheese dip, and Goldfish crackers (I also eat horribly when I am around my family – where IS my will power???). After dinner, we sat on her rear deck, sipping cold drinks, enjoying the exquisite weather and watching a crystal clear half-moon rise over the idyllic scene. The homes in her subdivision back up to one another over huge expanses of lush green lawn where rabbits playfully hop around and neighbor kids run and play. It was an incredibly relaxing and enjoyable evening, and I found myself thinking that Illinois is not so bad, after all. Then I remembered the winters. Scratch that last statement.
I'm not quite sure what life holds for me now. I will stay in Sarasota until I sell a second property that I own, but then I am free to go wherever I wish and do whatever I want. I continue to write my book and have high hopes of getting it published, however the writing has taken longer than I ever anticipated. The book is about 80% complete and at the moment is out to readers for review, which is just a well, since I have found it absolutely impossible to write on the Outer Banks. I suspect this writer's block has more to do with being occupied by events concerning the sale of the house than any lack of creative ability. As usual, I am simply putting one foot in front of the other and doing the next right thing. I am confident that the Universe will show me the path I am supposed to be on. Life is good, no matter what.