I often write about our threatened environment, much of which has been the result of our materialistic, consumption-driven society. But words can only be so descriptive; it is images that have the real power. Photographer Chris Jordan's work is all about consumption. He has created intricately detailed prints assembled from thousands of smaller photographs, many featuring disposable packaging related to food or drink. Check out the series below, a reproduction of a famous painting by Seurat, which has been created using photos of 106,000 aluminum cans, representing the number of cans used in the U.S. every thirty seconds: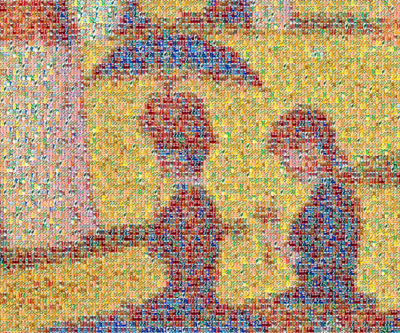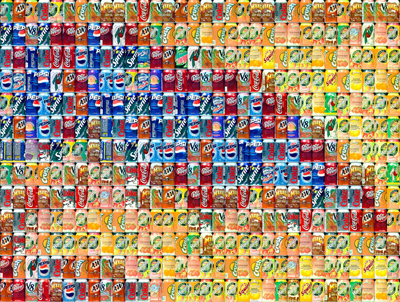 To see more of Jordan's statement-making art from trash, go to his website, http://www.chrisjordan.com. About halfway down the page, look closely at the black and white mountain and lake landscape that has been created using 24,000 GMC Yukon Denali logos and note the different spelling on the black logos.
The artist states on his web page that, "The underlying desire is to emphasize the role of the individual in a society that is increasingly enormous, incomprehensible, and overwhelming." Our tendency is to think, "I'm only one person; what can I do?" The truth is, this problem can only be changed one person at a time. Each of us is capable of making an effort to recycle rather than dispose; to carry a reusable cloth bag to the grocery store rather than walk away with our groceries in plastic bags, or to choose our next vehicle based upon improved gas mileage.
My goal is to live an environmentally sustainable lifestyle, often defined as a lifestyle that could, hypothetically, be sustained without exhausting any natural resources. Of course, that would mean driving a car that does not burns fossil fuel, which I don't. Instead, I walk whenever possible; I have only driven my car four times in the past seven weeks. We are not going to make these changes overnight, but we must take the first step if we are going to have lasting change and rescue our planet. OK, I'm done preaching now.