Around this time every year I start to get the itch to travel. Unfortunately, more long-term travel is not possible until I sell my home in North Carolina and finish writing my book. In the meantime I'm scratching that itch by visiting interesting places around the Gulf Coast of Florida, where I now reside. Located on the bayfront just south of downtown Sarasota is the 9.5 acre Marie Selby Botanical Gardens, an oasis of serenity that overflows with exotic tropical plants and flowers. Its trails and boardwalks are worth a visit any time of year, but are even more interesting during one of their special events, such as this weekend's Asian Cultural Festival.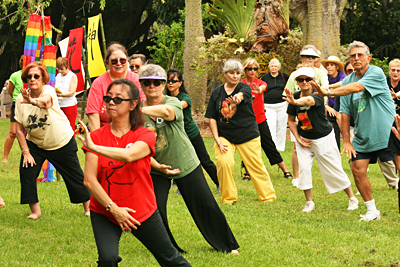 This year's Asian Fest featured displays of ikebana flower arrangements and sumi-e paintings, as well as demonstrations of origami paper folding, bonsai cultivation, Chinese brush paining, martial arts, and Tai Chi.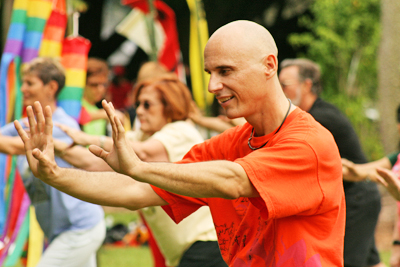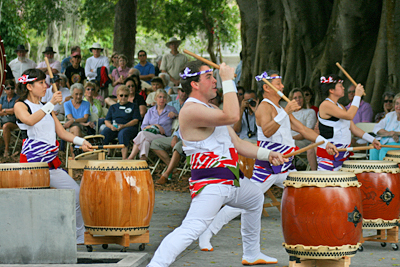 The highlight of the event was a performance of Taiko Japanese Drumming by Matsuriza, an Orlando-based group that migrated from Japan and has performed at Walt Disney World and Epcot Center. The ancient art of Taiko was originally reserved for religious ceremonies in the Shrines. Over the centuries, drums were incorporated in festivals to pray for rain and crops, and even used by soldiers in the battlefield, coming to represent the code of the Samurai. I was fascinated by Matsuriza's performance – as much by the expressions on the faces of the drummers as by the powerful reverberation of the drums.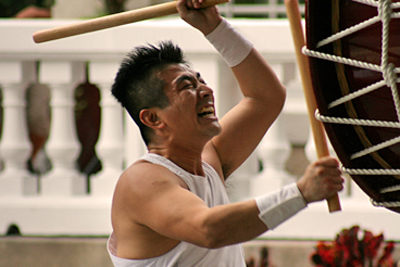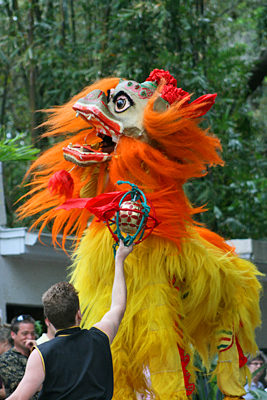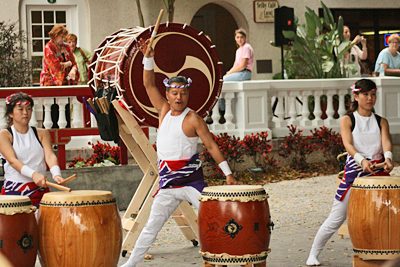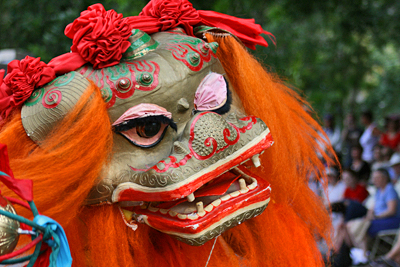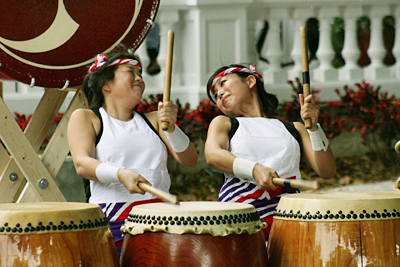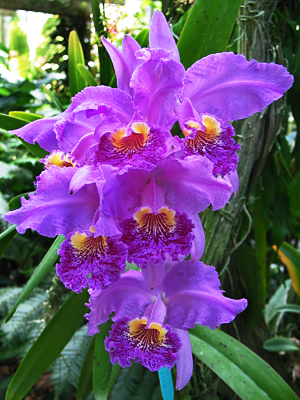 The festivities culminated with a traditional Dragon Dance. Two acrobats merged inside a brilliantly colored, furry costume, creating a Dragon character who poked its expressive papier mache face into the faces of spectators, rolled over like a giant puppy, and generally frolicked in the courtyard.
Marie Selby Botanical Gardens has become one of my favorite havens, where I can tour the Tropical Display House with its lush rain forest atmosphere, or wander through the towering Bamboo Pavilion, the Banyan Grove, or the Cactus and Succulent Garden. A not-for-profit institution, the mission of Selby Gardens is to foster understanding and appreciation of tropical plants, especially epiphytes (plants that grow on other plants), through programs of research, conservation, education and display. Selby is perhaps best known for its living collection of more than 6,000 orchids, such as this one which I photographed some months ago in one of their seven greenhouses.
Selby Gardens is open every day except Christmas from 10 a.m. to 5 p.m. On Thanksgiving Day, Christmas Eve and New Year's Eve the Gardens close at 3:00 p.m. Adults $12, Children under 12 years of age $6.