A few days ago, Forbes Magazine released their 2008 list of the top ten most dangerous travel destinations in the world. Among them, in position #9, was Zimbabwe, Africa. I am extremely familiar with the problems in Zimbabwe, since it was one of my destinations during my around-the-world trip last year.
I had always dreamed of going on safari in Africa, and of seeing Victoria Falls, which happens to be located in Zimbabwe. I'm no fan of tours. I prefer to wing it and just wander. When I left on my six month trip I had only six nights booked in hotels or hostels. However, Zimbabwe was quite another matter. The hotels no longer accept Zimbabwean dollars because they are virtually worthless (the country is experiencing 8,000% inflation each month), thus all my arrangements had to be made well in advance and I had to wire U.S. dollars to a tour operator in South Africa in order to reserve a hotel room.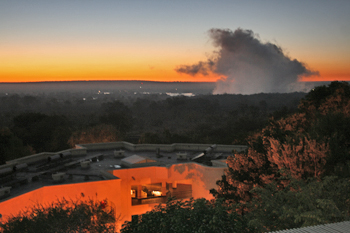 When I departed on my journey in March of 2007, the situation in Zimbabwe was deteriorating, but by the time I was scheduled to go, the situation was really dicey. In the capitol of Harare, there was no fuel to be had; even staples like rice and cooking oil were in short supply. President Robert Mugabe, a corrupt dictator, had chosen to run for reelection and people who opposed him, including the husband of the vice-president, were disappearing at an alarming rate. Everywhere, people I met, especially those who had lived in Zimbabwe, advised me to cancel this portion of my trip. I was fully prepared to do so; after all, my life is worth more than the $400 or so dollars I would lose if I canceled at this late date, and I could visit Victoria Falls at some future time. I contacted the tour company and told them I was prepared to lose my money and asked for an honest assessment of whether Zimbabwe was still a safe destination, especially for a woman traveling alone. The agent's opinion was that the Victoria Falls area was still safe, so I went as planned.
I am SO glad I did. Zimbabwe turned out to be one of my favorite places. Despite tremendous hardship, an oppressive political situation, and an economy that is non-existent, every Zimbabwean I met was gracious and smiling. The reservation manager for Rainbow Hotel, Ellridge Chimutengo, personally led me up to the roof of the hotel on my first afternoon to show me the elephants grazing in the fields adjacent to the hotel, and again the next morning to see the sun rise over the mist of the falls. By my second day, every hotel employee was addressing me by name. In contrast to Tanzania, where the locals "get in your face" if you try to take their photograph, in Zimbabwe, no one minded having their photograph taken. In fact, the entry guards at the hotel shyly asked if I would take their picture and send them a copy. I later emailed a copy to Ellridge and he tells me they were so excited that he had to print out two copies for each of them.
Although Zimbabwe is experiencing severe problems now, I believe the future holds great promise for this country. At one time, Zimbabwe (previously Rhodesia) was the strongest economy in Africa. It has fertile land and a wealth of natural resources, but its greatest asset is its people. Once Mugabe is gone for good, it won't take long for this country to rise to its former glory. At the very least, it will again be a premiere travel destination, for the people of Zimbabwe really understand how to treat a tourist. And while I wouldn't necessarily suggest hopping on a plane to Zimbabwe this moment, I would suggest going as soon as possible after the regime change (Mugabe is in his 80's – it's bound to happen soon), so you can experience the real Zimbabwe…not to mention the stunning, breathtaking, Victoria Falls: