In Southeast Asia I visited Buddhist monasteries and temples. In Bali it was Hindu and Buddhist temples. On the African continent it was Moslem mosques, and in Singapore all the denominations were represented, peacefully co-existing alongside one another. Here in Rome, Catholicism reigns supreme, and there are literally hundreds of churches, chapels, and Basilicas waiting to be discovered. I have always been fascinated by religion – in fact, I have been baptized four different times in four different religions – and I make it a point to visit the local churches, mosques and temples wherever I go.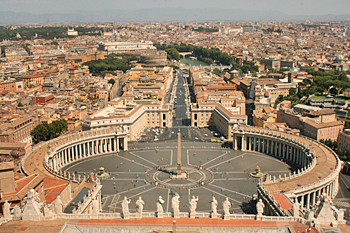 Each religion is unique, with its own history, stories and gods, but the one thing they all have in common is stairs. Yes, stairs! I climbed up more than 300 steps to the Buddhist temples atop Marble Mountain in Vietnam and at least 400 steps led to the top of Doi Suthep in Chiang Mai, Thailand. Saint Peter's Basilica in Vatican City doesn't disappoint in this category and as with all the other sites I have visited, I took on this climb as well. There are 550 steps to the top of the cupola, the final 320 of them being a narrow, spiral staircase wide enough for only one person. That meant no stopping – there were people behind me the entire way and if I stopped to rest I would have held up an entire line of people.
I made it to the top, a little woozy from the dizzying climb, but immediately glad I had made the effort when I saw the view. On one side of the cupola St. Peter's square spread out before me; on the other was a view of the lush Vatican gardens, which can only be seen from above, as they are closed to the public. After getting my breath back I braved the vertigo-inducing stairway back down and stepped inside the cathedral. To describe the interior of St. Peter's as impressive is an understatement. Until recently it was the largest church in the world, covering 5.7 acres and with a capacity of over 60,000 people, and every bit of that space is used to display the finest Renaissance monuments, paintings, and sculpture by the likes of Michelangelo and Bernini. The senses reel inside St. Peter's; one hardly knows where to look. Even the ceilings astound – there are numerous domes decorated with murals and gold-leaf mosaics, some surrounded by rings of windows that cast sunbeams on the intricate inlaid marble floors below.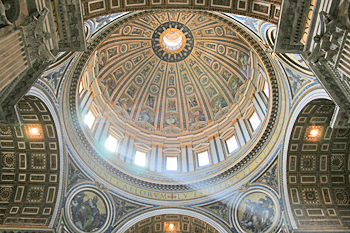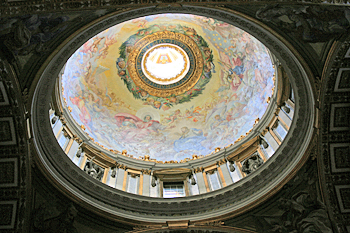 Outside again I strolled around the square, examining the fountains, the giant central obelisk, and the colonnaded outer circle atop which perch statues of angels and saints.
I had a strong sense of pomp, ceremony, and tradition at this historic site, so I was amused when upon leaving, I passed a corridor leading to the inner sanctum of the Vatican. Standing at its entrance were two Vatican guards, dressed in the most bizarre uniforms I have ever seen. In their brightly colored, striped knickers and jackets, with tams on their heads and thin wooden sticks in their hands (apparently intended to hold off intruders), they looked more like court jesters than guards, yet they stood with a proud bearing that suggested they are the elite among the guards. But upon further reflection, I decided that these outlandish uniforms were perfectly appropriate in a place that oozes excess.
Tomorrow I must return to the Vatican because the Sistine Chapel has been closed the past two days for some Italian holiday and I simply cannot leave without seeing the most famous site in Rome. Then I dash off to Florence on the train to fight more crowds in the sweltering August heat. I have only three weeks left now. The time has flown by so fast, it is hard to believe it has been almost six months since I began this journey. I am sad it is coming to an end, but gratified I have had this opportunity.
Author's note: If you're considering a visit to Italy, my favorite site for finding the best prices on accommodations is Booking.com. I earn a small sum if you book by clicking on this link to accommodations in Rome, which helps keep this blog free for you to read.