In a city vibrant with color, Little India is perhaps the most flamboyant of Singapore's many ethnic neighborhoods. Life bubbles over in Little India. The streets are lined with stalls selling everything from fresh fruits and vegetables to used computers, stacked in a high tower on the curb. Indian men rattle incoherent streams of Hindi into cell phones glued to their ears as they rush up and down the street. Lines of pedicabs pedal customers around the narrow streets. Women in exquisite, lusciously colored saris cluster on street corners, waiting for public transportation.
One such group of women in particular took my breath away and I snapped a photo, hoping my intrusion wouldn't be noticed. No such luck – the woman in the dark green sari looked up the moment I lowered the camera and flashed a brilliant white smile at me. "Would you like to see the photo?" I asked. I leaned over, turning the camera around so she could see herself on the digital display. Her friends clustered around, exclaiming over the photo. "You are all so beautiful," I said, adding, "Your saris are gorgeous – so colorful – would you like me to take another photo of all of you?" Shy at first, they slowly adjusted their saris, stood or sat up ramrod straight, and gazed regally into the lens.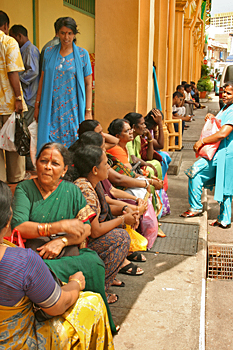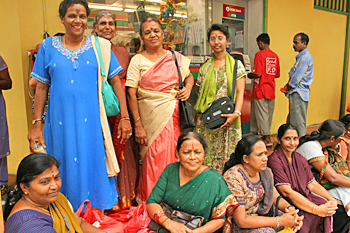 I again turned the camera around and watched each of their faces light up with delight as they saw themselves in the photo. I put my hands together in front of my heart and bowed to them – "Dhanyavat," I said in Hindi – thank you. "Oh no," they replied in unison, "thank you!" The power of the camera never ceases to amaze me.
The buildings in Little India echo the vibrancy of the people, each one wearing a dress of a different hue with splashes of complementary colors on their windows, doors and shutters.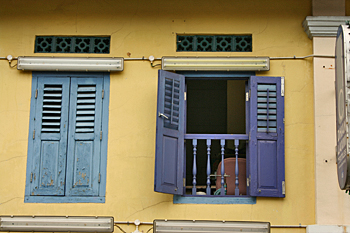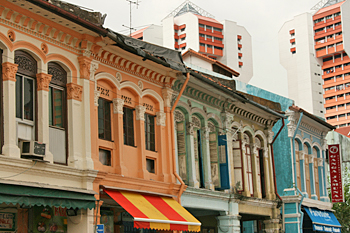 I wandered the streets – perhaps a six square block area until I found a vegetarian restaurant. Although I have traveled to India I am far from knowledgeable about the food, so the menu was a mystery to me. I chose something that sounded good – a vegetable-filled dosa, which the menu described as a rice pancake. It arrived on a large round silver tray – a huge crepe-like affair in a triangular shape about 12 inches long. Three sections on the tray held condiments – a sweet orange chutney, a white paste with a distinct coconut taste, and a yellow paste that was undoubtedly flavored with curry. A small cup on the tray held dahl, the Indian stew into which all bread and bread-like items are dipped.
My problem was how to eat this thing in front of me. There were napkins but no silverware. I glanced around the restaurant, pretending to let the food cool. To my right sat a gorgeous young Indian woman, all decked out in a yellow, orange and purple silk sari. She was elegant from head to toe: her jet black hair cascaded down her back in a thick braid, her forehead was adorned with a bright red dot, and a large diamond sparkled in the side of her nose. Casually, she tore off pieces of her dosa and slopped up the vegetables and sauces on her tray, using her curry-covered fingers to stuff the mixture into her mouth. Pretending to be an old hand at this, I too tore into my dosa with my fingers, although I could not begin to carry it off with the same aplomb as the practiced woman to my right. I went through half a dozen napkins and a couple of Wet Wipes, eventually resorting to licking my fingers – I never saw her touch a napkin, much less lick her fingers. The food was delicious but despite washing my hands repeatedly, the aroma of the curry stayed on my hands (and probably my breath) the rest of the day and night.
After lunch I stepped into Sri Veerama Kali Amman Hindu Temple, with its lovely statues and carvings, including a carved panel depicting my favorite Hindu diety, Ganesh, the elephant-headed god revered as the destroyer of obstacles (bottom photo below).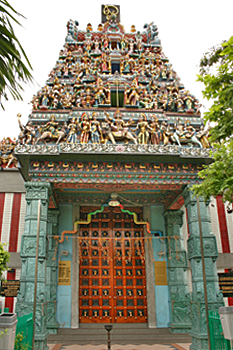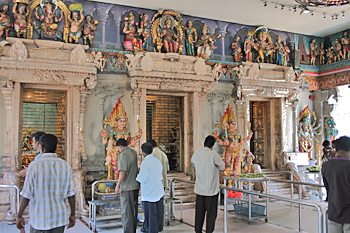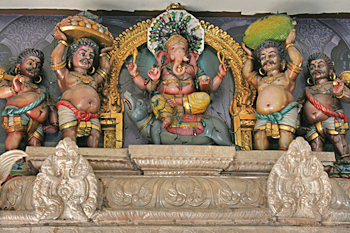 Having exhausted Little India, I walked the few blocks south to Bugis Street and wandered through the stalls of its open-air market on the way to another two temples.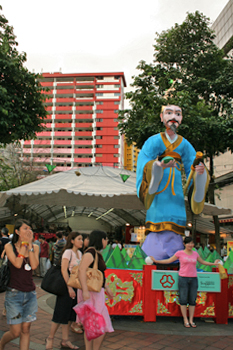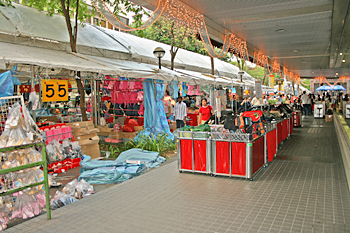 Just beyond the market on Waterloo Street I found two of Singapore's most famous temples. The Chinese Kwan Imm Temple is dedicated to the Buddhist Kuan Yin, the Chinese Goddess of Mercy who is thought to be a manifestation of the Boddhisattva Avalokitesvara.
A few steps further down the street was Sri Krishnan Hindu Temple. The exterior facade is covered with exquisite carvings and panels depicting the stories from Hindu lore, including a full size statue of Hanuman, the Monkey God, who guards the temple entrance.
Inside were three Hindu priests, white and gold lengths of cloth wrapped around their lower bodies, leaving their bare chestnut torsos gleaming in the glow from the oil lamps. Their jet-black hair was oiled and pulled back in buns at the napes of their necks. One priest carried a silver tray containing small bowls of red and ocher powders, which he used to apply dots to the foreheads of prayerful worshipers as they stood with their palms pressed together in front of their hearts. Another priest sang prayers on behalf of a worshiper, walking clockwise around the temple and stopping at various stations to pay respects to the deities. Waterloo Street is also the home of a Jewish synagogue and a Catholic church, all of which co-exist peacefully, side-by-side.
I decided to end the day with a visit to the Suntec Shopping Centre, five monumental skyscrapers that surround a circular open-air center containing the Fountain of Wealth, reputed to be the world's largest fountain. It reminded me of the contraption that was built for interstellar space travel in the movie Contact – three giant legs supporting a huge metal ring, from which pours streams of water. At the base, a smaller fountain shoots plumes of water upward, the two streams merging at intervals to form a giant mist ball.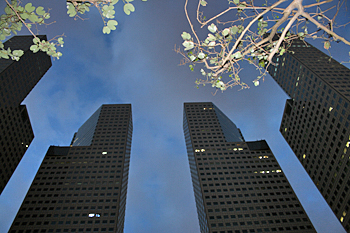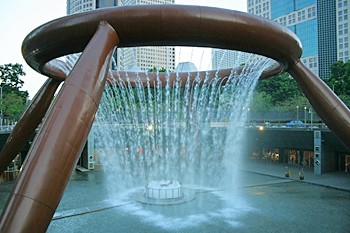 Suddenly, as I watched from above, the water stopped and I saw a line of people walk across a platform to the middle of the fountain. Circling the smaller interior fountain three times, they dipped their hands in the plumes of water while asking for a wish to be granted. This is known as "Touching the Waters of Wealth." Oh! I want to do that, I thought. I rushed down the stairs and got into line.When my turn came I walked the narrow path to the fountain, feeling the eyes from three levels of spectators upon me. I made my wish and circled the central fountain three times – perhaps NOW my house will sell.
Forty-five minutes later the fountain breathed back to life, becoming a giant mist ball onto which a laser light show was projected. As I headed back to the hotel the water alternately pulsated violet, blue, and red, ending my day the way it had begun, with a riot of color.