Because I had mistakenly thought Sydney, Australia was an oceanfront city, I double-checked my facts before going to Cairns. Yep! Cairns is an oceanfront city in the northwest corner of the Australian continent, where the temperatures are balmy throughout the year. Since it's located smack dab in the middle of the Great Barrier Reef, I should have no problem finding great beaches where I can soak up some rays and warm my tired ol' bones – something I was really looking forward to.
I'd also done some checking on backpacker accommodations and found that Cairns City Backpackers offered wireless Internet connection. Access to the Internet is important because it allows me to upload my photos and post to the blog, so it has been a major criteria in searching for accommodations during the entire trip. Much to my surprise, it has been difficult to find even moderate priced accommodations that offer wireless access. Finding hostels and backpacker accommodations with wireless is really unusual, so I made a reservation for a private room at Cairns City Backpackers for four nights, sight unseen.
A few words here about hostels and backpacker lodges around the world. They are absolutely the cheapest accommodations available. They come in all sizes and configurations, but basically they all have some combination of dormitories and private rooms. The dorms are further divided between big rooms that sleep 16 to 20 people – bunk beds lined up down the wall – and smaller dorms that sleep four to six. Dorm rooms are usually mixed gender, although some places do have female-only dorms. Travelers staying in the dorms have access to shared toilets, sinks and showers located down the hall from the dorm room. Almost every backpacker facility also has a few private rooms available. In some cases, these can be "ensuite rooms," with their own toilet, sink, and shower, but more often the private rooms also share the toilets and showers down the hall – the benefit of a private room is that you don't have to share sleeping quarters with 19 other snoring, drunken, noisy kids. The dorms, of course, are the cheapest option, ranging from $15 to $25 per night, per person. The private rooms generally go for $40-60 per room, per night. You can share the private room with another person or keep the room to yourself.
Backpacker facilities usually go the extra mile to be a home away from home. The kitchens are fully equipped with dishes, pots and pans, small appliances, etc. There are big commercial refrigerators and freezers where you can store your food – properly labeled so no one else eats it, of course. The lounges usually have comfy sofas and chairs where everyone can sit around and gab, avail themselves of the card games (UNO!) or board games (MONOPOLY!) provided, or read a book from the share library. Coin operated laundry facilities are provided and if you are doing an overnight tour or have a late flight there are almost always either storage rooms or pay lockers where you can lock up your luggage for a small fee.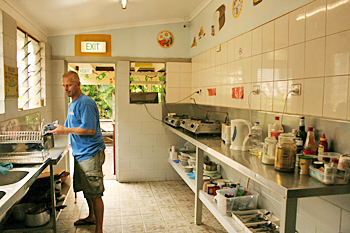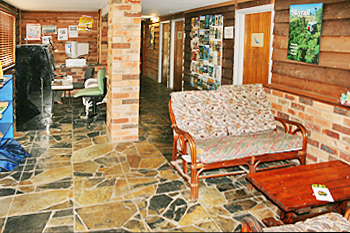 Many of the kids come loaded down with huge backpacks – sometimes carrying three or four all tied together with wire mesh. I cheat. I'm older, so I can get away with it. I carry a large day pack on my back, but the rest of my stuff goes into a 22″ carry-on size rolling suitcase. Frankly, the only reason for using a traditional size backpack that allows you to carry all your gear is if you are trekking in the wilds. Most backpackers are not doing this – they are simply traveling from place to place and moving from one backpacker lodge to another, so the reality is that, at most, backpacks are carried from the bus to the door of the lodge or from the luggage carousel at the airport to the shuttle bus. Seriously though, I've been surprised to see that some of the young people have converted to rolling suitcases as well. They really are more practical.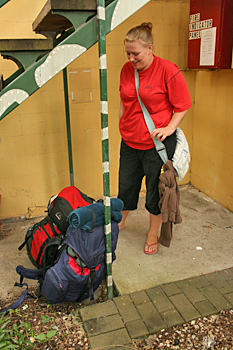 Every backpacker hostel has its own unique energy. Some are friendly. Some are not. Some are spotless. Others are disgustingly dirty. Some are well maintained. Others are in desperate need of repair. In some places, the guests show respect for the facilities and the rules of the house (things like quiet time after 10 PM). In still others, mayhem reins, with all-night partying and loud music. The cheap prices draw a youthful clientele and much of the time I am the oldest person in the entire place. Sometimes I am welcomed by the kids, sometimes they just tolerate me, other times they are downright aloof and I can see the questions in their eyes – 'What's SHE doing here?' But I smile, say hi, and persevere. They have computer problems – I fix their computers. They want to know about traveling in SE Asia – I share my experiences with them. In most cases it's only a matter of hours before I am accepted.
My flight to Cairns arrived at 10:30 PM. I took the airport shuttle to Cairns City Backpackers, where the key to my room was awaiting me in the mailbox (backpacker hostels in general are not staffed around the clock, so late arrivals let themselves in and officially check in the next morning). In the envelope that held my key was a rough handwritten sketch of the place and a note explaining how to find my room. Try as I might, I could not find my room – 2 Boomerang. I ended up in a back patio, where 12 kids were sitting on picnic benches around a blaring TV. Twenty-four eyes looked up at me with suspicion. "Does anyone know where 2 Boomerang is," I asked. Deafening silence. Finally someone pointed to the kitchen door behind me and said, "Through there." I felt those 24 eyes boring into my backside as I retreated through the kitchen, past the showers and toilets, and into the lounge area, with it's pay-to-use computers and scattered sofas. Ah yes, here's my room. No room number – just a picture of two boomerangs painted on the door.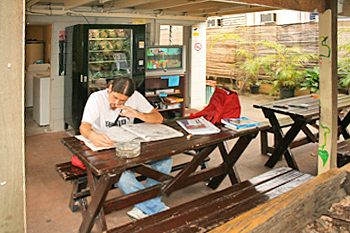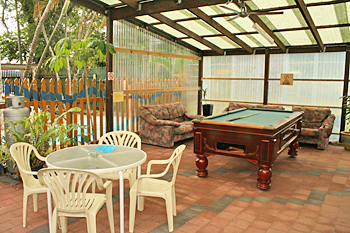 My room was basic but I was pleasantly surprised to find it contained a private sink and shower – the only thing I have to share is the toilets. It could do with a good cleaning – the flagstone floor had definitely not been swept for a while and, although the linens are clean, the bed pillows smelled so bad that I doubt they've been washed in the past six months. The communal kitchen sink was piled high with dirty dishes – everyone was ignoring the signs demanding that guests clean up after themselves. The bathroom door lock was broken and the buttons to flush the toilet were missing. But hey, what do you want for $48 ($39 US) per night? The guests were the strangest part of this place. No one smiled. Hardly anyone engaged in conversation. They sat around, sullen and moody, either staring at the TV, shooting pool in the dark (the light over the pool table does not work), or hanging from hammocks that surround the small in-ground pool.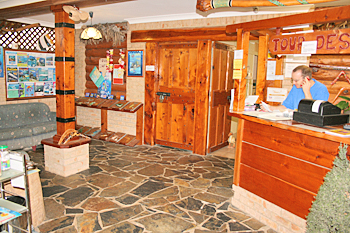 Fortunately, the next morning I found that the staff, Rob and Dave, are awesome – they were helpful and attentive when I checked in and even assisted me in choosing which activities to book. Usually, I am not much of a tour person, but sometimes there is no way around it. I want to visit the Atherton Tablelands west of town, as well as Cape Tribulation to the north, where "the rain-forest meets the reef." In both instances, there is no public transportation to these places, so unless I want to rent a car (I don't) the only other option is a tour. After booking the tours I inquired how to get to the beach. "Oh, there's no beach in Cairns," Rob said. What? But Cairns is on the ocean, isn't it? I soon discovered what the tour brochures don't tell you and what the Chamber of Commerce tries to keep secret until you arrive – all the lovely beaches are 20 to 30 minutes north of town.
Needing exercise after yesterday's long day of travel, I opted instead to walk the half mile to downtown and the waterfront. There's not much to the town of Cairns – a few main streets with one shopping center, a cinema, and loads of restaurants. A few streets into the downtown area I came upon a center mall where "buskers" (musicians) performed for free, their guitar cases open on the sidewalk begging donations.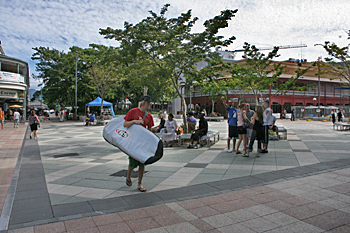 Another couple of blocks brought me to the "ocean," where a boardwalk runs along a bay that is nothing more than a wide mud flat. However, Cairns has compensated nicely for this shortcoming by building an oceanfront lagoon complex with man made beaches, fountains, and sundecks.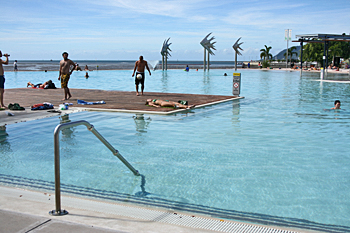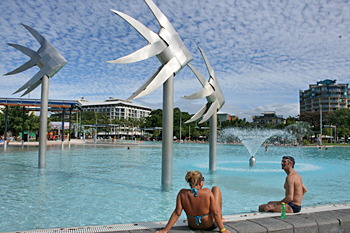 So while it wasn't the lovely sand beach I was anticipating, it was still enough to warm these 'ol bones. Now if I can just figure out a way to break through the veil of silence at the hostel tonight….