Basically, I hate tours. I detest being loaded onto a bus with 49 other people and herded like cattle from one tourist spot to the next. I loathe hearing, 'We'll be leaving here for exactly 18 minutes,' when I'd like to stay for two hours shooting photos or hiking the trail to the overlook point. But in Cairns there is no other choice – there was no way to get to the places I wanted to see unless I rented a pricey car. So with trepidation I booked two tours in Cairns – hoping for the best but expecting the worst. The first, Uncle Brian's Atherton Tablelands and Waterfalls Tour, was highly recommended by Rob at Cairns City Backpackers. He said it was deliberately designed to be off the beaten track in the highlands west of the city, which he insisted are more beautiful than anything I would see if I did the more famous tours to Daintree Rainforest and Cape Tribulation. I considered the possibility that Rob was pushing this tour because he was getting a cut but then dismissed the idea. He seemed like a pretty sincere guy. So I took a leap of faith and booked it at a cost of $109.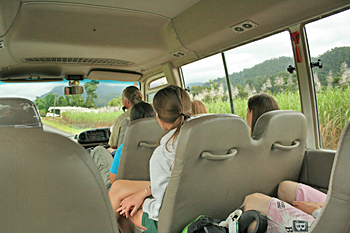 From the moment I boarded "Gus The Bus" at 8AM, I knew this tour was going to be different. Our guide, Bart, was a showman in every sense of the word. Standing about 5′ 10″ with curly long blond hair pulled back in a ponytail, Bart wore his daily uniform of khaki shorts, a T-shirt and sandals (he claims to not own a pair of shoes other than golf shoes), kicking off his sandals at every opportunity to go barefoot. He memorized the names of every person on the bus (15 of us) and engaged each of us in a long conversation via his headset and microphone as we drove down the road. He wanted details: how long had we been traveling, where had we been, where were we going, and oh, by the way, is there a romance going on between the two of you in the back of the bus who are both from Germany but just met at a backpacker's lodge?
By the time we were 20 miles down the road we knew each others life histories. Some of the younger ones were embarrassed to speak – Deidre from Ireland for one, explaining that she was shy. I followed Deidre and explained that I was not – shy that is. Just as I was about to undergo Bart's scrutiny, the person in the seat next to me thrust a clipboard into my hands – it held a waiver form that required my signature. Name, check. Address, check. Country, check. Phone, check. Age…….. I looked down the column….19, 22, 25, 24, 22, 28……….hmmmmm. Do I really need to put 55 down in this column? I interrupted Bart's questioning to tell the whole bus, in no uncertain terms, that I had an issue with his form and suggested they needed to add a column with the heading "Older Than Everyone Else On The Bus." A laugh tittered around the bus and I settled into one of my favorite roles – making people laugh.
Bart was a master guide. In-between hand-picked songs that he'd pre-recorded to match the journey he discoursed on the ills of the world, told jokes, and educated us about the landscape passing by our windows. Hardly a minute went by that we were not in stitches. We wound up gentle hills into the tiny town of Babinda, Bart honking and waving at every person we passed and insisting we do the same, explaining that these folk look forward to their daily visit from Gus The Bus and would be upset if we didn't wave. To a person, everyone waved back at us – albeit some with pretty strange expressions on their faces, making us laugh even harder. At the Babinda Boulders, Bart not only told us a bit about the geography of the place but also related the indigenous explanation of how the boulders got there – an Aboriginal Princess, angry when her young lover jilted her, pulled the boulders down from the mountainside. There is no swimming allowed below the boulders. Since they have been keeping records, 22 people have died in these treacherous currents – 21 of them young, single males. Coincidence? Bart thinks not.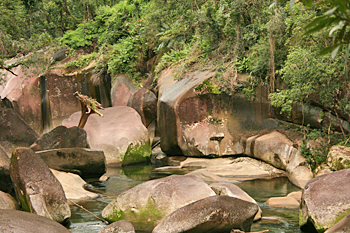 Our next stop was Josephine Falls, where swimming was allowed. We donned suits and, shivering, gingerly crept into the creek's icy waters below the falls, swimming across the pool to the moss-covered granite lip on the other side. There we inched up the slippery granite backward on our rear ends until we reached the top. Sliding across the granite ridge, we positioned ourselves in the middle of the waterfall, pushed off and slid down the smooth rock to the pool below. Exhilarating! I ruined a swimsuit (stained black by the moss and ripped by he granite) but it was worth it.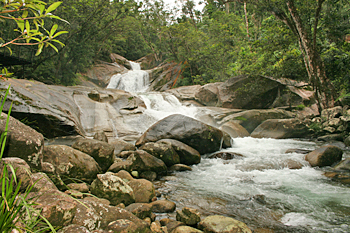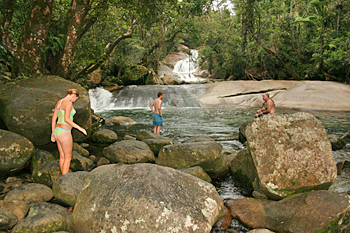 Back on the bus it was time for more music and Bart pulled out tambourines, handing them to the two girls in the front of the bus. Embarrassed, they timidly beat them against their palms a few times and passed them on. No one could quite grasp how to play the tambourines – they were all going at it much too timidly. When it came my turn I thought, what the heck, and gave it my all. "Oh, someone's got talent," said Bart (he's was a master at making people feel special) and I became tambourine lady for that portion of the trip. In some ways, getting older is wonderful. You don't worry about what other people think of you – it gives you a certain freedom to do things that the younger generation won't try.
Bart cranked up the heat in Gus so we could drip dry as we headed for lunch. Mist appeared out of nowhere as we climbed to the Atherton Tablelands and by the time we reached the private home where lunch was served we could see only a few hundred feet of the lush green valley before it disappeared into white nothingness. Earlier in the day Bart had inquired if there were any weirdos on the bus and I immediately raised my hand – I knew exactly what he meant – were there any vegetarians. Usually, vegetarians are relegated to two slices of white bread filled with lettuce, tomato, onions, cheese (when did cheese become a vegetable, thank you), and, if we're lucky, some sprouts. I was pleasantly surprised that the family had prepared a special egg and roast vegetable casserole for us veggies and it was delicious. This tour was getting better and better.
After lunch we headed for Millaa Millaa Falls, reputed to be the most photographed waterfall in the country. That may be due to the fact that it is so easily accessible – you can drive right up to it on paved tarmac and take a photo without ever leaving your car. As we came down the road leading to the falls, Bart popped in another song, this time 2001 Space Odyssey. DA, DA, DA, TA-DA BOOM-BOOM BOOM-BOOM BOOM-BOOM BOOM-BOOM, DA! DA!! DAH!!!!! At the final crescendo, just as the cymbals crashed, Bart turned the corner, bringing Millaa Millaa Falls into view through the front windshield. I take it back. Even if it required a ten mile hike through rainforest, I believe this would still be the most photographed waterfall in the country. Millaa Millaa is so beautiful, so perfect, that it looks unreal.
As we stepped off the bus, Bart lined us up in three rows as if to take a group photo, but FACING the falls. He directed us to look at a spot on the waterfall about 15 feet from the top and pick a green leaf – any green leaf that showed through the curtain of water, focusing intently on that leaf and looking at nothing else. When he deemed we'd stared at our leaves long enough, he told us to shift our gaze to the cliff on the right side of the falls. A collective gasp arose from our group as we witnessed vegetation crawling up and down the cliff. Bart insists this is the Spirit of Millaa Millaa. The moment our group broke up I snapped a photo of the falls and looked into the digital display to make sure it was a good photo.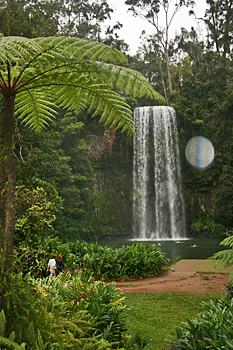 Clearly visible to the right of the falls was a perfectly circular translucent orb that appeared to hang in mid-air. Running vertically through its center was a double rainbow. Some would say this was an artifact. Some would say a drop of rain on the lens (in fact, this was not the case, because I took another photo seconds later and the orb had vanished). Others would say it was the Spirit of Millaa Millaa. Coincidence? Bart would say no.
Some of our group crawled into cold, wet suits to swim across the pool at the foot of the waterfall and climb up behind its curtain of water. I put on another layer of clothes and collected everyone's cameras to take photos of them standing up behind the waterfall. Swimming in icy cold water once that day was quite enough for me.
Late in the afternoon we stopped for hot chocolate at Eachem Lake in Crater Lake National Park. This wide, placid lake was created when volcanic magma met cold underground water, causing explosions strong enough to eject the land above it. The resultant crater eventually filled with rain and runoff water and is today a breeding ground for Saw Shell turtles and other endangered species.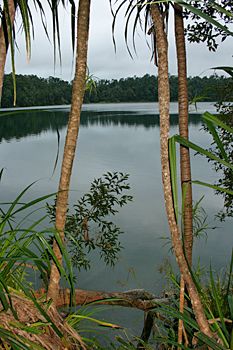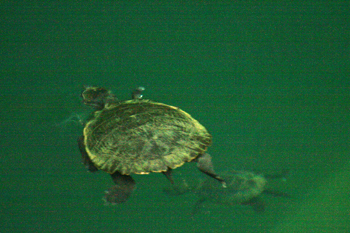 As dusk fell we went platypus spotting at a nearby river, watching dozens of the little critters pop up to the surface to feed, pausing long enough to grind the food up in their flat bills before diving back down to the depths. The ride back to Cairns was a rollicking, raucous sing-along that included Queen's "We Are The Champions," "Summer Love" from the movie Grease, and the Beatles' classic "I Wanna Hold Your Hand."
The following day my second tour took me north to the Daintree River and Cape Tribulation, famous as the place "where the rainforest meets the reef." On the river we spotted crocodiles resting along the banks, snakes curled around tree branches, and a crested hawk in the treetops. We walked through rainforest in search of the endangered Cassowary bird and fed kangaroo. At Emmagen Creek we swam just beyond the range of the crocs that preferred the saltier water where the creek emptied into the ocean.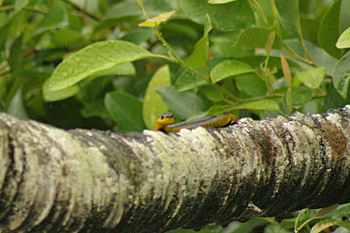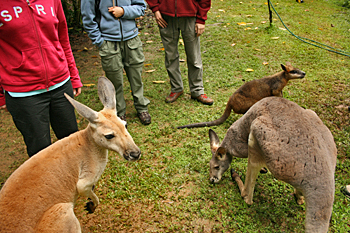 At the end of the day we reached Cape Tribulation, a wide expanse of beach bordered by muddy mangrove flats. I had booked this tour because everyone insisted it was a must see, and although it was enjoyable, it could not hold a candle to Uncle Brian's.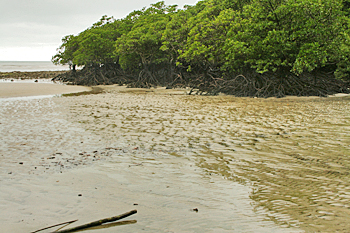 I've learned a few things. Tours are not what they used to be. If I choose tours that are limited to small groups and feature adventure itineraries, they are perfectly acceptable. Frankly, even if I had rented a car I doubt that I could have done it any less expensively, considering the price of the rental vehicle and the $5.00 per gallon price of "petrol" in Australia. But even if someone had a car at their disposal, Uncle Brian's Atherton Tablelands and Waterfalls Tour is an absolute MUST DO when in Cairns!