I finally made it back to Wat Phra Singh today. You may remember that this is my Wat, as it represents the Year of The Dragon, under which I was born according to the Chinese calendar. This is the Wat where I am supposed to worship if I want to ensure that my spirit will go directly to heaven rather than hang around this earthly pagoda. So, facing yet another grey and rainy day, I thought my afternoon would be best spent inside this lovely temple.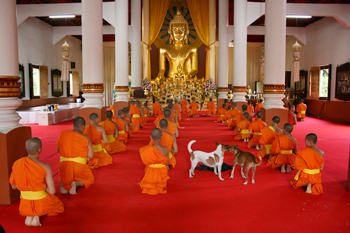 I wandered around the grounds, investigating the various buildings and reading about the history of the temple. At one point I tried to use the public bathrooms but my way was barricaded by three dogs that growled menacingly at me as I approached the toilets. I've learned my lesson about temple dogs. I don't mess with them. I backed away slowly. Instead, I went to the Vihara – the gathering hall – and sat down on the floor in half-lotus position, intending to meditate. No sooner had I settled than young, novice monks started wandering in. They arrived in groups of two and three, quietly seating themselves in three long rows down the middle of the hall, their bright orange robes a riot of color against the vibrant red carpet and the gold Buddha statue at the front of the hall. Older monks in robes of a slightly darker hue sat in the front; one of the eldest positioned himself in front of a microphone.
Suddenly all the monks began to chant in perfect unison, their monotone prayers reverberating throughout the hall. I got goose bumps. Still cross-legged on the floor, I closed my eyes and let the sound of their prayers wash over me. When I opened my eyes, the three ferocious dogs that had barred my entry to the toilets had joined the ceremony. One of them rolled around on the red carpet like a bear rubbing against a tree to relieve an itch. Another wandered among the monks, sticking his nose against their thighs or up their robes in a plea for affection. The third simply sat there, happy to be out of the rain. They were so docile I could hardly believe they were the same growling curs I had encountered only minutes before. Makes me think it should be mandatory for the leaders of the world to attend a chanting monks ceremony at least once a day.