When I arrived in Thailand I was granted a free 30-day entry stamp. Thailand's immigration law allows tourists to stay in the country for a maximum of 90 days in any 180 day period, however the entry stamp must be renewed every 30 days. The only way to accomplish this is to leaving the country and come back in again. Since I planned to be here slightly more than five weeks, that meant I had do a 'visa run' as it is commonly called (although it is a misnomer, since I do not technically need a visa to visit Thailand – just an entry stamp).
A giant industry has sprung up around the visa run. Tours are offered to all the nearby borders for ridiculously high prices, where busloads of backpackers traipse through Thai immigration, receiving an exit stamp that proves they have left the country, walk a few feet to get a passport stamp from the neighboring country, then reverse direction and come right back into Thailand. For those staying in northern Thailand, as I am, the most convenient visa run destination is Myanmar (Burma), about four hours north of Chiang Mai. So along with a host of others, I paid my 900 Baht (about $27 US) to the tour company and boarded the bus for the 14 hour round trip. It poured rain the entire day, which made me feel a bit better about the whole ordeal, since I probably would have been stuck inside the hotel anyway.
To their credit, the tour companies have tried to make the trip pleasant, throwing in some interesting sites along the way, such as the spectacular Wat Rong Kuhn in Chiang Rai. Called the 'White Temple' by the locals for obvious reasons, this wat has been under construction for ten years and the architect who designed it estimates that it will require another five years to complete. It was spectacular under gray skies. I can barely imagine how it must be in bright sunshine, the light sparkling and reflecting off the hundreds of thousands of mirrors embedded into its brilliant white stucco exterior.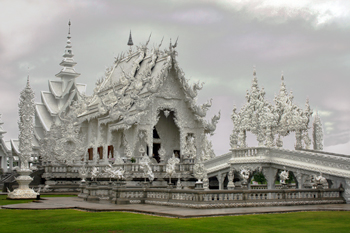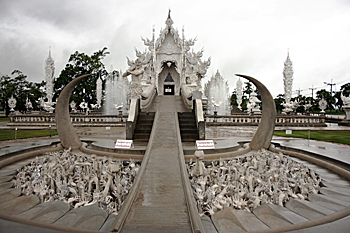 We also made short stops at two hill villages that were home to members of the Akha and the Yao tribes. There are five major ethnic tribes in Thailand: the Akha, Yao, Hmong, Karen, and Lisu. Additionally, there are the lesser tribes of the Lahu, Lua, Htin and Khamu. Some of these ethnic groups migrated to Thailand from Burma, China, or Laos; others are indigenous, having lived and thrived in the mountains of Thailand for ages. All of the tribes are well-known for their colorful native costumes, handicrafts, and tribal dances and in years past the more adventurous travelers would trek into these remote mountains to stay with the tribes.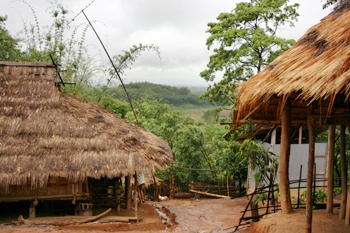 Sadly, the advent of modern roads and communication systems have made these tribes accessible to hoards of everyday tourists and the villagers have quickly learned the art of exploitation. These days a visit to any of the tribes is little more than a circus sideshow, with villagers in full tribal regalia posing for the tourists – for a fee of course. Even the children have learned the art of begging, hanging onto your clothing and pestering you to give them money or insisting that they be paid for a photo. I have very mixed emotions about this situation. I realize that progress cannot be stopped. I also realize that, with the advent of roads, phones, and electricity, the tribes' quality of life has improved tremendously. And I asked myself, if I were a member of this tribe and tourists were traipsing through my village all day long, every day, and the only thing they wanted from me was a photo, wouldn't I very quickly decide that the photo was the most marketable thing I had and demand that I be paid for it? Is there anything really wrong with this? Or do I just despair for them because I realize they are being forced out of a simpler, happier lifestyle into the modern age, with its accompanying stress and unhappiness? I wish I knew the answer but I don't. So I share the photos I managed to get of these peaceful people, if only to have a record of a lifestyle that is rapidly vanishing.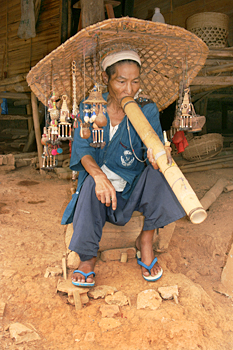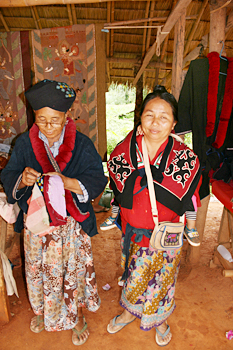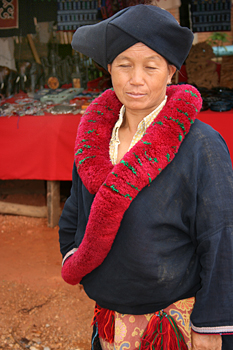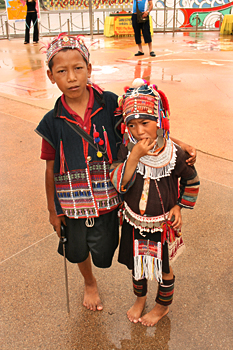 After visiting the tribes and having a bit of lunch we headed to the border between Mae Sai, Thailand and Tachilek, Burma. We got our exit stamps, proving that we had left Thailand, and checked into Burma at their Immigration center, a tiny, decrepit, dusty room with six border agents who collected our 500 Baht fee and processed our one-day visas with big welcoming smiles. I had planned to wander around town on the Burma side for a half hour while my bus-mates completed the Immigration process. But when I discovered that the Burmese officials KEEP your passport, filing it alphabetically in a cardboard box that sat on top of one of the worktables, I thought better of my plan. Besides, it was still pouring rain. So I turned right around and went back into Thailand. I do plan to visit Burma some day, but it will be when I have a valid visa and can do a proper entry into the country via the Rangoon airport, where I will not be required to give up my passport.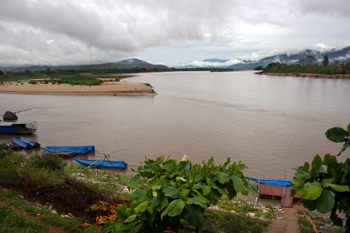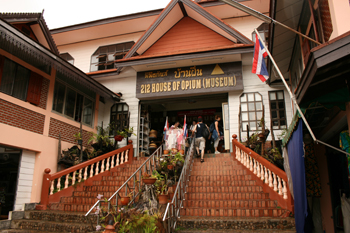 On the return trip we made a brief stop at the Golden Triangle, the place where Laos, Burma, and Thailand meet, separated only by a wide expanse of the muddy Mekong River. This area was once famous for its poppy fields and accompanying production of opium. Thailand now claims that there is no more production of opium in the country and indeed, we visited the local Opium Museum, which told the story of the drug and how it was eradicated. Interesting, but by this time I felt like a drowned rat and all I wanted to do was get on the bus and deadhead for Chiang Mai. The return trip was long and somewhat uncomfortable – my butt fell asleep on the hard seat and I just couldn't get comfortable – but I am happy to report that I am now legal for another 30 days in Thailand.